Commencement
In-Person Event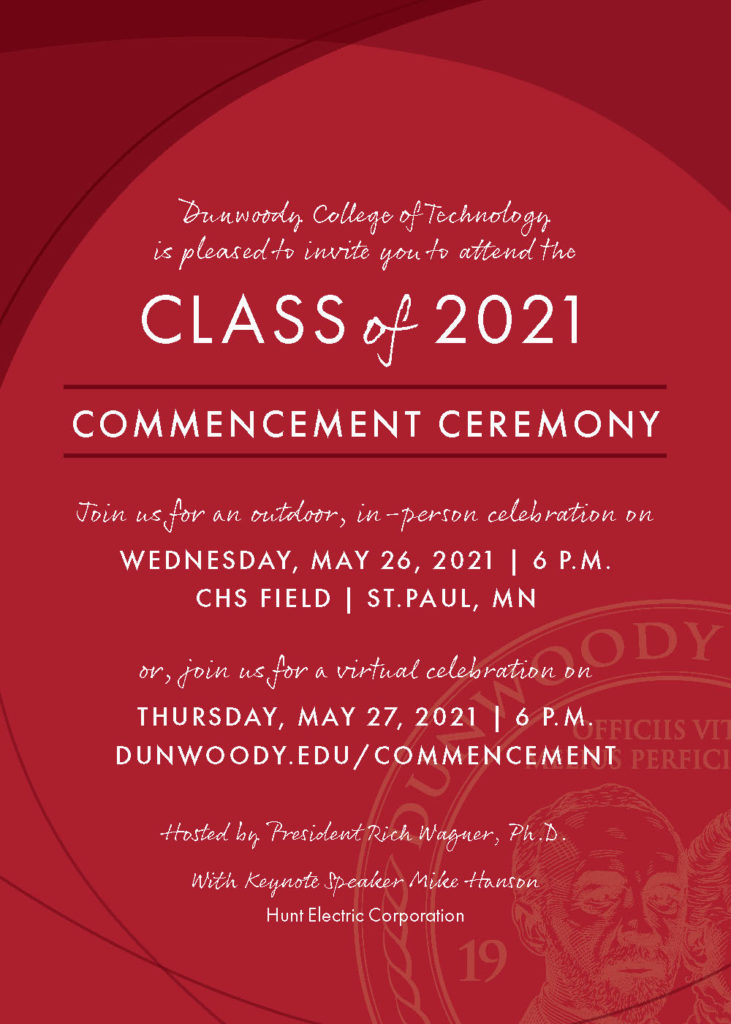 2021 Commencement Exercises
6 p.m., Wednesday, May 26, 2021
CHS Field | 360 N Broadway St, St Paul, MN 55101
Class of 2020 Invitation (pdf)
Class of 2021 Invitation (pdf)
Ticketing Information — Now Live!
Tickets are required for all guests attending the in-person Commencement Ceremony at CHC Field. There is a limit of six guests per graduate. Masks are required at the event. Please follow these steps to secure your tickets:
Go to saintsgroups.com
Enter the password: dunwoody (all lower case)
Select the section your guests want to sit in.
Select the seats in that section; please leave two seats between the selections for your group and other reservations. Currently open seats are indicated in green. There is a limit of six tickets per graduate.
Click continue.
Click Create Account to create a new account for your Saints profile.
Fill out your information to create your account and click the add button. Please note that the event is free and you do not need to add your credit card information. Required fields are indicated with a *.
Click continue to complete your account. And then click submit order to finalize your order.
You will receive an option to print out your ticket. You will also receive an email with your tickets. Please print each of your tickets out and bring them with you to Dunwoody's Commencement ceremony.
Virtual Ceremony
6 p.m., Thursday, May 27, 2021 | Link coming soon
Commencement is an important milestone for our students and our College, it is how we honor our students' achievements in front of family, friends, and peers. With that in mind, and thanks to the progress of vaccinations and with continued guidance from the Minnesota Department of Health and the Governor's Office, Dunwoody College is excited to announce that we will once again hold a traditional, in-person ceremony – with a few changes.
This year, Dunwoody will hold an outdoor ceremony at 6 p.m. on Wednesday, May 26, 2021 at CHS Field in St. Paul. We chose an outdoor venue since it provided the safest way for us all to gather. We will be limiting guests to four per graduate. Wearing masks and social distancing will be mandatory.
For those who are not comfortable attending a large event in May, we will also be broadcasting a virtual ceremony at 6 p.m. on Thursday, May 27. Students who will not be walking in the in-person ceremony will still be provided a cap, gown, and other commencement regalia.
In the event of a weather cancellation, we will proceed with the virtual event and re-schedule the in-person ceremony for another date.
Watch for ticketing information coming soon from the Registrar's Office.
Countdown to Commencement
All graduates, whether you choose to walk in the ceremony or not, are invited to Countdown to Commencement to pick up your cap and gown and get your graduation-related questions answered.
Stop by the McNamara Center during any of the available dates and times:
Thursday, May 13, 2021, 10 a.m. – 11:30 a.m. | 2:30 p.m. – 6 p.m.
Friday, May 14, 2021, 10 a.m. – 11:30 a.m. | 2:30 p.m. – 4 p.m.
Monday, May 17, 2021, 10 a.m. – 11:30 a.m. | 2:30 p.m. – 4 p.m.
Note: students who are unable to come to campus during those times can arrange a time with the Registrar's Office to pick up their cap and gown at registrar@dunwoody.edu or pick it up at the ceremony.