The Kate Dunwoody Society
The Kate Dunwoody Society is a network of people united to create equal opportunities for the Women of Dunwoody. Students, alumni, staff, faculty, friends, and community members are invited to join.
Join us for the Kate Dunwoody Society Virtual Event (formerly the Kate Dunwoody Society Luncheon) where the Kate Dunwoody Society will be launched and membership details disclosed.
Kate Dunwoody Society Virtual Event
Presented by Morrie's Classic Car Collection
TUESDAY, NOVEMBER 10, 2020 | PROGRAM AND POST NETWORKING EVENT, NOON – 1 P.M.
Event is complimentary. Registration required to get the link to the virtual event.
Be inspired! Join us for a special event honoring women pursuing technical careers. Let's celebrate where we are today, how far we've come, and the path we still need to travel. This year's event include special musical performances by Minnesota's own Kat Perkins, and will feature remarks by cybersecurity leader and trailblazer Brigadier General Stefanie Horvath. Attendance is free, but registration is required. Sponsorship opportunities are available and funds raised support scholarships for women students at Dunwoody.
Questions? Call Shari Hemmingsen at 612-381-3064 or email kate@dunwoody.edu.
Featured Speaker: Brigadier General Stefanie Horvath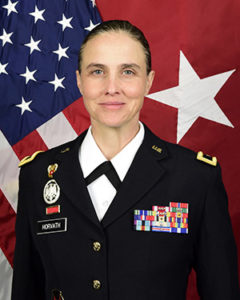 Brigadier General Stefanie Horvath is Director of the Joint Staff, Joint Force Headquarters, Minnesota National Guard, St. Paul, Minnesota. Her responsibilities include emergency response operations, government relations, strategic planning, and international affairs.
General Horvath joined the North Dakota Army National Guard in 1989 and was commissioned a Second Lieutenant in 1991. She has commanded at the company, battalion, and brigade levels and completed deployments to Kosovo in 2003-2004 and Iraq in 2009-2010. Her awards include the Bronze Star Medal and the Meritorious Service Medal with three bronze oak leaf clusters.
General Horvath holds a Bachelor of Arts in Sociology & Criminal Justice, a Master of Science in Strategic Studies and numerous professional certifications in information security. She serves as the Chief Business Technology Officer (CBTO) for the Minnesota Boards, Councils, and Commissions (MBCC) and the Enterprise Program Management Office (EPMO) for the State of Minnesota. She Co-Chairs the Cyber Security Summit, a consortium of industry, government, and academic leaders working together to improve the state of cybersecurity on the domestic and international level.
Sponsorship opportunities for 2020
Supporting Sponsor: $1,000
Kate Dunwoody Champion: $2,500
Program Sponsor: $5,000
Executive Sponsor: $5,000
Kate Dunwoody Post Networking Event Sponsor: $7,500
Presenting Sponsor: Morrie's Classic Car Collection