Experience Dunwoody College
Next on-campus, in-person Open Houses: June 8 & 9
Reserve your spot today!
Dunwoody is once again offering monthly, in-person open houses, giving you the opportunity to tour the campus, talk with faculty, and meet with an admissions representative. Attendance will be limited due to COVID-19, and the open houses will be structured to meet social-distancing requirements.
Win an Oculus Quest 2 at our next Open House!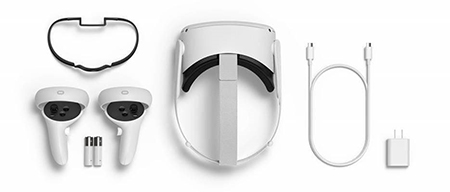 RSVP, and attend our next Open House on June 8 or 9, and you'll be entered for a chance to win an all-in-one Virtual Reality Headset.
One winner will be chosen each day of the Open Houses.
Need not be present to win. To RSVP, select one of the options below.
*Dunwoody employees and their immediate family are not eligible for the prize drawing.
Pick the day that fits your interest
RSVP for: Tuesday, June 8, 2021 | 3-5 p.m. 
Featured Programs:
Robotics & Manufacturing
Automotive
School of Engineering
Computer Technology
Graphic Design
RSVP for: Wednesday, June 9, 2021 | 3-5 p.m.
Featured Programs:
Construction Sciences & Building Technology
Architecture & Interior Design
Radiologic Technology
Business Leadership
Time slots available every half-hour beginning at 3 p.m., and limited to 20 registrations per time slot. Attendees can bring two guests. Talk with representatives about housing, financial aid, support services, transfer information, and student life. All attendees must wear a mask, social distance, and follow protocols outlined in our Dunwoody Safe plan.
For more information: contact Admissions at admissions@dunwoody.edu or by phone at 612-374-5800
Not ready to come in? Sign up for a one-on-one campus tour or a personalized virtual tour using the form below.
Options to explore what Dunwoody has to offer
We're here to make sure you can explore career options and our more than 40 different degree offerings in whichever way is most comfortable for you.
To help with that exploration, we offer two additional ways for you to view our lab, studio, and shop spaces and learn about Dunwoody's brand of project-based learning:
In-person, one-on-one campus tour: these are limited to you and your guests and will be led by an Admissions Counselor following the protocols in our Dunwoody Safe plan.
Personalized virtual tour: a guided tour with an Admissions Counselor of the degrees and majors you're interested in plus information on the admissions process and any other questions you have about college.
Ready to get started? Select your preferred option below, provide us with your information, and we'll be in touch.