Explore your future
Dunwoody is the college for experimenters, doers, and makers.
If you learn with your head and your hands, we're here to help you make your future.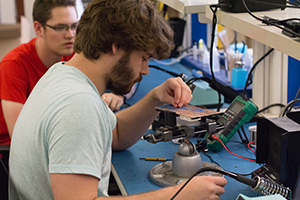 Engineers are in high demand. Every industry — from construction to manufacturing and transportation to information technology — needs engineers to solve problems and drive innovation.
At Dunwoody, your engineering education starts on day one. We offer small class sizes, which means you'll get to know your faculty and fellow students as well as receive individualized attention. Access to a wide variety of labs, equipment, and software means you'll complete projects that reinforce the theoretical engineering principles you're learning in the classroom.
Upon graduation, you'll be ready to tackle complex engineering projects and collaborate with other engineers and technicians.
Dunwoody offers Bachelor of Science degrees in: Computer Engineering, Electrical Engineering, and Mechanical Engineering.
You will benefit from:
100% placement rate*
29.1 job inquiries per graduate*
Field trips and industry speakers
The opportunity to complete a senior project, internship, and/or cooperative education (co-op) experience
*2019-20 Dunwoody Career Services Annual Report (Mechanical Engineering only; the other two programs are newer and so don't have data yet)
Explore Further
Interested in learning more about Dunwoody's engineering degrees? Learn more by clicking on the images below.