Program Placement Rate:
100%
Source 2017-18 Dunwoody Career Services Annual Report
Land Surveying
Already have a bachelor's degree and looking to explore a new career opportunity? Dunwoody's Land Surveying Certificate provides you with an avenue to become a Land Surveyor.
8.4
Job Inquiries Per Dunwoody Graduate
Source 2016-17 Dunwoody Career Services Annual Report
ACCREDITED BY THE HIGHER LEARNING COMMISSION: WWW.NCAHIGHERLEARNINGCOMMISSION.ORG; 312.263.0456
1 Year
Graduates earn an industry-recognized certificate
DAYTIME CLASSES ONLY
AND ON CAMPUS ONLY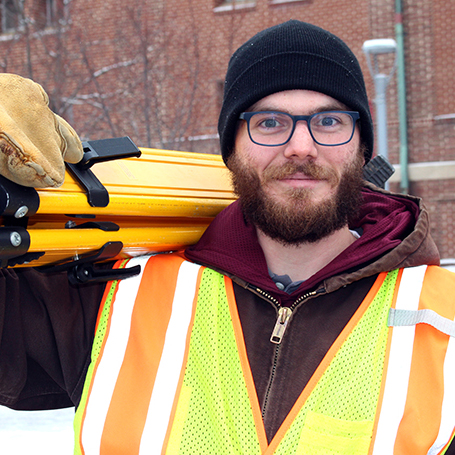 " I had recently received my GIS degree but wasn't satisfied with where it was taking me, so I enrolled in Dunwoody's surveying program. The hands-on learning was great, and when I started my summer internship and current job I was able to jump right in. I had the interview for my current position before I had even finished classes. "
Kyle Knutson, Dunwoody Land Surveying Certificate Alum
Facilities
Surveying Lab
Uses the Dunwoody campus and its environs as a lab for learning the tools and techniques used in surveying both outdoor and indoor spaces.
Surveying equipment
Trimble M3 Total Surveying Stations
Topcon GNSS (GPS) Receivers
Leica Laser Scanner
Drones used for laser scanning