Whether you're just starting out, or looking for a second career, there's a lot of things to love about a career in land surveying. Here are some things to consider when deciding if this in-demand profession is right for you:
You don't want a desk job
Land surveying is perfect for people who don't want to be in an office all day and who enjoy getting outside. Surveying involves both fieldwork and office work, making it a great career choice for outdoor enthusiasts who want a professional-level job that isn't labor-intensive.
You like working with technology
Since surveyors are responsible for taking precise measurements of land to determine property boundaries and develop land, they work with high-tech equipment and programs, including GPS devices, 3D laser scanning technology, drones, and computer-aided drafting software.
You want a career that makes a difference
From boundary work and construction projects to court cases and land mapping, surveyors and the data they collect play an important role in our world. It's a career that impacts a wide variety of fields and industries and their work shapes everything from building projects to GPS data.
You are curious and you like to problem solve
Land surveyors often play detective, using everything from historical research to on-site data and measurements to solve a problem or answer a question for a client.
You want a great paying career that's in-demand
According to beasurveyor.com, projections from the U.S. Department of Labor show the need for land surveyors and technicians will outpace the average growth for all occupations. In addition, the average salary for a land surveyor in Minnesota is $86,490. At Dunwoody, the program placement rate for both the Land Surveying and the Surveying & Civil Engineer Technology degree programs is 100 percent with an average of 32.7 job inquires per graduate.
Career pathways
So, if a land surveying career sounds like something that would interest you, Dunwoody College of Technology offers several paths into this exciting field.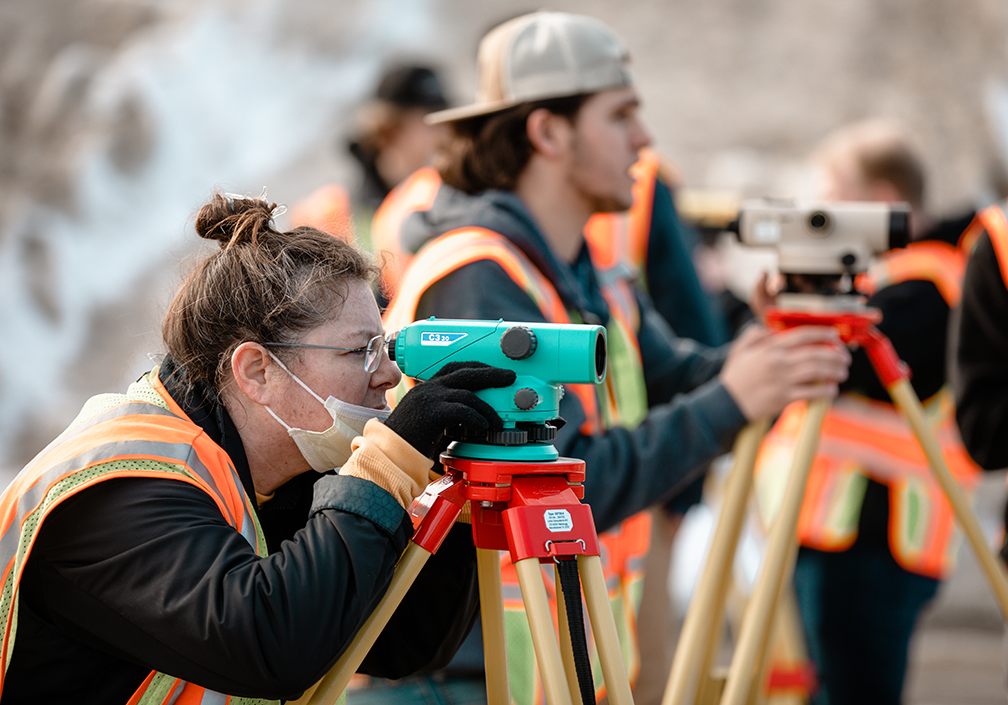 You can earn a two-year Associate of Applied Science degree in Surveying & Civil Engineering Technology. Students interested in becoming a surveying technician will be prepared to take the National Society of Professional Surveyors (NSPS) Certified Survey Technician (CST) Level 1 exam and the Autodesk Certified User (ACU) exam.
For those who already have a bachelor's degree, you can earn a one-year Land Surveying industry-recognized certificate. The certificate not only gives students field-experience using industry-standard technology, but upon graduation, they will be eligible to take the Fundamentals of Land Surveying (FLS) exam — the first step in becoming a licensed land surveyor.
The Land Surveying program also provides an accelerated option for those without a degree to become surveying technicians with a path for them to become a licensed surveyor with the completion of a bachelor's degree along with meeting the other requirements for licensure. This means you can work in the field as a technician, while you complete your requirements to becoming a licensed surveyor.
Find out more
Interested in learning more? Attend one of our monthly Open Houses to speak with faculty and tour the campus, or meet one-on-one with an Admissions counselor. You can also email admissions@dunwoody.edu.