Earlier this month, Dunwoody gave out three Outstanding Engineering & Design Awards at the 2023 Minnesota State High School League (MSHSL) Robotics Championship. This is the seventh year Dunwoody has given out these awards, which are based on unique engineering design solutions to robotic challenges.
Every year teams from across Minnesota (and the country) work to design, build, and compete with FIRST Robotics to complete the specific challenge set out by the national organization. This year's challenge focused on energy and sustainability.
Minnesota teams compete in regional events to win the chance to compete nationally, but, in addition, MSHSL provides an opportunity for teams to compete for a state championship.
Dunwoody's award recognizes that while only one team can take the championship, many teams work within the resource and skills limitations they have and come up with interesting approaches to their robot and how it competes. Winning teams also receive $500 to invest in next year's FIRST Robotics challenge.
Congratulations to the 2023 winners:
Team 2846 – Roseville HS Firebears
E.J. Daigle, Dean of Advanced Manufacturing, Robotics, Computers, & Automotive, helped judge the competition. He said that Team 2846 was a very knowledgeable team and "created a design that was optimal for scoring points during the autonomous portion of the competition."
Team 2883 – Warroad FRED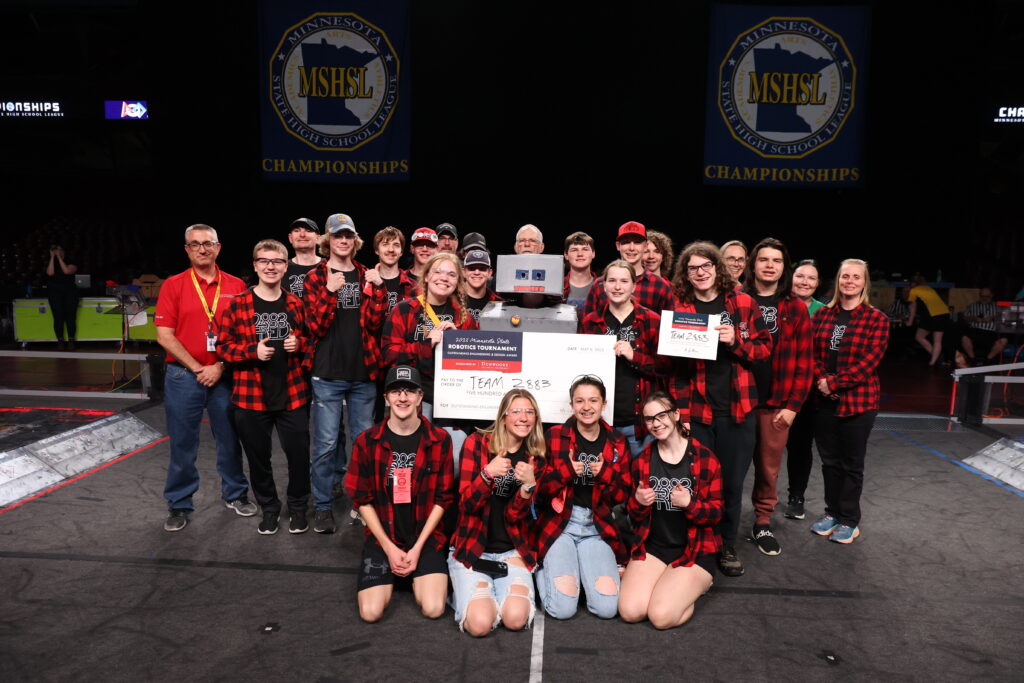 Daigle said, "What I found particularly impressive was the fact that the Warroad team designed and built all their own parts in the school. Many teams must farm CNC and welding out to mentors and companies. This is not true for Warroad as they have both the equipment and skill to turn those engineering drawings into reality in the school."
Team 7530 – Watertown Mayer
Daigle noted that the Watertown team was also very knowledgeable and came up with "a unique design for their arm allowing them to pick up cubes and reach up and over any obstructions."
Fans of robotics competitions, especially FIRST Robotics mentors and alumni, should check out the annual Autonomous Snowplow Competition, which is now held on the Dunwoody campus. Quite a few of the Dunwoody teams have featured FIRST Robotics alumni among their ranks. Over the years, FIRST Robotics alumni have enrolled in almost all of Dunwoody's degree programs, but especially majors in our departments of Advanced Manufacturing & Welding, Computer Technology, and Robotics & Electronics as well as our School of Engineering.