From now until the end of January, the work of local BIPOC and women designers working in the built environment field will be on display at the 2021 Minnesota SAY IT LOUD juried exhibition. Dunwoody's Dean of the School of Design Trevor Bullen, AIA, NOMA is one of those featured designers.
Curated by New York-based architect Pascale Sablan FAIA, NOMA, LEED AP, the SAY IT LOUD juried exhibition at the Goldstein Museum of Design (GMD) on the University of Minnesota campus, elevates the work of BIPOC and women designers and features participants from the region where it travels to. Sablan, founder and executive director of Beyond the Built Environment, strives to increase representation in the field of design, which is quintessential to a mission that includes "…engaging community through architecture to advocate equitable, reflectively diverse environments."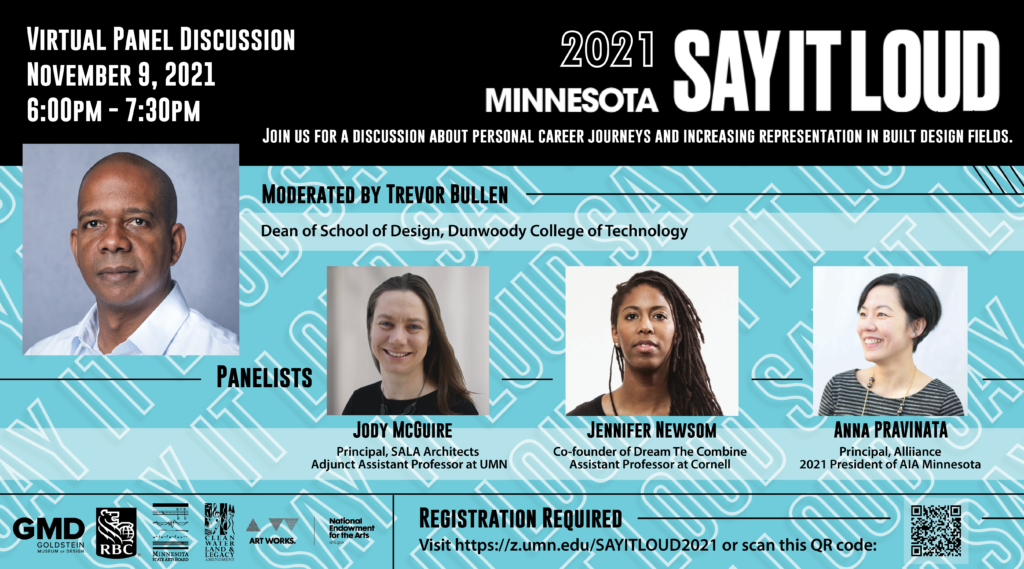 As part of the exhibition, Bullen will moderate a virtual SAY IT LOUD Panel Discussion around design and increasing representation at 6 p.m. on Tuesday, Nov. 9. The panelists will include: Jody McGuire, principal architect-SALA, and adjunct professor at the University of Minnesota; Jennifer Newsom, artist, architect/Co-founder-Dream The Combine, and Assistant Professor at Cornell APP; and Anna Pravinata, principal architect-Alliance Architecture.
The webinar is free to attend, but registration is required. Click here to register.
The juried exhibition is open Monday through Thursday from 8 a.m. to 7 p.m. and from 8 a.m. and 6 p.m. on Friday in the HGA Gallery at Rapson Hall, 89 Church Street SE, Minneapolis.
Sablan's own journey in the field of architecture prompted her to tackle issues related to lack of representation, as well as the detrimental effects that misplaced architecture has on BIPOC communities. A strong advocate of betterment for everyone, she promotes the fact that greater diversity enriches all our lives. The exhibition features projects as well as biographical interviews with selected participants. GMD is delighted to be a stop on this international exhibition series, which has been seen by over 35,000 people since it began in 2017.
Participants include Dunwoody Bachelor of Architecture graduate Celina Nelson, '18, along with Kristine Anderson, Tammy Angaran, Abimbola Asojo, Alicia Belton, Tu-Anh Bui Johnson, Trevor Bullen, Nina Ebbighausen, James Garrett jr., Tasoulla Hadjiyanni, Damaris Hollingsworth, Karen Lu, Joy Martin, Jody McGuire, Jennifer Newsom, Heather Novak-Peterson, Mary Springer, and Lyssa Washington.
About Trevor Bullen
Bullen was named Dean of the new School of Design at Dunwoody College this past summer. In this role, Bullen will bring together three of the College's sought-after design-focused programs: Architecture, Interior Design, and Graphic Design.
A broadly experienced architect, with more than 25 years of professional practice, Bullen brings to Dunwoody significant international experience; having worked on a wide range of architecture, landscape architecture and planning projects in Europe, the Caribbean, and the United States.
A graduate of the architecture program at City College of New York, Bullen went on to receive his Master of Architecture from Harvard University, followed by his Master of Studies – Interdisciplinary Design of the Built Environment from Cambridge University in the United Kingdom.
Throughout his career Bullen has remained active in academia. He has taught architectural design at the Boston Architectural College, the City College of New York as well as the University of Minnesota, and is a frequent guest critic at schools of architecture nationwide.
In 2000, Bullen founded the Caribbean Office of Co-Operative Architecture (COCOA) in Grenada, where he is originally from. Under his leadership, COCOA went on to become an award-winning architecture and planning consultancy, which successfully completed more than 30 residential, commercial, and institutional projects, including Grenada's new House of Parliament. The work of his firm has been published extensively in journals and books as well as being exhibited at the 2021 Architecture Biennale in Venice.
Most recently he was a Senior Associate and Director of Operations at Snow Kreilich Architects, the recipient of the 2018 AIA Architecture Firm Award.
With a focus on collaboration and interdisciplinary understanding, along with community engagement and social responsibility, Bullen will continue to strengthen Dunwoody's design programs.
About Dunwoody
Founded in 1914, Dunwoody College of Technology is the only private, not-for-profit technical college in the Upper Midwest. Having provided hands-on, applied technical education to more than 250,000 men and women, Dunwoody is the college for experimenters and makers, a place where the curious and the confident learn by doing. Located in Minneapolis, Dunwoody offers a unique campus experience in dedicated labs, studios, and shops that treats students like future professionals from day one. With certificates, associate's, and bachelor's degrees in more than 46 majors – including engineering, robotics, design and other STEM-related fields – Dunwoody challenges students to come determined and graduate destined. More information on Dunwoody can be found at www.dunwoody.edu or by following Dunwoody on Facebook, Instagram and Twitter.