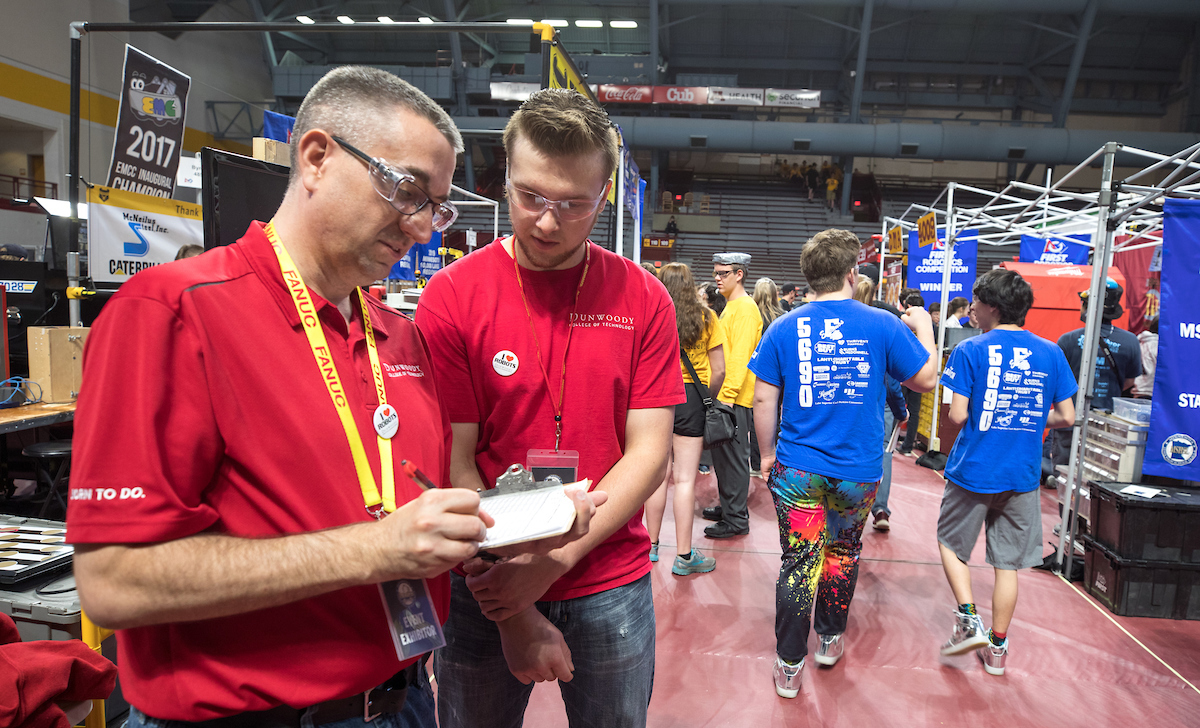 Dunwoody presented its Unique Engineering & Design Award at the FIRST Robotics State Championship held May 18 at Williams Arena. The winners all came up with interesting approaches to this year's contest game "Destination: Deep Space," which required teams to use both autonomous and human controls to guide their robot through a course that involved collecting cargo pods and preparing their spaceship for liftoff.
E.J. Daigle, Dean of Manufacturing & Robotics, judged the teams the morning of the competition with help from Software Engineering student Donald Posterick. They roamed the pit area, inspecting the various robots the teams had constructed, and chatted with team members about the approaches they took to come up with a robot that would perform well in this year's game.
This year's award winners are:
Becker Coalition of Independent Students, Team 4607 (Becker, MN)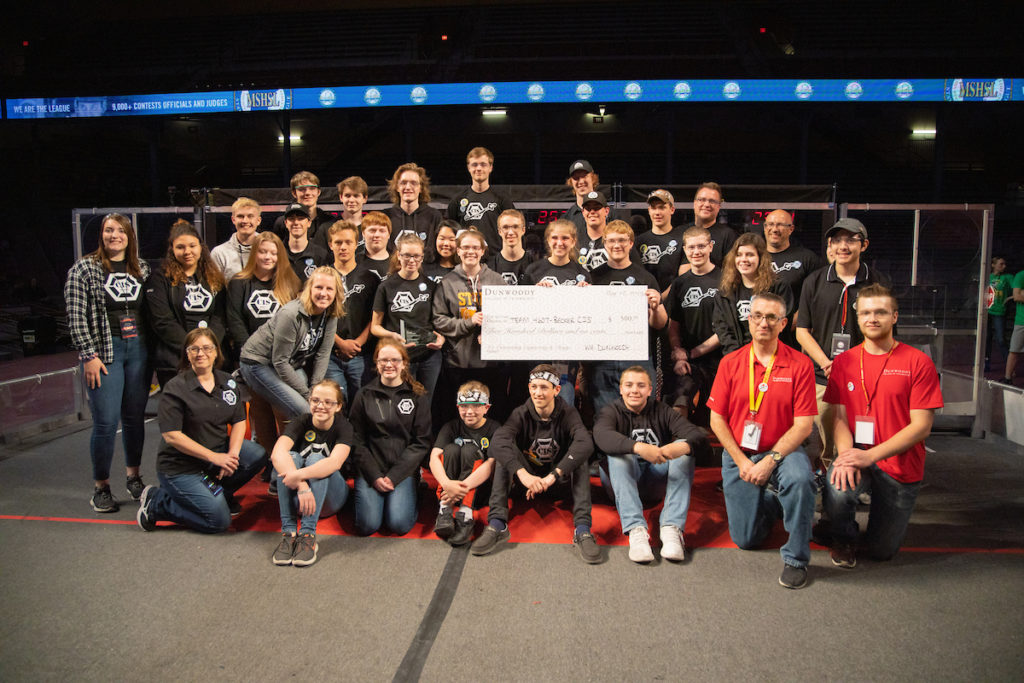 Daigle observed that the Becker team has had issues with their electrical and electronic components in prior competitions and decided to change up their approach this year.
"In addition to having by far the cleanest installation this year, the team modularized the robot controller and motor controls onto a single board allowing them to hot swap components in the case of a failure," he said. "They also modularized the pneumatic controls, again allowing for quick troubleshooting and replacement. Only two teams out of the 36 attempted something like this and Becker CIS by far did it best."
Eagan High School's "Blue Twilight," Team 2220 (Eagan, MN)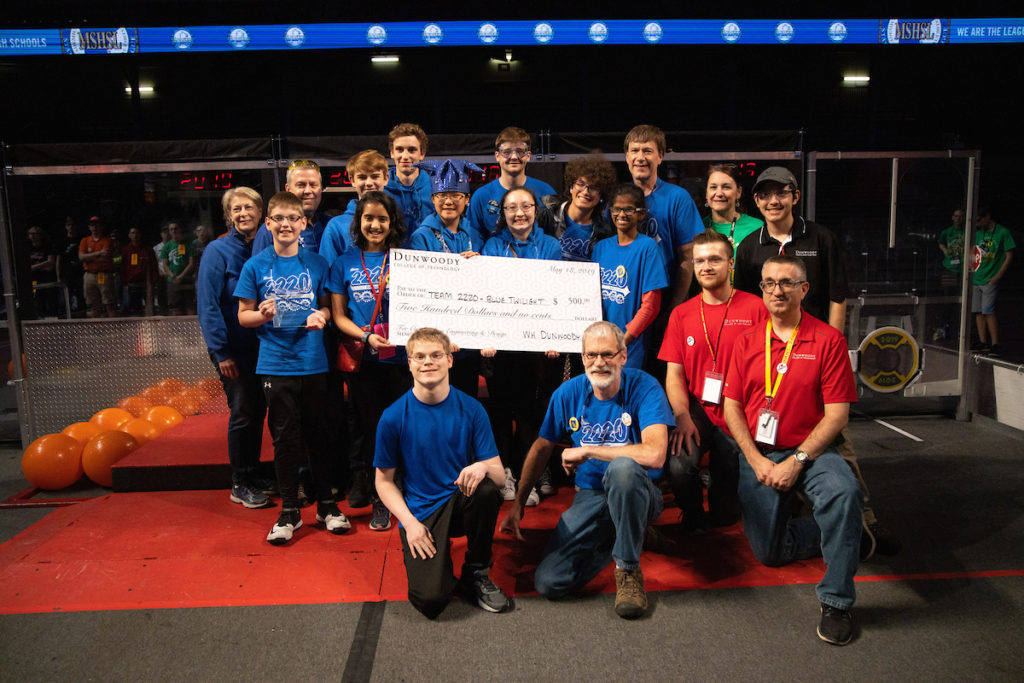 Daigle said that the Egan team used CAD (Computer-Aided Design) software with a sophistication that's unusual for high school students.
"The team not only designed and 3D printed modular controls with quick disconnects, but they also utilized parametric modeling to allow for design changes to be made on the fly without reengineering the entire robot," he said. "That meant if a design change was made to one subsystem, the overall model would adapt the other components to fit around this change. This was a very impressive demonstration of CAD skill."
Math & Science Academy's "Fighting Calculators," Team 2175 (Woodbury, MN)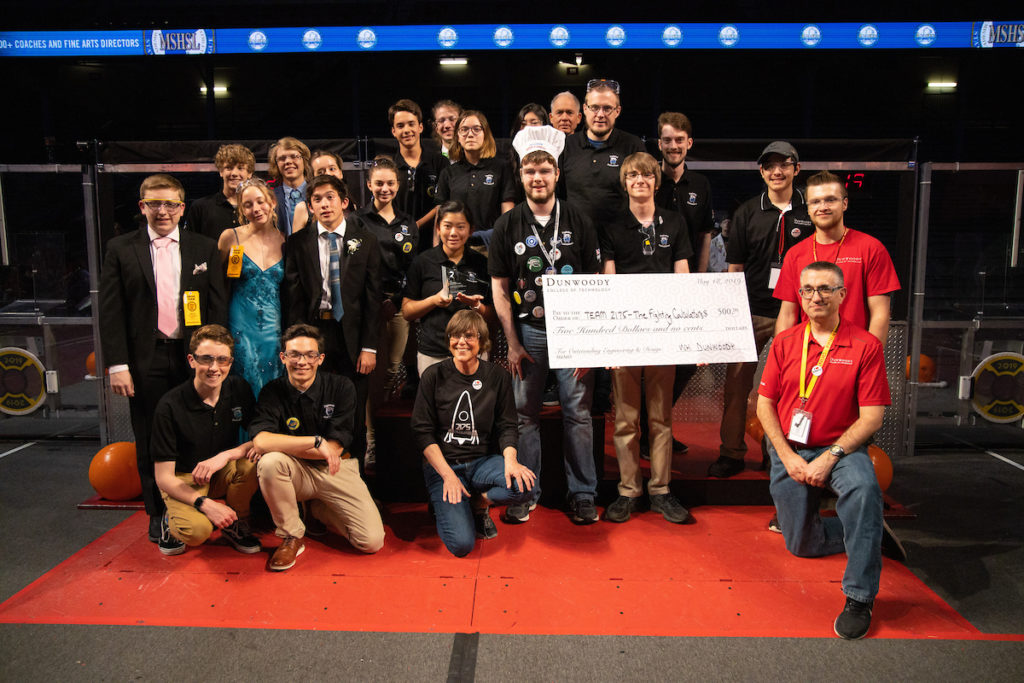 The Fighting Calculators put together one of the most mechanically sound robots.
"The team used a calculated engineering approach in which all components were modeled in CAD software and pre-fit into assemblies for testing before beginning physical assembly," Daigle said. "The engineering and construction of their telescopic elevator was amazing to see in action and was instrumental in their second place finish at the event."
Prep for next season
This is the fifth year Dunwoody has given out the award, which includes a trophy and a $500 check to go towards building next year's robot. The Robotics & Manufacturing department will hold Saturday seminars this fall to help teams prepare for the 2020 FIRST Robotics competition: "Infinite Recharge." Topics covered include, basic electricity, SolidWorks design, shop skills, industrial robotics, and more.
For details, contact E.J. Daigle at edaigle@dunwoody.edu.
Dunwoody College of Technology has several majors that build on skills learned in FIRST Robotics, including options in the departments of Computer Technology and Robotics & Manufacturing and our new School of Engineering.