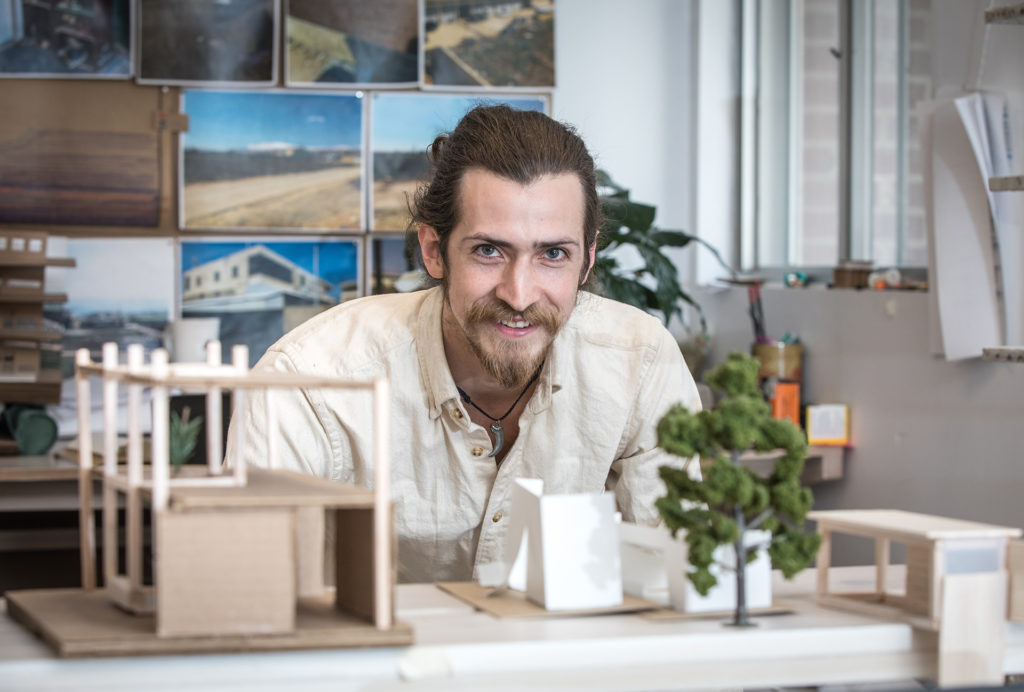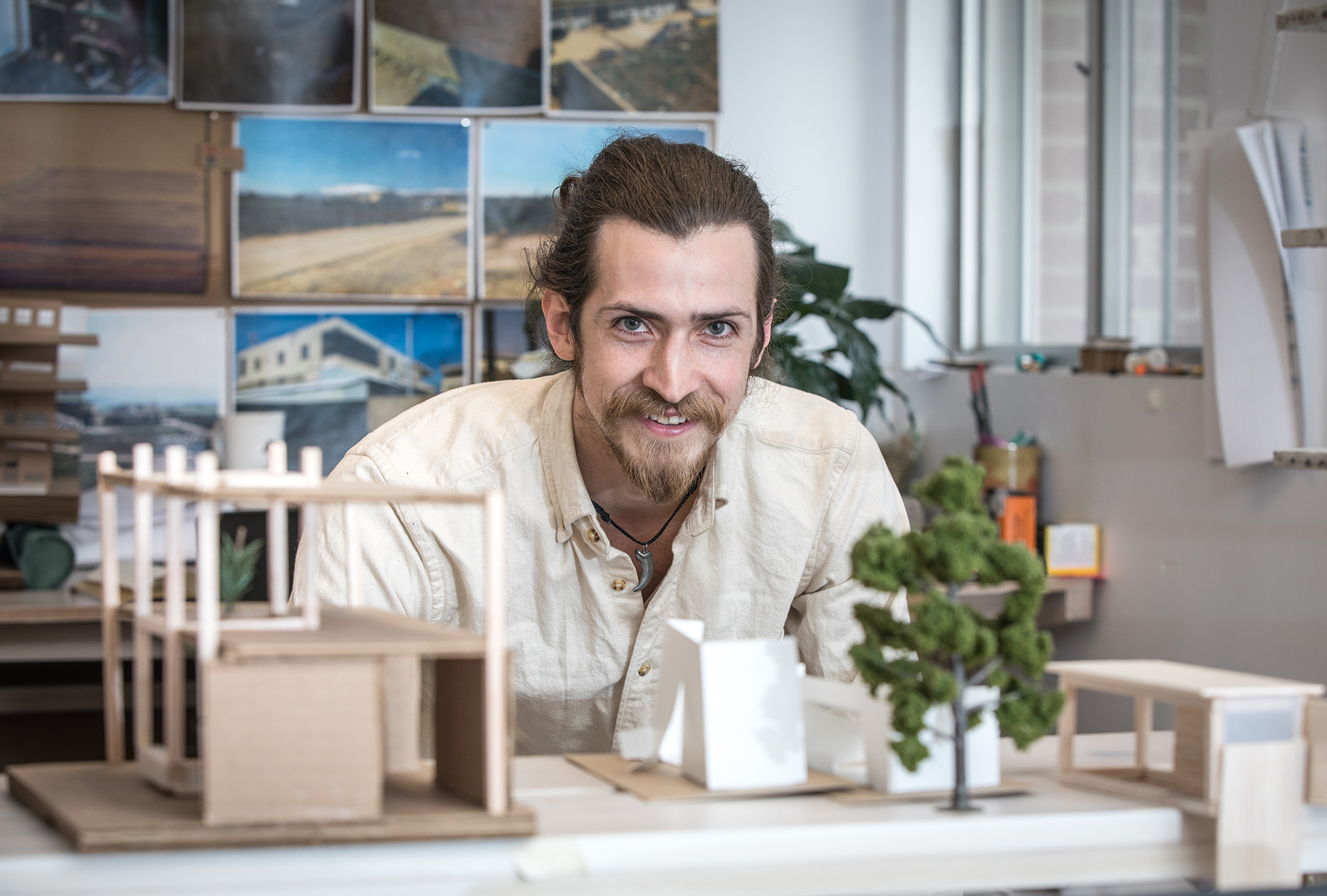 It's easy to lose track of time when talking with Kyle Huberty. He is one of those individuals who is both interesting – and interested. He has the ability to view the world with a wider lens, tempered by a strong sense of community. He looks at things with compassion combined with the eye of an artist. And he has found a career that allows him to do all of that – all at the same time.
Huberty graduated with a Bachelor of Architecture degree in May, and his journey to this point may seem circuitous, but it always seemed to be pointing to this eventual destination.
Even at a young age, Huberty was finding ways to balance his interests in life. His family was part of a homeschool co-op, and he and his siblings were allowed to choose between attending public high school or homeschooling with their mom. Huberty chose the homeschool route – primarily because it allowed him to snowboard during the day when he had the hills to himself and go to school in the evenings.
Huberty's passion for serving people led him to the University of Northwestern – St. Paul, where he earned an associate's degree in ministry, considered a career in marriage and family therapy, honed his talents in the art studios, and became an apprentice to a stone carver.
After five years of working part-time as a stone carver, Huberty decided to go all in. He packed his bag, bought a pick-up camper and became a full-time apprentice to master stone carver Nicholas Fairplay.
"Being a stone carver is a romantic career, and there are moments that are beautiful," Huberty said. "But in the end, you're hitting a rock with a hammer all day. It wasn't what I wanted for my career."
It was also at this point that Huberty and his high school sweetheart decided to get married and begin their lives together.
Searching for a way to put his talents as a stone carver to work, Huberty decided to transfer his skills to a more in-demand career field – shaping metal. He knew that careers in machining and manufacturing were in high demand so began researching colleges that offered degree programs in that field.
He toured Dunwoody and was sold on the culture and the access to a high-demand career through a two-year degree. He spent a year in the Engineering Drafting & Design program and worked as a machinist for two different companies.
"My technical interests were being met in the program, and I loved that side of it," Huberty said. "But my passion for creativity and people weren't being used as much. I discovered that I loved what machinists and engineers do, but I did not want to do it."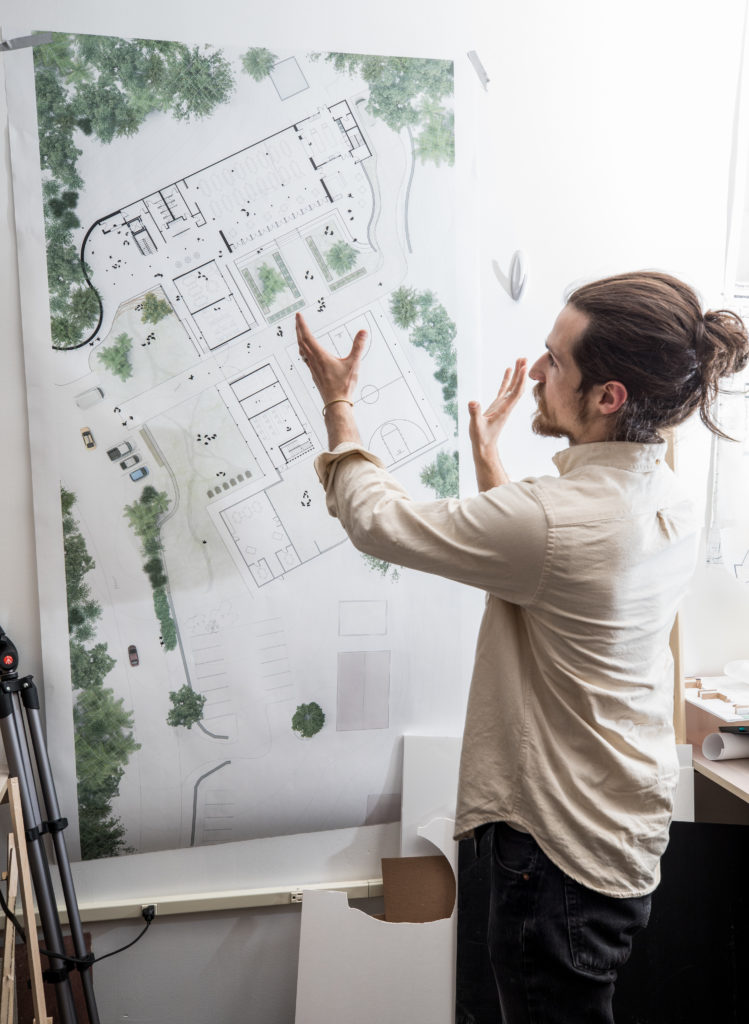 But what he did love – and what would meld all of his interests and talents – was waiting for him right upstairs.
"I tried five different career paths," Huberty said. "I kept trying until I found something that fit, something that I loved."
Upstairs in the architecture studios was where Huberty found his home.
"Architecture looked like a lot of fun," Huberty said. "So I met with Paul Strother and John Dwyer and they saw something in me that I hadn't been sure of."
What they saw was the right fit for Huberty's interests, talents, and career goals.
It's through architecture that he can help clients build consensus and communities grow closer, all while striking that perfect balance between form and function.
During his years at Dunwoody, Huberty has also grown as a leader, finding new ways to serve others and build community both within the campus environment – and beyond.
"I've tapped into self-growth more here than I have anywhere else," Huberty said. "I know more about what I want to accomplish, and I decided to take risks and jump into things more. I feel so much more confident here than anywhere else."
That decision led him to become a charter member, vice president, and then president of Dunwoody's first-ever American Institute of Architecture Students (AIAS) chapter. It has pushed him to get involved with the group's service projects in Jamaica and Puerto Rico, which is helping hurricane-ravaged communities recover.
These contributions are why Huberty was recently awarded the Dunwoody Community Service Award – a recognition he is quick to point out belongs to a whole team of students, not just himself.
Now, Huberty is contemplating the next phase in his life. For the past three years, Huberty has been interning at RoehrSchmitt Architecture. The firm has offered him a full-time position, and Huberty is weighing a few other options before making his final decision.
"I want to offer an enduring cultural contribution through architecture by challenging the disposable, unsustainable housing models that have defined our construction," Huberty said.
He also enjoys working on a wide-range of project types and with clients directly, especially on projects that prioritize responsible, ethical, and sustainable architecture.
"I love the human side," Huberty said. "Architecture is incredibly personal. All architecture is an expression of our humanity, but good architecture is better at expressing it. It has the capacity to make a building more than just a building."