Class Project Explores the Complex Relationships of Companies and Technologies That Create the Internet
---
Last month, students in Computer Networking System's Routing & Switching II class created a complete simulation of a global network with multiple different corporations in different locations, several Internet Service Providers (ISPs), and all the connections between them.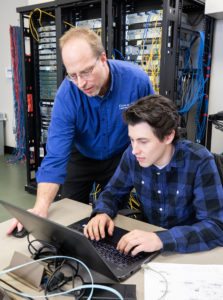 "The project is complete with redundant backup lines," Mike Wederath, Senior Instructor of Computer Networking, said. "So as long as one part of the network is functioning, the network will still pass traffic. Meaning the network will not go down, similar to when they take a road out, you still have a way to get to your destination."
"What amazed about me our project was when I began to understand how complex and robust the internet is," said Steve Stewart, a student in the class.
The project required teams of students to work together and figure out how to connect to each other so data can be routed throughout the network.
"The trickiest part of configuring and testing the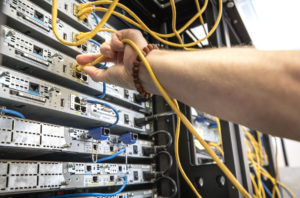 network is either finding where the connection is broken or communicating with the other teams," said student Adam Huber. "We learned how to effectively troubleshoot a network by troubleshooting the different layers of the OSI model, and how to communicate with each other effectively and efficiently."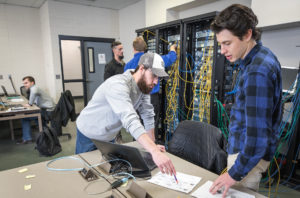 An OSI (Open Systems Interconnection) model is a conceptual model that shows all the layers involved when data is retrieved and transmitted from the server where the data is stored all the way to the actual app or piece of software that's using that piece of data. For example, just opening up the weather app on your phone and checking the temperature requires a complex exchange of data across multiple networks.
"This project teaches students to plan for an outage," Wederath said. "It demonstrates
how each action to the network changes the cause and effect relationships with all parts of the network that are tied together. It also teaches them to take a holistic view of the relationships between the simulated corporations and ISP Cloud setups."
Isaiah Curtis, who also participated in the project, agrees.
"It broadens the scope and adds perspective to the education," he said. "You can learn about a technology and that's fine on its own merit. However, adding all these individual components into an advanced, interwoven network brought the concepts of planning, negotiation, compromise, collaboration, and resilience to light and showed us the importance and effectiveness of these concepts. Clearly, this will carry into our careers when tasked with any large-scale project."
Dunwoody's Computer Technology department offers three options for students interested in careers in computer networking: a daytime associate's degree and an evening associate's degree and certificate.