Dunwoody will be hosting its 100th Diversity Forum. This event will take place on December 13, 12:00 – 1:30 p.m. in the McNamara Center. This program will feature Emmy award winning news broadcaster, and Principal Art Consultant for fiveXfive, Robyn Robinson. Music from Soul Train with Lonnie Farrel will also be featured.
"Our goal is to have students receive our message of service and diversity. These are the messages that student carry with them into their personal and professional lives," Associate Professor of Arts & Sciences Dr. Leo Parvis said. "These forums help tremendously."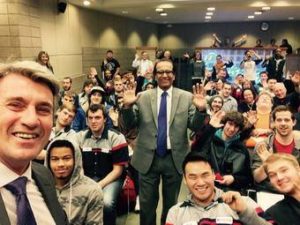 The Diversity Forums has grown to reach thousands of students and members of the community. Parvis has played a huge role in this growth. In Parvis' time here, the Diversity forums has hosted several high-profile speakers and performers such as former Mayor of Minneapolis R.T. Rybak and Grammy award winners such as Kimberly Brown.
"We have good connections," Parvis said. "Often one speaker knows another, and then another. We have a lot of 'Friends of Dunwoody'."
Impacting Student Life
One student who has been greatly impacted by the diversity forums is Jesca A. K. Rugarabamu, a student worker for Diversity Programs here at Dunwoody. "I have learnt so much about other cultures and people's personal, professional, and social experiences through the forums," Rugarabamu said.
Raugarabamu reflected on her experiences and journey from growing up in Tanzania to her life now at Dunwoody including when she was a speaker at the 2017 Women's Day Diversity Forum. "My speech opened a lot of doors for me in terms of people noticing me and wanting to help support my education and future career," she said.
"What these Forums have taught me is that we may think we know it all but we don't know half of it. I hope that students and staff take away from these Forums an important lesson which is, we all have something we can learn and we all have something we can bring to the table," she said.
The success of the Diversity Forums is due to the hard work and dedication from numerous individuals. Join us in celebrating the 100th Diversity Forum. All are welcome.
What:
100th Diversity Forum featuring Robyn Robinson and music from Soul Train with Lonnie Farrell
When: December 13, 12:00 – 1:30 pm
Where: McNamara Center
About the Speaker:

Robyne Robinson is Principal Art Consultant for her firm fiveXfive, and well known as a pioneering Twin Cities news broadcaster with several Emmys to her credit. She is the former Director of Arts at Minneapolis-St. Paul Airport and is the creative mind behind ROX Jewelry Designs, sold throughout the US, Greece and London.