Noureen Sajid named new School of Engineering Director; will focus on growth and student success
Noureen Sajid has always sought to help others find their path in the field of engineering. As the new Director of the School of Engineering at Dunwoody College of Technology, she will be fulfilling that role in an even broader way.
Sajid earned a Bachelor of Science degree in Computer Engineering from Bahria University in Pakistan and a Master of Science degree in Electrical Engineering from St. Cloud State University. She then went to work in the private sector, holding positions that included Senior Applications Engineer for Johnstech International and Senior Product Development Engineer for Hutchinson Technologies, Inc.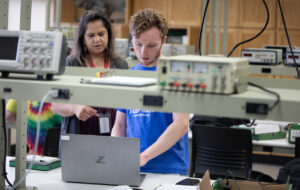 Throughout her career, Sajid learned that using her voice was going to lead to opportunity. She advises students, especially women, that "it's OK to be wrong. It's not OK to not be heard."
Her commitment to others is evident in her volunteer efforts outside of work as well. In Pakistan, she regularly volunteered at an orphanage that primarily supported special needs infants and children who could no longer be supported by family members. She has been a volunteer at the Ronald McDonald House and served as a judge for the debate team at St. Cloud State University.
Three years ago, Sajid was hired at Dunwoody as a Senior Instructor in Electrical Engineering. Since then, she has used her professional role to advance equity and inclusion in engineering and is a faculty leader for the student chapter of Society of Women Engineers (SWE-MN).
Sajid promotes the importance of communication in an industry that's known more for equations and codes. This emphasis on communication prepares students for industry and expands the industry to have more voices to lead innovation.
Sajid is bringing that same passion for preparing students for the field of engineering into her new role as Director of the School of Engineering.
"I've had the honor to work with Noureen for the past three years. She is an outstanding engineering professor with a knack for meeting students where they are at," said Academic Dean E.J. Daigle. "More recently she took on the role of Director in our School of Engineering and has worked directly with industry leaders and faculty to redefine engineering education from a hands-on perspective. Noureen leads a team of seven full-time and three adjunct faculty within our growing School of Engineering. Her lead-by-example attitude has been vital as we have grown the school and sought additional accreditations."
Looking ahead, Sajid has already set a long list of priorities she is looking forward to tackling.
This includes growing the School of Engineering and incorporating the latest technology into the curriculum. She wants her students to be not only well-prepared for their careers, but also ready to become entrepreneurs and inventors of creative solutions.
She also wants to continue to help women and young adults obtain an education and financial independence.
"I grew up in an environment where a lot of females around me compromised on their independence and financial freedom due to a lack of support from the people around them," Sajid said.
"Noureen is an amazing talent. She is authentic, caring, and a terrific example of a student-centered Dunwoody faculty member," said Provost Scott Stallman. "Her dedication to her students' success has been inspiring. Her ability to collaborate with her fellow faculty and industry partners to refine and improve the growing School of Engineering at Dunwoody has resulted in increased enrollment and strong student outcomes. Noureen is one of those rare people who combine an impressive intellect with a gift to connect with anyone in a way that makes them feel valued. In her new role as Director, she has hit the ground running, and I know she will continue to bring all her talents to bear for our students and dedicated faculty."