Pro-bono projects benefited three local non-profits
Six students from the Dunwoody chapter of the National Organization of Minority Architects (NOMAS) recently had the opportunity to lend a helping hand to one of the largest architecture firms in Minneapolis.
Working side-by-side with the professionals from HGA, a national, interdisciplinary design firm, the students participated in a two-day, community-action workshop.
The result produced a full set of design documents, pro-bono, for three Minnesota non-profits.
Ellen Obeng and Latoya Dennis, third and fourth-year students in Dunwoody's Bachelor of Architecture program, chose to work with the Minnesota African American Heritage Museum and Gallery.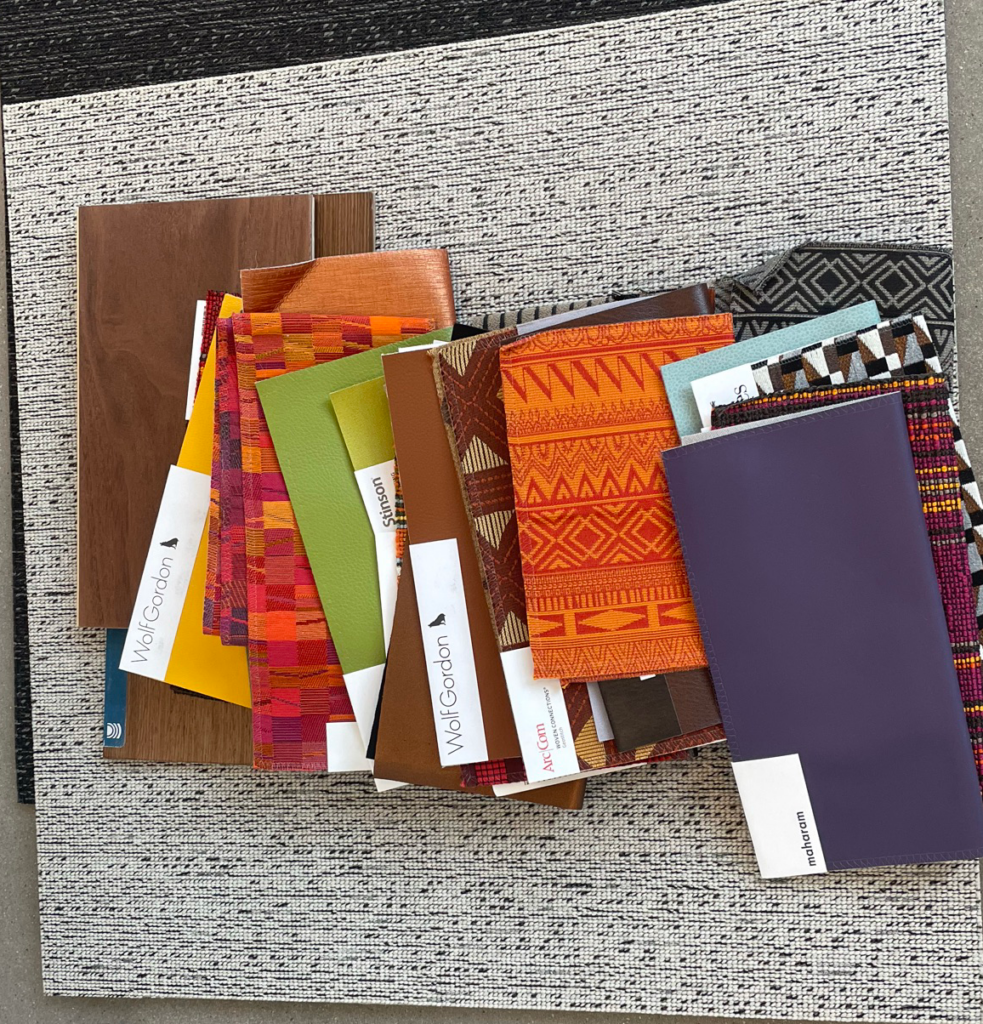 The museum, currently located on the fourth floor of 1256 Penn Avenue N., occupies about 1,100 sq feet. During the past three years they have curated about 16 exhibits, and one day they hope to own their own building. It is this dream that led the organization to collaborate with HGA and in turn, Dunwoody students.
While researching the workshop clients, Obeng visited the museum's website and "saw that a lot of the symbols [displayed] come from Ghana, my home country," she said.
Those that caught her eye were Adinkra symbols, used often in fabrics, pottery, jewelry, or in architecture. They depict concepts, often bridging what is verbal and visual in Ghanaian culture.
Dennis also relished the opportunity to give back to her community.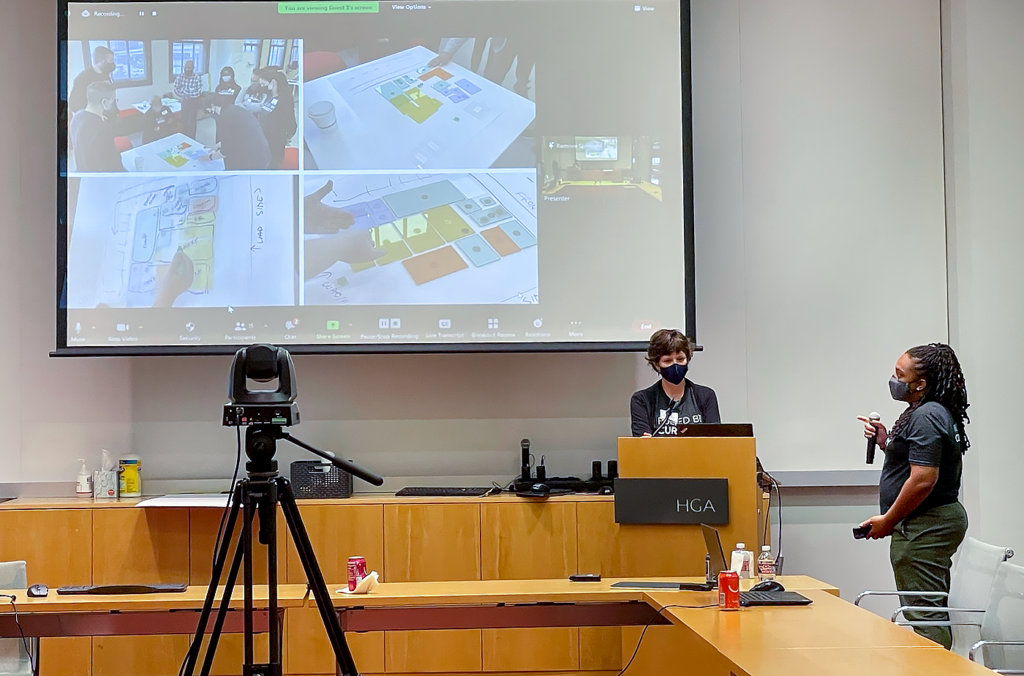 "I think I wanted to have a connection to something in my culture," Dennis said. "I just wanted to be able to say, 'Hey, I had an input.' You don't get that very often."
A Dunwoody education is rooted in experiential learning.
Participating in these multi-disciplinary charettes builds upon the practice of students gaining practical experience before they enter their chosen career field.
While each of the workshop clients received the work produced pro-bono, students chosen to participate were compensated by the firm.
The opportunity to network with a wide variety of professionals in the field, while working with The Center for Irish Music located in St. Paul, was a plus for third-year student Qadiym Washington.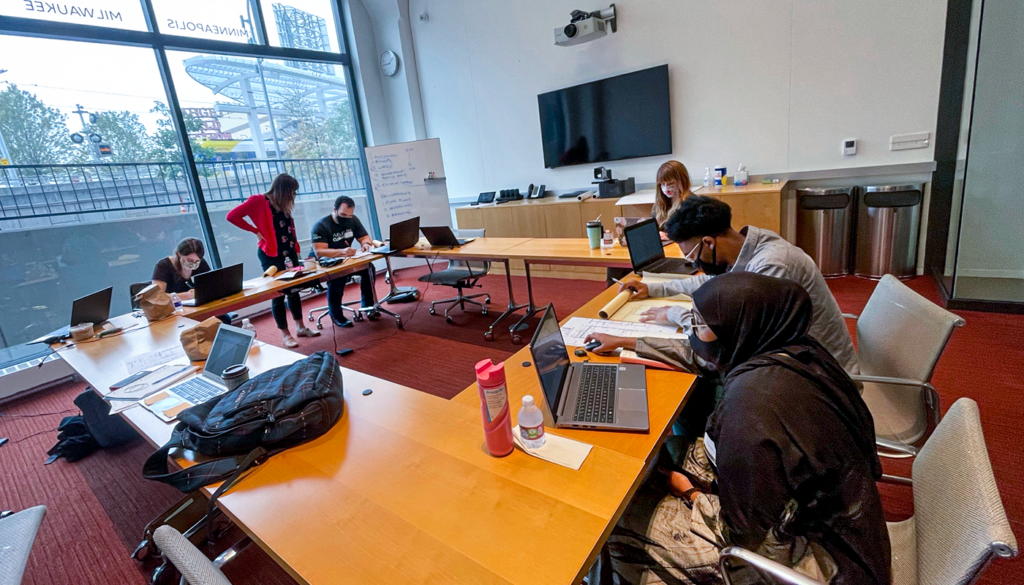 "I have never worked on a project like this," he said. "It is good to meet people and make connections."
The mini-internship was the outcome of monthly brainstorming sessions that occurred between Anjali Ganapathy, Associate Professor of Architecture, and advisor for NOMAS and two of HGA's senior project designers on ways to improve traction for architects of color in the profession. She hopes this will be an example for other large firms in the Twin Cities to emulate.
"This is a great situation for advancing a new pipeline of students into the profession," Ganapathy said. "They get to work within the profession, network, and add to their resume."
The students also worked on plans for an innovation center, located in Itasca, Minnesota.  
The Architecture program at Dunwoody is accredited by the National Architectural Accrediting Board and is structured as a stackable degree.
After the first two years, graduating students are awarded an Associate of Applied Science degree. Those who complete an additional three years are awarded a Bachelor of Architecture degree.
The program was recently accepted to join the Integrated Path to Architectural Licensure (IPAL) initiative, which offers students an accelerated path to earn their license upon graduation.