Brennan Linn, Academic Excellence Award for Mechanical Engineering
Brennan Linn elevates quality of work above all else. Raised to take pride in that work and to do it right the first time, he deliberates over the tiniest of details to achieve what he sees in his mind as the perfect outcome. Some might describe him as an Engineering craftsman.
He doesn't rush or cut corners — even if it is more economical.
Linn wants to hang his hat on his work reputation and sees that mentality as a lost art.
"If I were to run a business I would lean more towards quality over profit," he said. "And if it means they [customers] buy one of something and it lasts their whole life, that is what I would prefer rather that design it to have a continuous customer."
Some people are born already pre-wired for their career. Linn is one of them. Around the age of 5, Linn's father recognized that his son liked to tinker with things. Legos were everywhere.
"He explained to me that engineers are kind of the unseen people in society that thought of the issues that would come up, how to solve those issues and bring stuff together. Test it. Prove it. Refine it," Linn said. "From that day forth, I had my mind set on engineering. No sway. It was always: that's what I want to do."
His parents, Kimberly and Kurt Linn, encouraged him. They let him use their Roseville backyard to experiment with and build things on his own, including a zipline from a tree when he was 7 years old.
As a student at Irondale High School, he took a small engines class and a woodworking class. Both classes were ones that allowed him to work with his hands — his favorite kind. Other more traditional classes disinterested him, and his grades reflected that dispassion. However, his mind never stopped spinning with ideas and solutions for complex problems. He was especially excited to learn a piece of computer-aided design software and designed a five-drawer dresser for his woodshop class his senior year.
"I designed a mechanism inside so that if you open each of the five drawers to a certain position, it would pop-open a secret drawer. — the drawers were the combination," Linn said.
He graduated in 2016, but instead of heading off to college, he chose to work full-time, spending eight hours a day operating a machine that made boxes. He enjoyed the work, and he needed a break from the rigors of the classroom. It was a decision that many around him questioned and warned him was a mistake. Linn was not deterred. He was still holding fast to the idea that he would one day be an engineer. After two years on the job, he was ready to return to school.
When he began his college search, he discovered that Dunwoody's School of Engineering with its hands-on approach, sounded like a natural fit. "I rely on deep understanding that gets affirmed through hands-on learning," Linn said.
He was worried that his performance in high school might cause roadblocks and credits Jonathan Aurand, Associate Professor of Mechanical Engineering, for seeing something in him and accepting him into the program.
"When I interviewed Bren, he struck me as a person who is very curious. He wanted to understand how things work the way they do and why they work that way," Aurand said.  
From making a complex elevator project that had doors which opened and closed, to a self-cleaning cat litter box, Linn has found ways to exceed assignment expectations, often going above and beyond what is asked. The elevator project requirements did not include having doors that opened and closed, but he spent some late nights during his second year making that happen.
The automatic kitty litter box was an assignment in his Design for Manufacturability class. They were asked to design and fabricate a product using three different manufacturing processes. Linn and his partner used five. The resulting prototype worked and was impressive, but not well enough to satisfy him. The motor skipped when turned a certain way. He kept tinkering with it off-and-on long after his final grade for that class was earned, and when time allowed, finally getting it to a point where he was happy.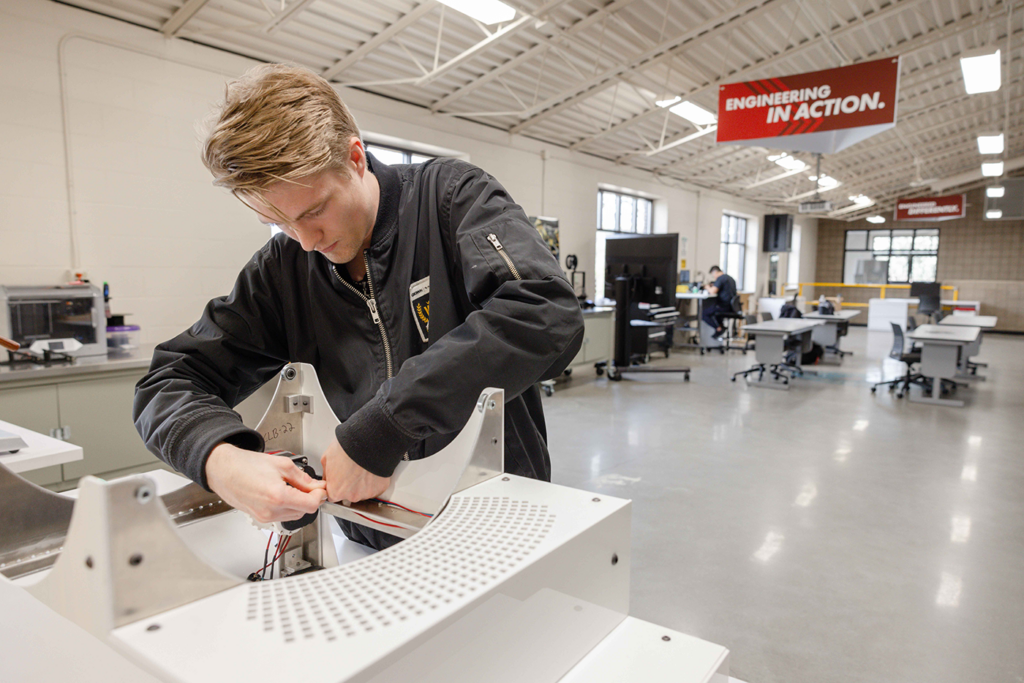 This determination and work ethic led faculty to recognize and nominate him for the Academic Excellence Award for Mechanical Engineering. It is the highest award a graduating student can receive at Dunwoody. Nominees must have 90 percent attendance or higher and a GPA of 3.0 or higher.

"When he enrolled at Dunwoody, he lived up to what he said in that interview and exceeded all expectations," Aurand said. "He is very driven, curious, and meticulous.  He is a great team player and helps his team members perform at the highest level."
Linn said receiving the award validates his last four years. "Getting this award just brought all this hard work to a great and fulfilling end," he said. "I am honored and blessed."
He also credits the faculty for their perseverance. "They all put up with my crazy ideas and never shut me down. Plus, they were always there to help when I was stuck, and I admire their intelligence and ability to keep the learning experience fun."
After he graduates in May, he plans to join Twin City Filter Service, a business started by his family in the 1940s, as the sole engineer where he will design custom machinery that helps to refine processes, which he says is his favorite thing to do.
"There is one job where you sit at the cutting table and just cut for eight hours. And I remember when I was like 12 and doing it, and I was like there has got to be a better way," he said. "Automation. Custom machinery. Taking a process and making it easier for other people so I am helping people enjoy their jobs more."
With his engineering goal so close to being realized, he wastes no time setting new ones.
"My biggest goal is to start my own custom engineering and manufacturing business — where people can come to me to solve their problems where nothing exists yet," Linn said.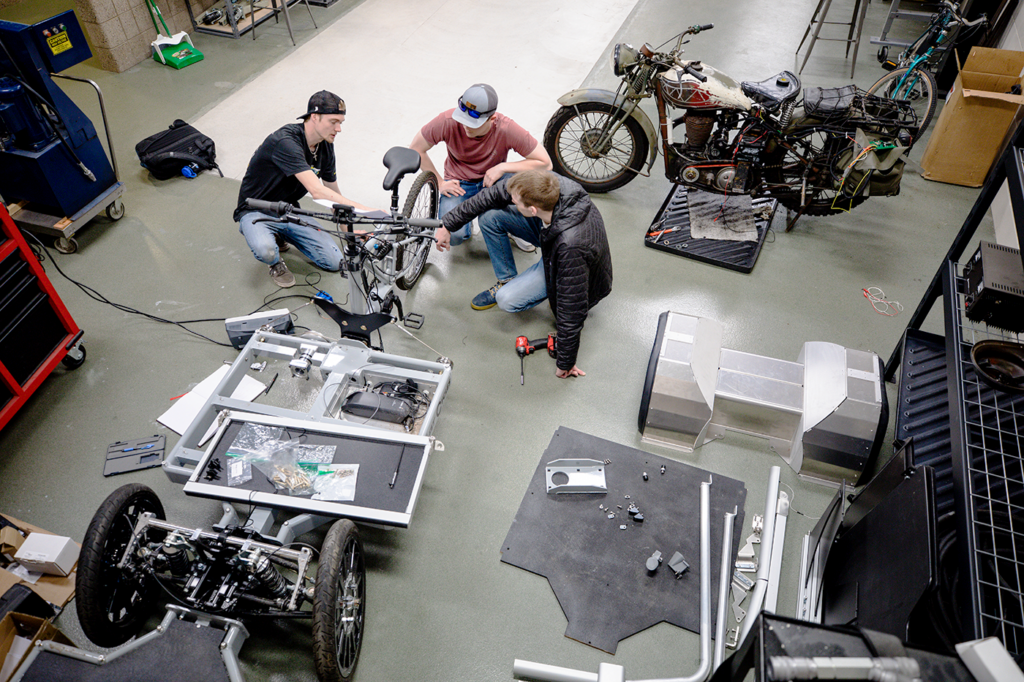 But that is not all: much like the way he views and meticulously tackles each detail of his projects, he sees his future clearly mapped out in his mind.
"I want to become successful to the point where I can give away millions of dollars to charities, family, friends, churches, the poor, and missionaries," Linn said. "Wife and kids out in the country. Big warehouse just a stone's throw from the house. CNC machines, injection molders, bunch of 3D printers, metal 3D printers. Laser engravers. All the fun, big tools. I can just invent and test and create new inventions on my own time."
His other passion is racing performance cars, an expensive passion that he hopes to fund when he makes his success.
"That would be the dream," he said. "For now, I am happy where I am at."