Academic Excellence Award — Leighton Cole, Computer Networking Systems
In a world where technology becomes ever more interconnected and complex, the need for cybersecurity professionals has skyrocketed.
Leighton Cole, Academic Excellence Award winner for Computer Technology, is part of a new generation of future professionals who are excited about cybersecurity as a career path and have decided it is for them.
Growing up, Cole enjoyed tinkering and learning, especially anything related to technology, but he wasn't as interested in the more academic side of school, like writing essays.
As he began high school, he wasn't really sure what he wanted to do for college and a career, but then Edina High School added a cybersecurity course. That sounded interesting to Cole, so he enrolled in it.
"It was enough to get me curious, and I started taking more computer classes in high school from there," Cole said. "Towards the end of high school, I knew I wanted to do something in tech and when I heard that Dunwoody had added a cybersecurity program, I figured that'd be perfect for me. I've always thought that the idea of (ethical) hacking was really cool. Obviously, that's just a small part of what cybersecurity is, but that along with how they're able to do forensics on computers and recover things that people tried to erase is what has always been fascinating to me."
The son of one of his mother's friends was a Computer Technology student at the College and added his endorsement to Cole's plan, which helped him make the final decision.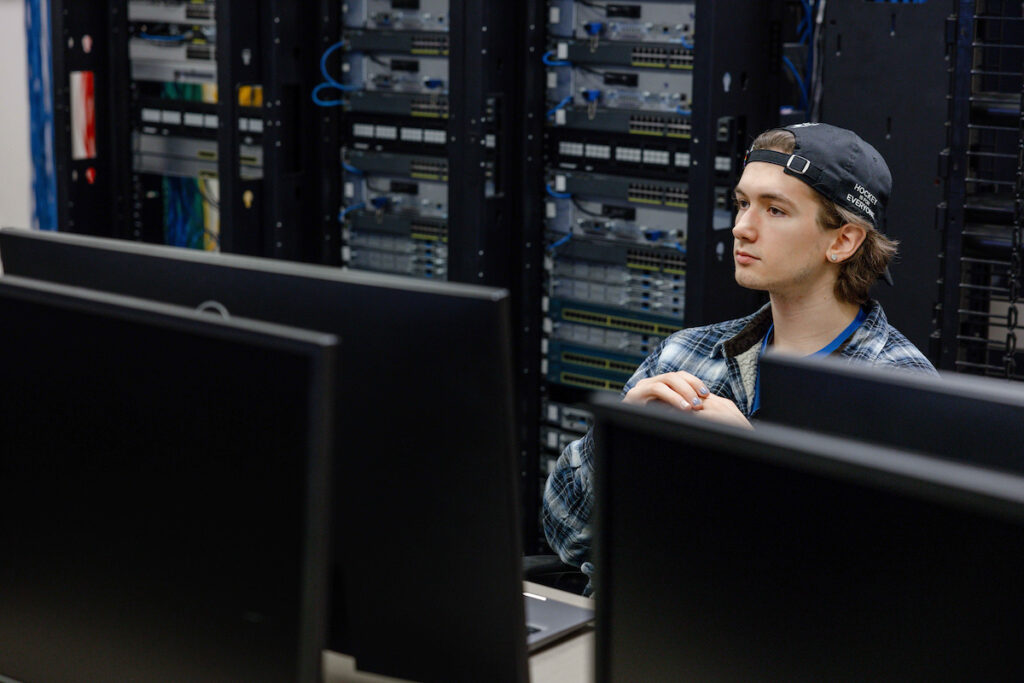 Dunwoody's Cybersecurity program is a bachelor's completion degree. For the first two years, students earn an associate's degree in Computer Networking Systems. The idea is for them to have a strong grounding in the field so they can work out in industry while they complete their Cybersecurity degree. This way they graduate with both a degree and work experience and so are well-suited to succeed as a cybersecurity professional.
It is for Cole's performance as a Computer Networking Systems student that he has received the Academic Excellence award.
"Leighton is a leader within this group of graduates," said Computer Technology Director Julie McFadden. "He always puts in 100 percent and serves as a great representative and example for others."
Cole chalks his success up to two main factors.
The first is Dunwoody's project-focused, small class size learning environment.
"I've really enjoyed the small classes, and how much I'm able to work with the professors," he said. "I feel like I've gotten to be friends with a lot of my professors, and being able to have that relationship in the classroom has made learning a lot more fun. It is a lot easier to ask them questions or just chat and joke around whenever we've got extra time."
The second is the effort he puts into his classwork due to the inspiration of his parents.
"My dad is a carpenter and is usually outside doing hard work all day. My mom works 24-hour shifts doing everything to care for her elderly clients," he said. "It's hard to work harder than those two, but I try to match their effort in everything I do. I also strive to obtain any and all bragging rights over my brothers, so they also motivate me to put in my best effort."
The hard work is paying off and the award is just a bonus on top of the bragging rights. But Cole is happy to be recognized.
"It is rewarding to know that my professors have seen all the effort I have been putting in to being as good of a student as I can be," Cole said. "It is also a testament to their teaching ability and knowledge. They have all been wonderful professors, and I want to thank them for all that they have done for me to get me to where I am."
It isn't just about his academic success, of course. Like so many Dunwoody students and graduates, Cole finds the work interesting. He specifically cited working with blade servers as a highlight. Blade servers are used in huge data centers. They are a type of computer that use as few components as possible to save space, cost, and optimize performance. Because blade servers are so stripped down and bundled together in large arrays, they are configured and managed remotely.
"We've done numerous projects with the blade servers," Cole said. "But in general, we use VMware Esxi and Workstation to build virtual machines for the project we're doing. That could be anything from configuring windows servers, Linux servers, or working with SQL databases."
With the basics down, Cole is eager to move onto the next phase of his career journey: Dunwoody's cybersecurity program. He has accepted a summer internship at the Federal Reserve Bank of Minneapolis.
"I will be part of the desktop support unit there and am eager to use all the skills I've acquired during this program, and hopefully learn some new ones as well," he said. "I am looking forward to joining the Cybersecurity program in the fall. I want to eventually have a job in that field. Perhaps something in incident response, digital forensics, or penetration testing? Not sure yet, but I am very excited to see what the future holds."