Denise King '95, Machine Tool Technology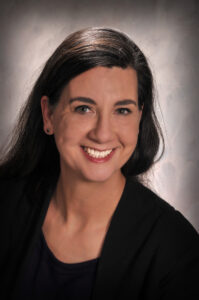 Denise King is a 1995 graduate of the Machine Tool Technology program who went on to a career in Industrial Sales and Marketing. She later earned a Bachelor of Science in Business Administration from Cardinal Stritch University and a Master of Business Administration from Hamline University. King has been working at 3M Company for nearly a decade, currently as a Commercial Leader in the Separation Management Office as the company prepares to spin off its Health Care business.
King is the most recent addition to the Dunwoody Alumni Association Board and is excited to engage with other alumni to support Dunwoody.
Read Denise's Alumni Insights to find out which Dunwoody College faculty member inspired her the most.
What's your favorite family tradition?
At Christmastime, we get together and decorate gingerbread houses. Each person gets one and decorates it to their liking, the results are incredible and hilarious. I display them as a little village with faux trees and lights. (Well, at least I did until we had mice last year!)
What's the best concert you've ever been to?
I moved to Austin, Texas for a few years and was fortunate to attend Austin City Limits Festival, which is three days and nights of music in a park in downtown Austin. The headliners included icons like Metallica and Sir Paul McCartney, but the best part was sitting in the grass with a cold drink on a sunny afternoon listening to rising stars like Lukas Nelson & the Promise of the Real or Greta Van Vleet.
Which faculty member or staff inspired you the most? How?
Roy Johnson and Tom Larson (Advanced Manufacturing) were terrific instructors and guides to getting through the tough stuff.  When I'd get stuck on a project, Tom would say, "You've got a case of the yips. There's nothing to it, but to do it!" Roy is one of those guys who believed everyone in his class could be successful. He would go back through the material as often as necessary and in different ways to get the student to understanding and application. 
What do you miss most about being a kid?
I think back on the summer days and how they felt endless. I'd spend the day with my siblings biking all over town or at the library with my nose in a book.
What is one goal you'd like to accomplish during your lifetime?
I dream about a through-hike on the Superior Hiking Trail (SHT). SHT is around 300 miles, starting near Duluth and ending near the Canadian border. I may get to do segments of it in the coming years.
If they made a movie of your life, what would it be about and which actor would you want to play you?
Maybe I'd create a film like Sliding Doors where we see what happens when someone makes choices and the effects that each choice has on their path. Actor? Maybe Justine Bateman. A kid in high school was convinced that I was "that girl from Family Ties."
If you could visit any place in the world, where would you choose to go and why?
I am a big fan of midcentury design, and would love to go to Brasilia, the capital city of Brazil. Brasilia was developed as a planned city, designed with amazing modernist architecture and intentional urban planning.
What book has influenced you greatly? How?
"The Seven Habits of Highly Effective People," by Stephen Covey was quite popular as I was starting my professional career. I enjoyed how it helped me build a framework that included personal growth and service, along with guidance for productivity and work-life balance. I still refer to it from time to time and recommend it to others.
It has been said that everyone gets 15 minutes of fame. What happened during your 15 minutes?
Hamline University featured me on a billboard campaign when I was doing my MBA. Friends messaged me, "Is that you in Uptown on that billboard?" and my grandkid was so excited to see "Nona" on the sign.  Maybe it's not fame, strictly speaking, but it was fun!
What is your idea of a fruitful day?
Most days are busy and productive, but fruitful means I've connected with someone on a deeper level — an old friend, my kids, or a colleague I'm getting to know. I guess that all of what we do only matters if we can recognize the people behind the "why."