If you ask Lina Ahmed what enthralled her from an early age, the answer is two-fold: design and problem solving.
"I had a great fascination with it, but I didn't know that it could be a job," Ahmed said. "My sister was studying architecture at the time, and when I saw what she was doing, I realized that I could pursue it as a career."
That unwavering passion ultimately led her to Dunwoody's School of Design, where she is in her fourth year in the accredited Bachelor of Architecture program.
Dunwoody's intimate class sizes, which offer the ability to have one-on-one time with industry-experienced faculty, only reinforced Ahmed's decision to apply.
And building relationships with faculty members such as Associate Professor of Architecture Anjali Ganapathy, who she studied with during her third year, left a great impression upon her.
"She really took the time and gave a lot of attention to my work, which was really inspiring," Ahmed said. "She pushed me to try different things and really develop my skills."
It was during this class that Ahmed worked on a community performing arts center, located in the Upper Harbor Terminal in North Minneapolis. She created three design boards that showed her research, the process work, as well as the final concept design, an exercise that began to develop her skills in rendering and architectural drawings such as plans, elevations, and sections.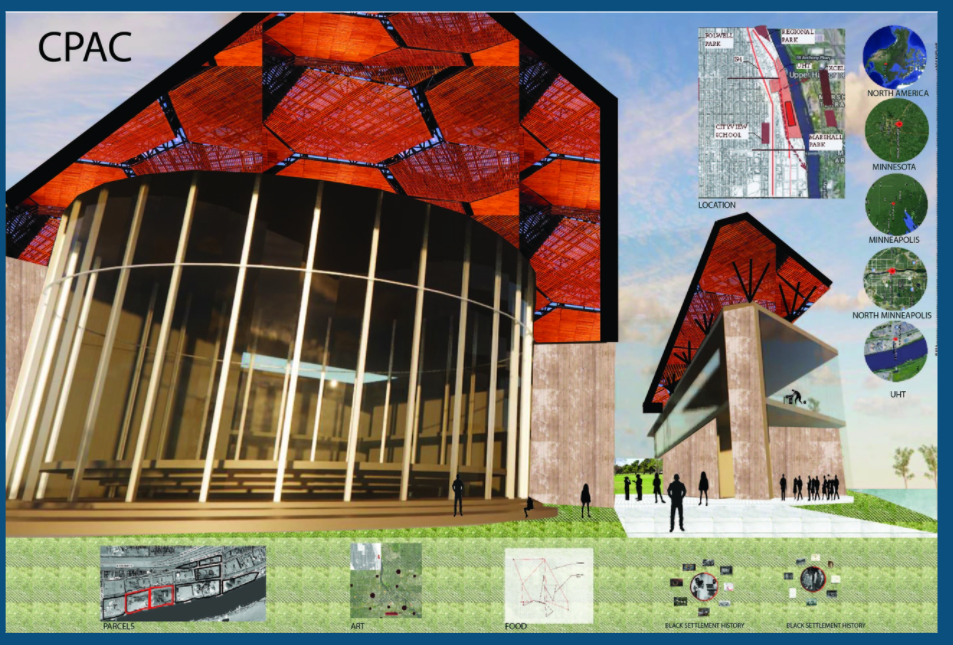 At the end of the semester, Ganapathy and Architecture Instructor Wale Falade submitted their students' work to BWBR for their annual competition review. The contest awards winning students in their third year of undergraduate studies a prize of $1500. Runner up are awarded $500 each. Students are judged not only on their work, but also for their presentation skills in front of a panel of jurors.
Ahmed, along with four of her classmates: Abigail Kummer, Endre Thorkelson, Ben Schuebel, and Ellen Obeng were chosen as finalists.
Dunwoody prides itself training students in real-world situations. For architecture students, this includes learning how to present their work — a requirement for Ganapathy's final.
"We put a great deal of emphasis on student verbal presentations because great graphic representation skills and design chops on a project must reflect not just the fact that architecture is a material reality, but also the fact that architecture embodies the values of the community it serves," Ganapathy said. "As future architects, our students need to be articulate about how they go about integrating community values into their design work."
Ahmed drew on skills learned the semester before.
"We had to present for finals," Ahmed said. "I had the notes from that presentation, which helped me prepare for the competition."
Ahmed's talent impressed the panel of jurors who declared her the winner.
Humbled by the news, she reflected on all that she had accomplished. "Winning that award showed me all the progress I have made, and gave me outside validation as well," she said.
As for the future, she plans to become a licensed architect, and has her sights set to work in an architecture firm. She is open to where that might take her.
In the meantime, Ahmed is currently deep into research for her studio class, learning about structures of resistance, which includes 3D and Metal fabrication. "It is a new and interesting topic," she said. "I am learning a lot."