Honda Professional Automotive Career Training (PACT)
Josh Mattson knew that he wanted to do something hands-on for a living.
"I'm not a huge fan of sitting at a desk and filling out papers all day," he said. "I like to get my hands dirty and turn wrenches."
As a student at Osseo High School in Maple Grove, Mattson took auto tech courses and was already interested in pursuing a career in the automotive industry. When looking for the next step after graduation in 2020, one of his instructors suggested that he check out Dunwoody College of Technology.
Mattson scheduled a tour of the Dunwoody campus, and from the first visit it seemed like a good fit.
"I felt welcomed, and the automotive facilities made me feel like it would be a great place to further my education," he said. "I knew I wanted a manufacturer program, and the PACT coordinator who talked with me during my tour was super nice."
He chose the Honda Professional Automotive Career Training (PACT) program. Taught under a Master Certified Honda Instructor, the program leads to certification in 10 categories of Honda repair, and opens the door to employment at Honda dealers across the nation.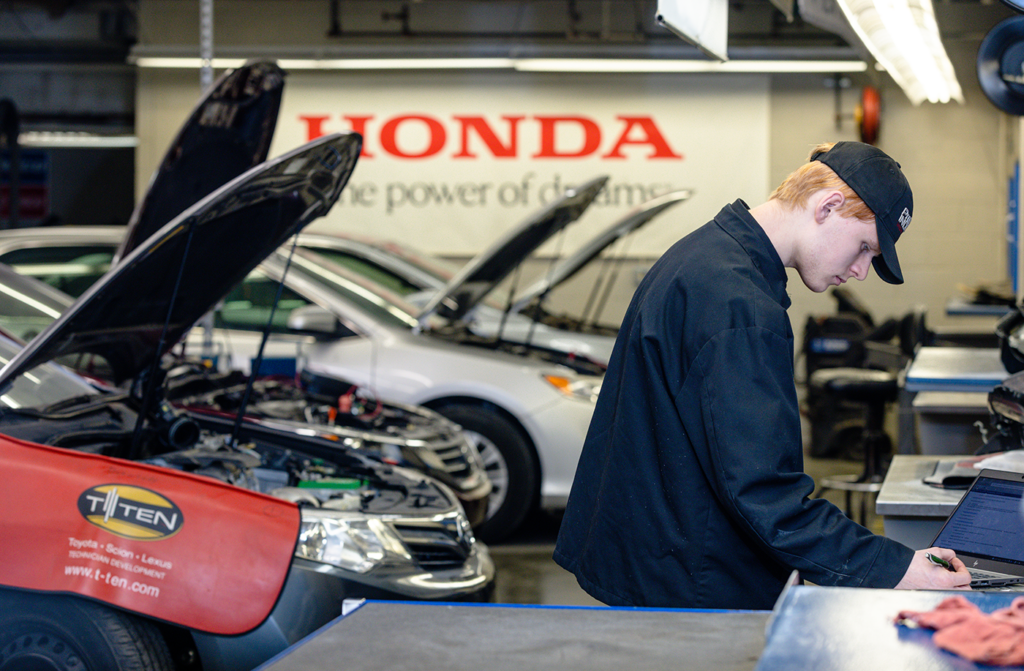 A highlight for Mattson was the opportunity to take apart and rebuild transmissions in his third semester. "This was a project I thoroughly enjoyed," he said. "I knew very little about transmission internals prior to taking one apart. I learned a lot from the whole process."
It wasn't just the automotive curriculum that made Dunwoody a great experience for Mattson.
"By far my most enjoyable experience has been the people I've met," he said. "The staff make the classrooms and labs approachable, and the other students who I started the program with are now my friends."
One of the most valuable lessons he learned at Dunwoody was how to effectively balance "work, school, and the rest of my life."
Jason Emrick, Senior Instructor/Honda PACT Coordinator, took notice of Mattson's determination in the classroom and lab. Not only was he an active and attentive listener, prepared for class each day, but also willing to help classmates if they were struggling with a concept.
"He was always willing to do extra work and pursue additional learning opportunities," Emrick said, pointing out a time when an unplanned teaching opportunity presented itself right after Mattson had left campus for the day. "I gave him the option of coming back, or going over it with me the following day. He came back to school so he could cover it with his class. It was that attitude I really admire."
Emrick nominated Mattson for the 2022 Academic Excellence Award in Automotive Technology.
"He is a great addition to any class and someone who I would be happy to work with in industry," Emrick said.
For Mattson, the award was validation of all his efforts.
"It meant a lot to receive the Academic Excellence Award," he said. "I have put a lot of work into school, and to be recognized for that work makes it all worth it."
An Eagle Scout, Mattson credits his father as an inspiration. "He always encouraged me to study hard, do my best, and to be the best person I can be," he said.
Mattson is already working in the industry, currently employed as a technician at Bloomington Acura Subaru. He ultimately seeks to become a master technician. In his free time, he enjoys spending time with family and friends, watching Formula One, and, of course, working on his car.