For many, architecture is an art form. For artist David Jensen, architecture has become his new medium.
Jensen, who will graduate this May with a Bachelor Architecture from Dunwoody College of Technology, discovered his love of architecture through his art.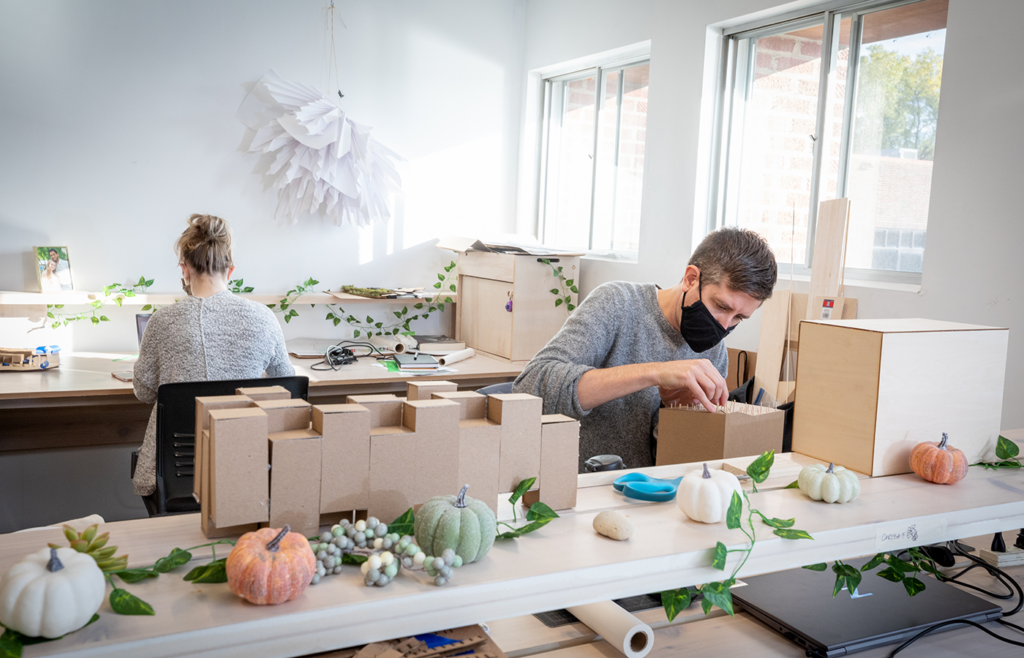 He was working on a series of collaborative projects with filmmaker and musician Isaac Gale, one of which was a Music Video Selection for the SXSW Film Festival, when he realized he was mostly interested in how different elements at a site — space, color, lighting — all worked together.
"Video was the springboard for me falling in love with a site," he said. "That's where I started thinking about architecture. My work as an artist turned me on to seeing the really important relationship between art and architecture."
That thought would turn into action when Jensen enrolled at Dunwoody in the Fall of 2017.
This wasn't Jensen's first college experience. Born and raised in Eau Claire, Wisconsin, Jensen studied art and painting at the University of Wisconsin — Eau Claire before moving to Minneapolis 12 years ago.
His work as an artist has been exhibited at several galleries, including X,Y & Z Gallery, Future Presence, and First Amendment Gallery in Minneapolis, and is currently featured in the New York Design Center in Manhattan.
"I had a studio on Northeast Minneapolis that I was living and working out of," he said. "I had a little success selling my work in New York. But I still had to tell myself that I can do this — do architecture, because I kept putting if off, thinking I was too old to be going to school."
It was those thoughts that were running through his head when he started googling architecture schools in Minnesota. Two options popped up, and with just a month before the start of the semester, he had already missed the University of Minnesota's deadline. That left Dunwoody. Jensen applied, was accepted, and started in the program just three weeks later.
It may have been a spontaneous decision — but one he has never regretted.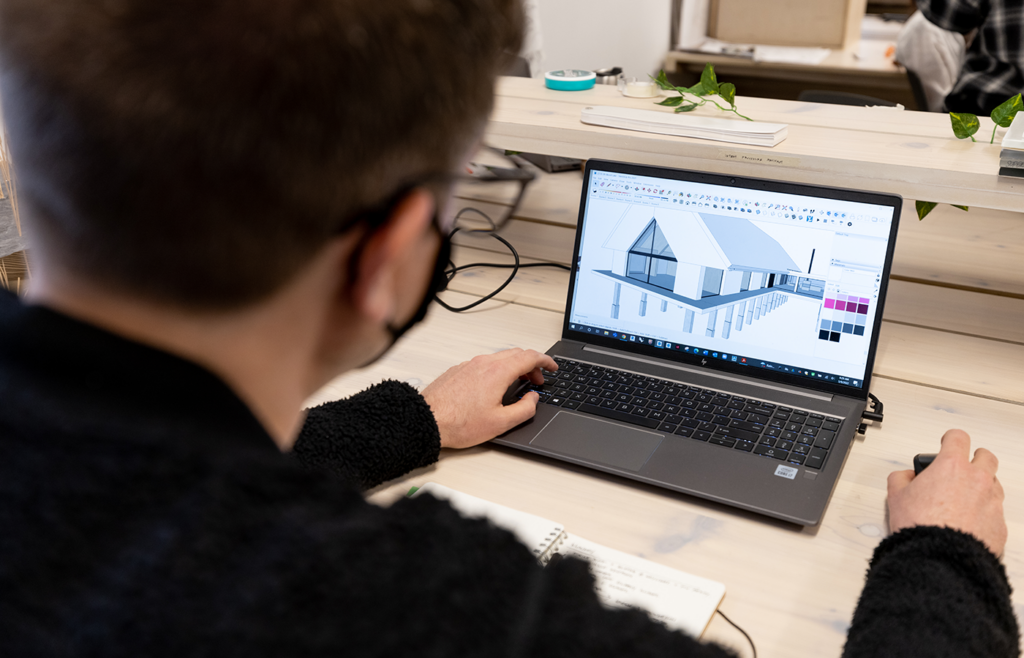 "I feel like architecture is slowing that part of me down — making me a more analytical person," Jensen said. "Dunwoody has taught me how to learn — I feel like after Dunwoody there is nothing that I can't learn now. That was a huge thing."
Architecture has also been a space that has allowed him to explore other interests, including sustainable building practices.
"Making buildings more sustainable goes beyond energy," he said. "It takes into consideration the ecology of the site, water, the equity of how building projects are made, and how people are paid in the industry. Really getting into the weeds of how buildings are put together, how buildings are sited — those are 'ah-ha' moments for me — those are what we should be responsibly doing as the next crop of architects coming into the world."
Jensen said exposure to those different ideas and concepts is one of the things he's enjoyed most about his Dunwoody experience.
"Each year at Dunwoody you are introduced to different ideas and that is something that I have tried to incorporate into each one of my studio projects," he said.
After finishing year one at Dunwoody, Jensen was hired at Shelter Architecture. He is now a designer at the firm and plans to continue working there while he studies for his Architect Registration Examination (ARE) in the fall.
Because Dunwoody uses a stackable degree model, Jensen earned his Associate of Applied Science in Architectural Drafting & Design in 2019 and is now finishing up his Bachelor of Architecture. Working in the field while also attending school, means Jensen has already completed 84 percent of his clock hours needed for licensure.
"I'm a grinder — I can work 16 hours a day — it suits my personality," he said. "My biggest challenge has been getting stuff out of my head and not throwing the baby out with the bathwater. Sticking with one concept and iterating on it."
His hard work did not go unnoticed by the faculty at Dunwoody. Jensen was named a 2022 Academic Excellence Award recipient for the School of Design.
Through his work at Shelter and his studio projects at Dunwoody, Jensen has been able to work on a variety of projects — from a net-zero cabin in Northern Wisconsin to a new visitor center and flex space for Woodlake Nature Center in Richfield.
He was even able to take the lead on designing his sister's 1,000-square foot Token Jewelry store front in Eau Claire, Wisconsin, seeing the project through from design to build — including making all of the tile by hand.
And for Jensen, it's more about the process than the type of structure.
"I love housing. I love finding out the patterns of how people live," Jensen said. "I love the intimate details of people's lives. It's fun to imagine yourself in that space, and it informs how you can lay something out. But I can do that with any project. I think I can love any sort of building or process."
He's discovered that same type of excitement with his final studio project, the Woodlake Nature Center.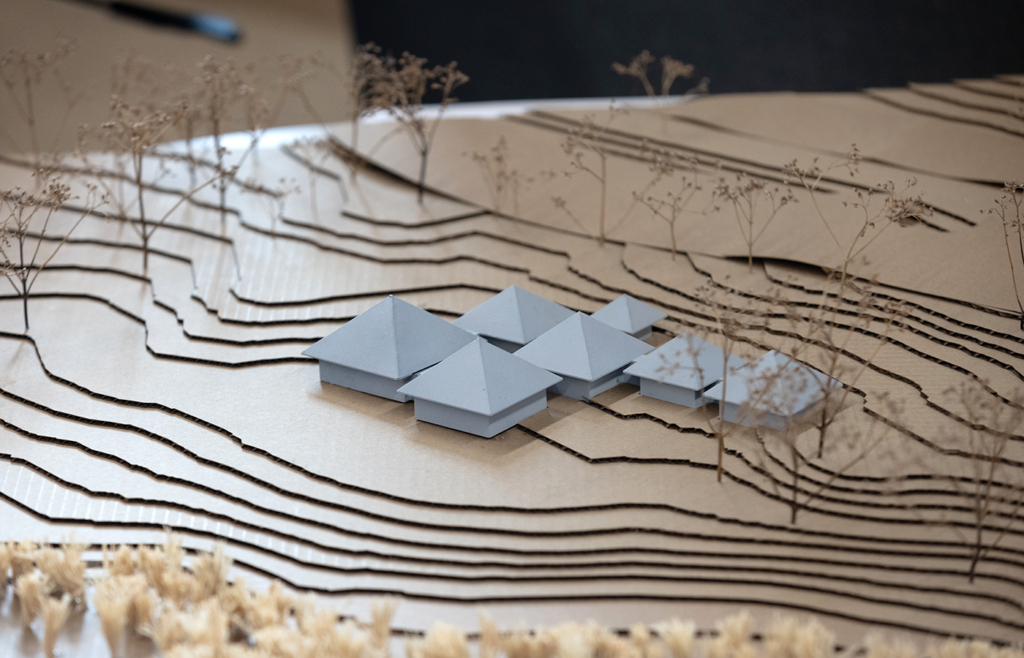 "Right now, this class, this thesis project, it's been really challenging," he said. "The stakes feel higher. It feels like this is the time that we are putting it all together. Collectively, we are rising to the occasion."
The nature center project was prompted by the City of Richfield and Minneapolis-based architecture firm HGA. The original nature center was built in 1971 and needs to be replaced. The new multi-use center will incorporate more flex and event spaces, meeting areas, exhibition space, and offices.
Like all of his projects, Jensen started with hand-drawing before moving to the 3D modeling phase.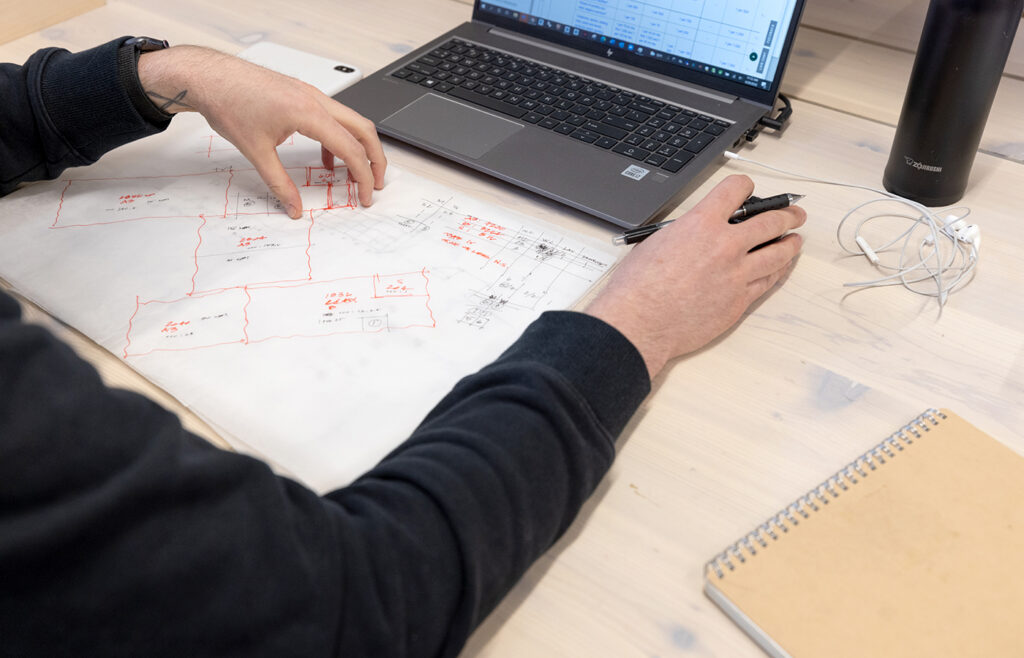 "I don't like to use CAD as a design tool," he said. "I like to draw, it's a way to slow down and think about things."
After the 3D modeling, Jensen moves on to building a physical model, to best demonstrate the relationship between the building and the site.
Learning the technical side of architecture, such as building codes, ADA compliance, and design software has helped him both at work and on his studio projects. But it's the design side, the place where art and architecture blend, where Jensen shines.
"This is all I do," Jensen said. "And when I'm not in class or at work, then I'm in my studio painting."
Still the artist — and now the architect.