Growing up in central Washington State, Rebecca (Becs) Wells had two main interests: the visual arts, especially painting and drawing, and helping her dad work in his shop. Little did she know that those two interests would eventually combine, leading her to move to the Twin Cities, enroll at Dunwoody, and end up becoming the College's student speaker for Commencement as well as an Academic Excellence Award winner for the Robotics & Manufacturing department.
Wells graduates with a Welding Technology certificate this month.
Growing up in the small town of Leavenworth, WA, Wells maintained the interests she had developed as a child, but cross-country skiing became the dominant organizing factor of her life as she became a teenager, including competing in the qualifiers for Junior Nationals. She also participated in a program that allowed her to take community college courses during her junior and senior years, which meant she graduated with both a high school diploma and an associate's degree.
The next step would be to transfer to a four-year college and continue to pursue cross-country skiing, but Wells wasn't convinced that was the right path for her.
"I decided I'd rather pursue an education rather than divide my attention between the sport that I do love, but I realized I can pursue recreationally," she said.
Wells wasn't entirely sure what she wanted to do, but she knew where she wanted to be: Bozeman, Montana. She figured Montana State was a large enough college to accommodate whatever major she settled on. She also appreciated that Bozeman has a great outdoor community.
In fact, because of what she learned from her dad and a stint in contractor sales at a hardware store, she was quickly able to sign on with a small construction company that did a lot of subcontracting work for the larger firms in town. Once she proved she knew what she was doing, the men she was working for explained she'd have better opportunities if she acquired an independent contractor's license.
It took some paperwork and a trip to Helena, but that's exactly what she did, and it meant she was able to work on a variety of projects, including her favorite one.
"We helped turn a cattle barn into a wedding venue," Wells said. "It was gorgeous. I love it so much. I definitely like construction. It's similar to why I like metal — you can watch it change in form into this amazing thing."
After working for a while, Wells realized that what she wanted most was to return to visual art so she enrolled at Montana State in the bachelor of fine arts program. Her intention was to focus on two-dimensional art, but then:
"At Montana State … you have to take so many different types of art classes, and so I took a sculpture class. It was the last project. There were two requirements. The project had to be the size of you, and you had to weld it. And I was hooked. I was going to be a painting-focused major, and I changed everything to sculpture at that point."
After graduation, Wells wanted to keep learning about working with metal, but the welding programs in her area all had wait lists. Plus she had heard from a cousin that there was this college in the Twin Cities that really excelled at teaching welding.
So she applied to Dunwoody, and less than a year ago in the midst of a pandemic, she moved to the Twin Cities.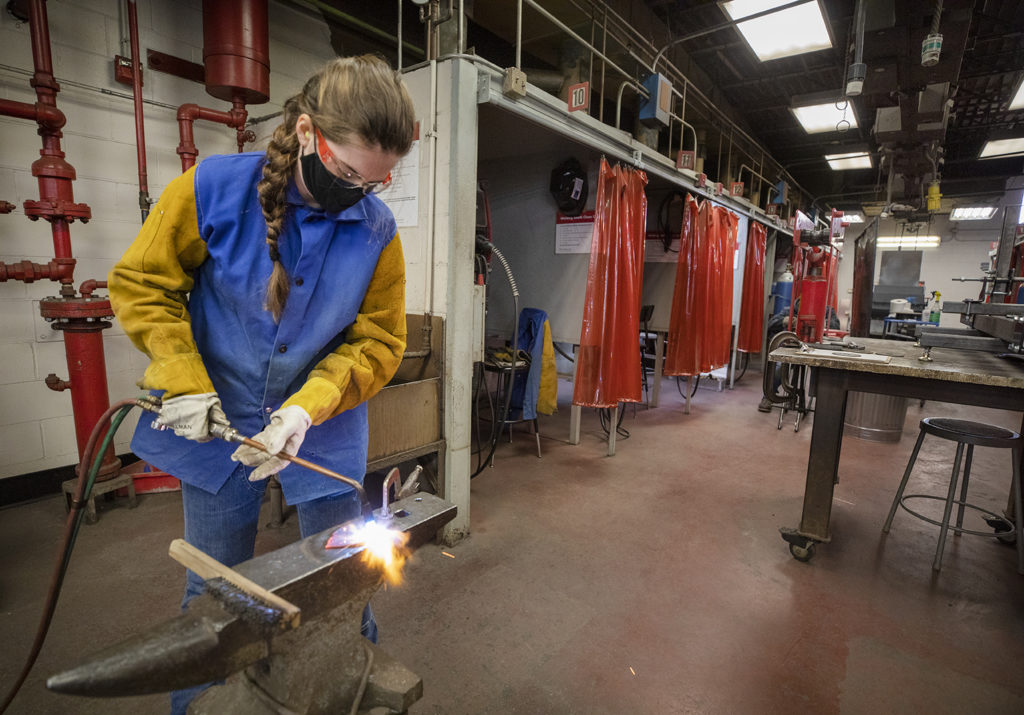 And while it wasn't easy, it was worth it.
"I've learned how strong of a human being I am through Dunwoody," Wells said. "Dunwoody has taught me that it's okay to ask for help and rely on other people. And if you ask for it, there most likely is a community who is willing to back you."
Her time at the College also reinforced that metal is her medium of choice. Wells recounted how in one of the first classes Ross Skattum, Senior Welding Instructor, demonstrated all the ways that welders can work with metal.
"I love how much you can change and manipulate metal, and you can make it look like these lifelike things, and it also can be a structural thing you use for cars and buildings," she said. "There's just so much variety with what you can do with metal."
Wells enthusiasm for welding was definitely notice by the faculty as were the other qualities that prove her love of learning.
"Becs is intensely authentic and her leadership and proficiency in communication has proven invaluable to her classmates and instructors in enriching and enhancing our educational experience," Skattum said. "Her powerful attitude and steadfast determination are second to none."
What's more, Wells will be leaving a physical legacy of her time on campus during a difficult year for her and her fellow students. Drawing on her art background, she designed a project that celebrates the strength of individuals and community: a large metal tree to which each graduating welder will add a metal leaf they design and fabricate. She and her classmates have each added their leaves to the tree during the past few weeks, and next year's class will do the same as they approach graduation.
Wells is planning to move back to Bozeman to rejoin her friends and her siblings (all of whom live there now). She plans to adopt a couple of dogs, work to grow her art business, and continue to weld her way into new spaces.