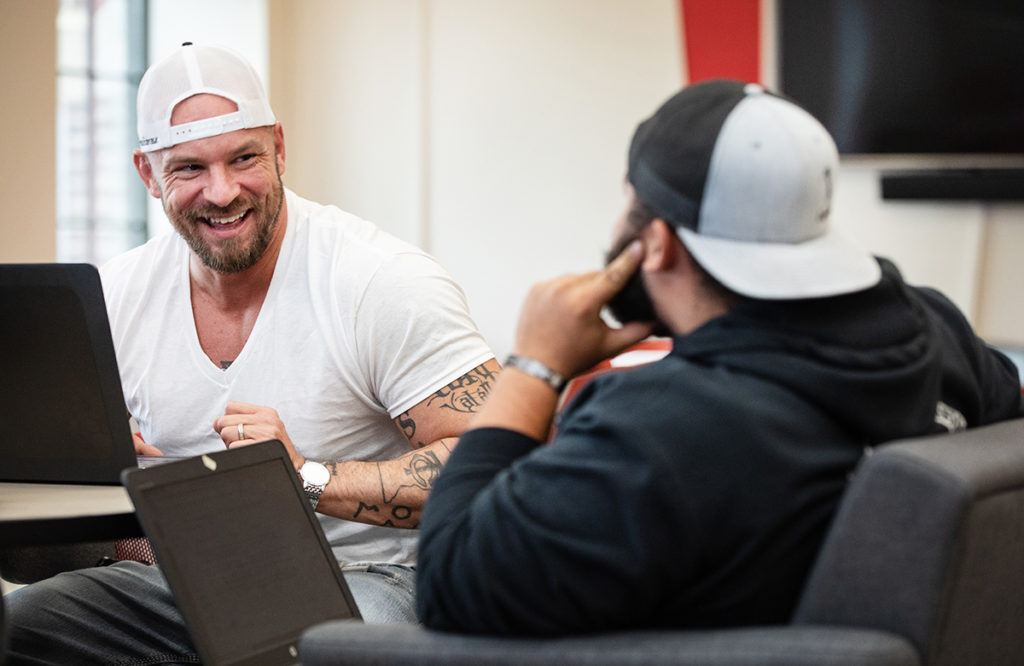 Anthony "Tony" Rush has always led a life of service. And his time here at Dunwoody has been no different.
As a student, a tutor, a mentor, a veteran, and a volunteer, Rush has continually gone above and beyond to help others. His impact as a leader is one of the reasons Rush was selected to receive the 2019 Student Leadership Award by the Dunwoody Alumni Association.
"I was extremely nervous coming back to school at my age, I had suffered multiple Traumatic Brain Injuries from combat wounds overseas," Rush said. "Just a few short years ago I still had massive memory loss and stuttered fairly bad. Coming back to school was like coming out of the shell I had backed myself into."
Enrolling in college at age 34, Rush said he selected Dunwoody because of the College's reputation within the veteran community. "Dunwoody has a reputation that stands above the rest," he said.
The decision was a good one.
In December Rush earned his associate's degree in Construction Project Management, but his journey at Dunwoody is only half over. He is currently enrolled in the bachelor's completion program for Construction Management.
For someone who enjoys both a challenge and is filled with boundless curiosity, the decision to pursue a career in construction management was a natural fit.
"I have always had an engineer's mind," he said. "I take everything apart and wonder why and how on everything I see. It fits well for construction management. And looking at large scale projects and considering how they are managed seemed like an endless challenge that could keep me continually improving myself on."
For Rush, his time here at Dunwoody has also been spent helping others improve.
A student tutor in Construction Management, Rush also leads software workshops for other A.A.S. students. He even taught himself some advanced topics in the bachelor's program so he could support those students as well. Rush has been an active member of the Construction Management Program Advisory Committee and a mentor for first year students.
Outside of Dunwoody, Rush is a program director for Battle Buddies USA, a non-profit that fights veteran suicide, a member of multiple other charities for veterans, and an advocate for mental health and sobriety and a mentor.
Helping others has been one of things that has kept Rush motivated during his time here.
"I started to tutor after my first semester," he said. "Leading others is natural to me and teaching makes you very good at knowing your subject matter."
In addition to all of his activities outside the classroom, Rush has enjoyed his time as a student – especially the small-class sizes and individualized attention from faculty.
 "I enrolled in spring semester and my classes have been very personal," he said. "At one point – five total in the classroom. You cannot find that anywhere else."
While he still has more than a year before he completes his bachelor's degree, Rush is already planning for the future – and how he plans to impact the community.
"I'm excited by the possibilities of everything I will get to experience," he said. "I live for 'first times' and I intend to experience as many as I can."
Rush said he finds inspiration from all of the stories behind today's big companies – how they started and their path to success. It's a road he plans to travel as well. "I intend to change our skyline," Rush said.
Looking back at his time at Dunwoody, Rush said he's really enjoyed the real-world problem solving and activities. And he's learned some valuable lessons along the way.
"Take risk and embrace failure," Rush said. "It's a lesson, not the end of the road. Dunwoody is the vehicle you drive to reach your potential. It is the catalyst for your career. It's a brand, a commitment, and an endeavor."