Dunwoody College's two-year graphic design degree program has changed its name to Graphic Design & Production to better reflect the experience it provides to students. Adding the term "production" to the name reinforces that Dunwoody's program graduates designers who have hands-on experience with producing their designs and are capable of designing across a spectrum of media and communication needs.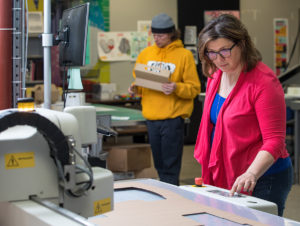 "More and more design work is done within teams of professionals," Tom Herold, Assistant Professor of Graphic Design & Production said. "Having production skills and/or knowledge makes a designer a better business partner. The size of firms that our grads are finding work in often require a designer to be the producer also. There isn't a separation between the roles."
But it's more than just what roles designers are now asked to take on.
"Production work is also creative work. Insights in to what works in graphic communication are very often realized at a production stage," Herold said.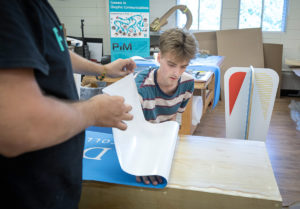 This concept — that solutions are to be found when theories, designs, and concepts are put into production — is central to all of Dunwoody's programs. It's how our students learn and unleash their creativity.
A DESIGN DEGREE IN TWO YEARS
Also consistent with the College's tradition is the fact that Dunwoody's programs are only as long as they need to be. For Graphic Design & Production, that means a two-year degree.
The idea is that an intense period of hands-on study followed by working in the field is the best way for designers to launch a great career. It also allows them to more fully emerge as confident professionals who combine excellent technical skill with the ability to adapt those skills to a wide range of design projects and roles.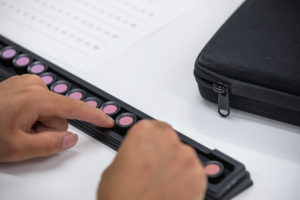 "Our philosophy is that foundational technical learning begins in Week 1 of the first year," Pete Rivard, Assistant Professor of Graphic Design & Production, said. "Dunwoody's learning-by-doing mentality doesn't allow for any hesitation in practicing the tools of the trade (software, print engines, measuring devices, etc.). We don't pull theory apart from the application of theory."
PACKAGING DESIGN
The academic plan of required courses and electives was also updated to reflect changes that faculty had already made to their curriculum as well as other improvements suggested by industry feedback and faculty research into design industry trends.
One thing that hasn't changed, though, is the second semester course in package design. This class pairs design students with Dunwoody employees who have an interesting object they want to be packaged for display. Students then go through the entire process with their client — from initial concept through structural design and final graphics.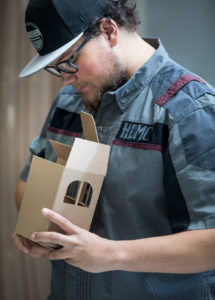 "This inquiry into materials and material behavior (found throughout Dunwoody's programs) provides a deeper, richer educational experience for our students," Rivard said.
And if students discover it's a design track they like, there are plenty of jobs available to them after graduation. As Rivard notes:
"The Twin Cities has become an international center of retail design. Dozens of local companies provide packaging design and production to Target, Best Buy, 3M, Medtronic, etc. as well as the raw materials for this packaging (corrugated, paperboard, paper, films and foils). These companies count on Dunwoody to supply graduates with a sound foundational knowledge of package and display design and production."
But whether or not students end up in packaging design, the 3D CAD skills they gain are useful for a variety of design career tracks. And Dunwoody is unique in the region for teaching students these skills — and taking them from design to production, of course.
THE BUSINESS OF DESIGN
The Graphic Design & Production program isn't focused only on building technical skills. In their fourth and final semester, students take GRDP2220 – Business of Design. This course focuses on building professional skills, everything from marketing yourself and your services, to responding to a request for proposal (RFP), to how to manage client relationships.
So they can better present themselves as design professionals, students create a personal brand and identity, including logo, portfolio, business cards, and résumé. They also do informational interviews to learn more about the companies and positions available to them and begin to make decisions about whether they're interested in print design, packaging, motion design, web development, interactive design, or some combination of those.
Concurrent with the Business of Design class, students hold a reverse internship fair and showcase their work to industry professionals in order to line up a design and production internship, which they are required to complete before graduation.
Students showcase their work at the Internship Fair
THE COMPLETE PACKAGE
It's a lot to pack into two years. But by putting theory into action right away — and all along the way — students emerge as designers who not only know their way around Adobe Creative Cloud, but also understand how their designs translate from Illustrator and InDesign to actual production. Not to mention how to design for 3D applications, environmental graphics, websites, and more.
"Our goal is to graduate designers and technicians who are competent enough to be useful on the job right away," Rivard said.
This pragmatic approach is built into Dunwoody's DNA. The College has a long history of graphic arts programs going back to the very earliest years when students in printing used an onsite press to design and print a Dunwoody newspaper called The Artisan. What exact training is offered, though, changes with the times as the technologies involved in visual communication change.
Dunwoody's Design & Graphics Technology faculty are confident that industry demand for well-rounded designers who are capable of taking on multiple roles is only going to increase.
And that's why Graphic Design is now Graphic Design & Production.