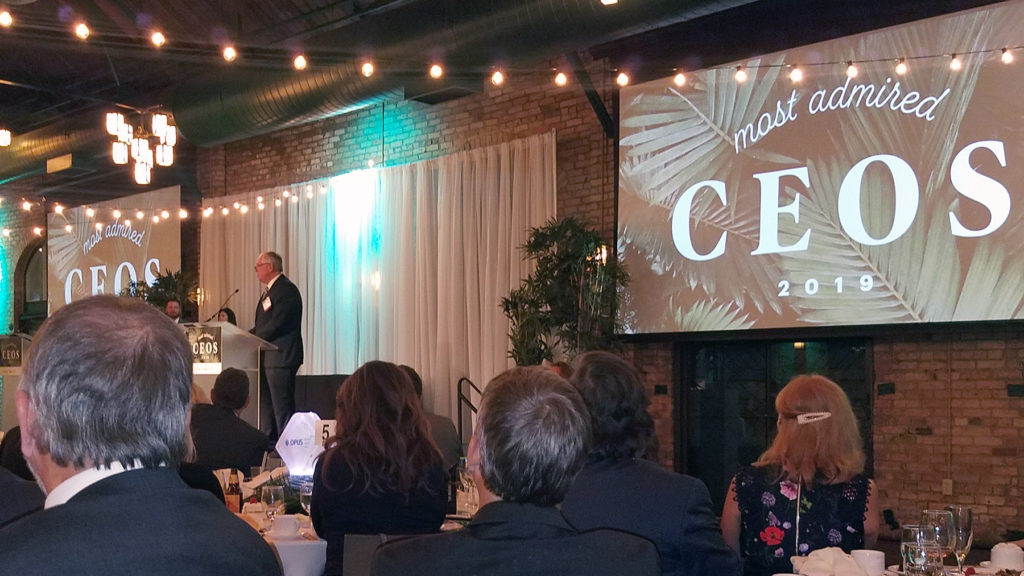 Dunwoody College of Technology President Rich Wagner received an honor that not many get – Most Admired CEO.
Presented by the Minneapolis St. Paul Business Journal, the 2019 awards honored 10 leaders from Minnesota companies and organizations who are leading the way in their fields and in the State. This was the fourth year that the Journal has held the Most Admired CEOs awards.
"I am flattered by this recognition," Wagner said. "I realize that it is a recognition of the accomplishments of the Dunwoody team. A team that includes an engaged Board of Trustees who support our strategic plan, a leadership team that executes the strategies, Dunwoody's faculty and staff who believe in Dunwoody's mission, and who show up every day delivering excellence in the classroom. And most importantly our students and alumni, the makers and doers who bring their hopes and aspiration for a better life to Dunwoody and use their Dunwoody education to launch their careers, create industries, and change the world."
Wagner has been President of Dunwoody College for the past 10 years. During that time, he led the College out of the Great Recession and into a position of growth, while staying true to Dunwoody's foundation of providing students with life-changing opportunities through innovative, hands-on, real-world learning in STEM-related fields.
In fact, during Wagner's tenure the College has expanded its offerings to better meet the needs of industry. This has included a School of Engineering offering bachelor's degrees in Electrical, Mechanical, and Software engineering; a Bachelor of Architecture degree; a four-year Interior Design degree; and five other bachelor-completion degrees.
At the same time, Wagner has also led initiatives to provide more women and more students from under-served and under-represented communities access to a Dunwoody education and the immediate jobs and great careers it provides. Since 2014, those initiatives have increased the enrollment of women by nearly 65 percent and the enrollment of students of color by 34 percent.
Wagner has also been committed to working with industry to provide the skilled workforce needed to address Minnesota's skills gap.
All of these things have resulted in tremendous growth and expanded opportunities for the College.
"Since 2014 Dunwoody's enrollment grew from 1,070 to 1,358, an increase of 27 percent during a time where most institutions of higher education are struggling with declining enrollment," Wagner said. "This growth is in high demand programs. Last year 99 percent of our graduates were placed in the field for which they were trained and the average salary for our two-year graduates was nearly $50,000."
You can read more about Wagner in the Sept. 20 special edition of the Minneapolis St. Paul Business Journal.
Other 2019 recipients were: Jeanne Crain, President and CEO of Bremer Financial Corp.; Marty Davis, President and CEO of Cambria; Marcus Fischer, CEO of Carmichael Lynch; Lili Hall, President and CEO of Knock Inc.; Eric Jolly, President and CEO of Saint Paul & Minnesota Foundations; Tim Murnane, CEO of The Opus Group; John "Ozzie" Nelson Jr., CEO of Nelson; Liwanag Ojala, CEO of CaringBridge; and Bob Sheehy, CEO of Bright Health.