Robotics & Manufacturing welcomes FANUC Machine Tending Education Cell
---
A $125,000 gift from Graco has opened up new possibilities for students in Dunwoody's Robotics & Manufacturing department in the form of a FANUC Machine Tending Education Cell (MTEC). The MTEC is designed to teach robot-tended machining, a process used in manufacturing where a robotic arm is used to load and unload a Computer Numeric Controlled (CNC) machine.
While Dunwoody has long had both robotic cells and CNC machines, this is the first time it has had equipment that combines the two. And it wouldn't have been possible without the support of Graco.
Industry Partners Speak Up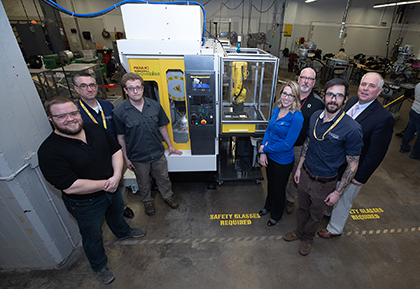 The conversation with Graco began in fall 2017 when Randy Barcus, a Manufacturing Cell Manager at Graco, presented at Robotics & Manufacturing's Focus Friday, which brings companies to campus so students can learn about employment options after graduation. Barcus was impressed with what he saw, but also noticed that none of the CNC machines had FANUC controls and there was no integration between the machining equipment and industrial robots.
E.J. Daigle, Dean of Robotics & Manufacturing was glad he brought it up. "Robot-tended machining is something that has been on our radar," he said. "But we really didn't have the budget to make this happen. It's one thing for students to hear about cutting-edge manufacturing — it's quite another for them to see it in action."
More importantly, Barcus was willing to help. He arranged a tour of one of Graco's Twin Cities facilities so that Dunwoody faculty could see how the company is integrating robotics and machining. Graco is headquartered in Minneapolis and makes a variety of products that handle fluids — from paint sprayers to sanitary pumps for food processing.
"I see adding the MTEC to Dunwoody's manufacturing wing as a natural progression of improving training technology to keep up with what's happening in industry today," Barcus added. "Ten years ago, Graco didn't have any robots at our Northeast Minneapolis campus. Five years ago, there were one or two. I recently walked the shop floor and counted 24 Fanuc robots, and most were tending CNC machines just like the MTEC. Training on relevant equipment gives the Dunwoody students an advantage when looking for that first job after graduation."
"It was awesome seeing everything in action," Daigle said. "Graco really excels at integrating robotics and machining. The tour gave me an even better notion of why it's important our students understand this industry trend."
After the tour, Daigle and Automated Systems & Robotics Instructor Joey White knew they needed to bring this technology to campus. Barcus had encouraged them to submit a proposal for a grant to the Graco Foundation so they put together a proposal and gave a presentation to an audience that included Graco President and CEO Pat McHale. The Foundation awarded Dunwoody $62,500, and McHale believed that the company could directly benefit from candidates experienced in this integrated technology, so he approved another $62,500 in corporate funds for a total of $125,000 from Graco — covering the entire cost to purchase the FANUC MTEC.
According to the Foundation, a major focus of their giving is increasing self-sufficiency — getting students through school and into sustainable careers. This is especially important because the Minneapolis-St. Paul region is projected to have a shortage of 100,000 workers by 2020.
"Great partners like Dunwoody are helping us address this projected deficit by equipping students with real-world skills they can put to use on the job right away," said Graco Foundation Manager Charlotte Boyd.
Some Assembly Required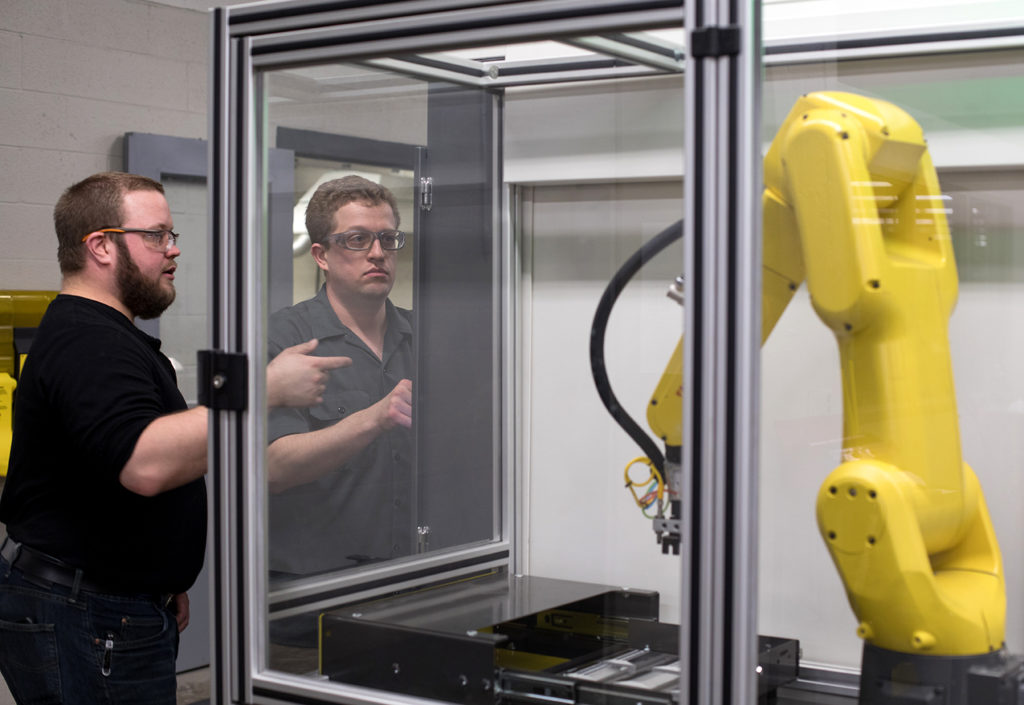 The MTEC features a FANUC RoboDrill CNC machine coupled to a FANUC LR Mate industrial robot. The robot cell has a drawer that can be loaded with nine metal blanks. When the drawer is pushed into the cell, the robotic arm picks up a blank and places it in the CNC machine. The CNC machine runs its program machining the blank, and then the robotic arm picks up the finished part, places it back in the drawer, and picks up the next blank.
The process seems straightforward, but the technology behind it is not. Which is why ordering the MTEC was just the beginning. First, it needed to be custom integrated at a facility in Ohio so that the robotic arm and the CNC machine were not only one physical unit, but also were integrated electronically so they could be programmed to work in concert with each other. When the customizations were done, the MTEC was shipped to Dunwoody, installed, programmed, and tested in the Machine Shop.
The whole process took almost six months.
And now that everything is in place, students can't wait to get their hands on it.
"I've been working with Machine Tool Technology students Brandon Fesser and Sam Gilsrud to test the cell and see what we can accomplish with it," said Jeremy Berg, a second-year student in the Automated Systems & Robotics program. "They've never worked with an industrial robot arm, and I've never worked with a CNC machine, so this project definitely requires combined knowledge from all of us. Throughout development, we've been learning portions of each other's processes and programming — personally, it's given me an increased appreciation for how much work it is to program a CNC."
They've already made progress. In fact, the FANUC integrator who installed the MTEC was recently surprised to see the progress they've made. He's installed four MTEC units at educational institutions so far, and Dunwoody is the first one who had students reprogramming the cell shortly after installation.
Berg said that in addition to learning more about CNC programming, he's hoping to use the MTEC to create sets of small parts Manufacturing & Robotics could use for machine maintenance and testing.
Students from Automated Systems & Robotics, Machine Tool Technology, and Industrial Engineering Technology will all spend time with the MTEC during their programs.
There's still some more testing to be done, but the MTEC should be fully operational later this semester, which means students will have another cool — and instructive — piece of equipment to use. One that was made possible thanks to the generosity of Graco.
Learn more about Dunwoody Robotics & Manufacturing.