Michele Krolczyk's connection to Dunwoody started with her father – and continues to this day
---
Michele Krolczyk remembers driving past Dunwoody College as a child and hearing the story of how her father graduated from the school with a degree in Sheet Metal before embarking on his career in the roofing business.
Krolczyk carried on the tradition with her own children, pointing out their grandfather's alma mater when driving past the building.
"There was always a huge sense of pride around attending Dunwoody," Krolczyk said.
And now her connection to the College runs even deeper.
"I think the universe has a way of connecting all the dots," Krolczyk said about her journey back to the College her father once attended.
A member of the Alumni Association Board, a donor, and an ardent supporter of the College's initiatives to increase the number of women entering non-traditional career fields, Krolczyk has become even more involved with Dunwoody during the past few years.
A Family Business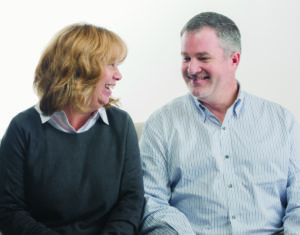 As a third generation owner in the family's commercial roofing business (originally named Dalbec Roofing), Krolczyk has long been an advocate for women in business. Nearly half of Mint Roofing's office staff are women, including the Integrator/Chief Operating Officer.
So when presented with an invitation to speak at the College's annual Kate Dunwoody Luncheon — an event established to celebrate and encourage women pursuing technical careers — Krolczyk was proud to tell her story.
Growing up, Krolczyk often helped out and worked at her parent's roofing business, learning the ins and outs of a trade mostly dominated by men.
"It was everything from cleaning trucks to peeling the plastic of sheet metal for a job going out the next day, to answering phones," she recalls. "It never occurred to me that women couldn't do the jobs traditionally held by men."
Her husband Kevin started working for the company after he graduated from college, while Krolczyk took a different path and entered the corporate world after graduating from the University of Wisconsin-Eau Claire.
But when her parents approached the couple about selling the business, Krolczyk and her husband decided to continue the proud, family tradition.
During her time as co-owner, Krolczyk has worked to grow the business, increasing the company's revenue nearly five times over.  In 2012, Krolczyk and her husband rebranded the company to Mint Roofing to better reflect the company's image and focus: a sophisticated preventative maintenance program, in addition to traditional roof installations.
Branching Out
Two-years ago she decided to focus even more of her time helping other businesses and non-profits, by establishing her own consulting business, Vivid360. As an EOS® (Entrepreneurial Operating System) implementer, she helps businesses of all shapes and sizes build and implement successful strategies for growth and stability.
An avid volunteer, Krolczyk supports women as a mentor and teacher through WomenVenture. She is a past president of the Orono Rotary Club; a devoted mom to three amazing young men; and recently welcomed a granddaughter into the picture. "That tipped the balance in our family over to the women!"
"I love helping businesses, entrepreneurs, and women," Krolczyk said. "In an interesting way, my connection to Dunwoody has come full circle.
"It makes me feel proud that I'm representing my father in some way," Krolczyk said about her support and involvement at Dunwoody. "And I think it would make both my parents proud to see their daughter supporting women's initiatives."