Five years into a pharmacy technician position, Brynn Pavlica decided she needed a change.
"I was bored out of my mind," she said.
Pavlica quit and hit the road, working music festivals across the country. Driving between Kansas City and Oregon, she became enthralled with the wind farms and the power they generate.
She felt inspired, but still possessed a nagging uncertainly about the direction of her life.
She began considering a career in the trades, and remembered feeling drawn to Dunwoody's booth during college fairs at school. One aspect of Dunwoody particularly took hold. "Red's always kind of been one of my favorite colors," she said.
"It was as if it was calling to me, 'Come here. Come check it out,' " said Pavlica, now an Electrical Construction & Maintenance student.
A new chapter
She craved hands-on training and when touring campus was directed to the electrical wing.
"We walked straight into Polly's [Friendshuh] class, and everybody had a board on their desk," Pavlica said.  "They were plugging power in. They were making meters move.  I was like, 'This is it. This is what I have to do.'"
Pavlica found a role model in Friendshuh, Assistant Professor of Electrical Construction & Maintenance.
"Female students need mentors," Friendshuh said.  "My job as a teacher is to identify the strengths of my students. I saw in her the ability to be a leader."
"She has pushed me to do what I am capable of," Pavlica said.
New connections
Friendshuh encouraged her to join the National Electrical Contractors Association, Dunwoody Student Chapter, or NECA, as it is known in the trade.
Pavlica is now the president and has served on two student panels – one in Nashville and another at the NECA National convention in Philadelphia.
"I've made connections all across the country," she said.
Friendshuh recently recommended she attend a conference in Denver, sponsored by Kiewit, a Fortune 500 company and one of the largest construction and engineering organizations in North America.
Female electrical and mechanical engineers filled the Denver conference room.
"I was the only tradeswoman there, but the common thread amongst everyone was, 'how do you survive as a woman in a male-dominated workforce?'" Pavlica said.
Bringing in more women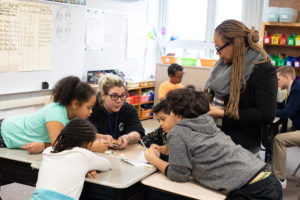 Only about three-percent of the construction field consists of women in trade, according to the National Association of Women in Construction. Overall the numbers of women working in the industry come in a little higher, around nine percent.
Pavlica wants to see this number grow and is confident she is up to the challenge.
In the fall, Pavlica along with other student NECA members, visited an elementary school in Richfield. She hopped from table to table showing the children how to strip wiring.
"What I hope to do in the future with NECA is to continue to provide STEM application and STEM events and bring more women into the fold and reach a younger generation," she said.
Pavlica will graduate in December. Eventually, she plans to get her master electricians license and own her own business.
A promising future
In the meantime, she recently received news she immediately shared with Friendshuh: She landed a summer internship as an estimator at Kiewit in Eden Prairie.
"Dunwoody is by far the greatest opportunity that I have ever taken a chance on," Pavlica said. "Within the first couple of weeks of my first semester, it was solidified."
She said her confidence and enthusiasm is due in large part to the support she received from the faculty and staff.
"I don't think it is comparable to any other school," she said.