Coming from a small Minnesota town, Construction Project Management student Tyler Fish always knew he had a passion to work with his hands.
"I wanted to pursue a career outside; to go place to place with a new problem to solve daily," Fish said.
Now, with just a few months away from earning his Associates Degree, Fish is poised to do just that.
Fish learned about Dunwoody from his father who took some HVAC classes at the College. After looking into Dunwoody, he knew it was the right fit for him.
"Dunwoody has been around for 100 plus years and has a great reputation," Fish said. "I liked the stackable degrees they offered, and the high job placement as well."
After just one year of instruction, Fish has already found himself an internship with a large sub-contractor.
During his time at Dunwoody, Fish has taken advantage of the many different activities, clubs, and organizations available. He is active in clubs such as Dunwoody Construction Management Student Association where he is the Vice President, National Home Builders Association, and Quiz Bowl. These extra curricular activities help build his professional skills beyond the classroom.
"These competitions and activities give me the ability to make mistakes in a safe environment," Fish said. "I get a deeper understanding of the field this way."
Through the National Association of Home Builders (NAHB), students present their solutions to a panel of judges who work within the industry. Dunwoody has competed in this competition for a number of years now.
Fish and a team of Dunwoody students recently traveled to Las Vegas for the NAHB competition. The team earned seventh place and Fish was awarded the outstanding student award.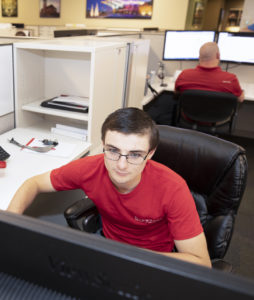 Passionate about his field, Fish often advocates for the need for people to go into construction and learn more about the industry. Recently, Fish was asked to speak at the State Capitol in favor of a bill that has the intent to give construction trades equal exposure in high schools as any other industry.
"I like to take the extra step," Fish said. "I think success is measured by pursing your passion, and I want to help students do that."
In addition to advocating for the industry, Fish's academic success has earned him several scholarships that help enable him to pursue his professional goals in the field.
Looking into the future, Fish hopes to work in rough carpentry and eventually become a job site superintendent. Fish is expected to graduate with his associate's degree this spring, and will continue on with a plus two to earn his bachelor's degree.
"I want to leave a good legacy here and I want to see students thrive," Fish said.