Members of the Advanced Structural Design class created a mini-golf hole to take to AIGA Minnesota Design Camp 2019 held last weekend in Brainerd.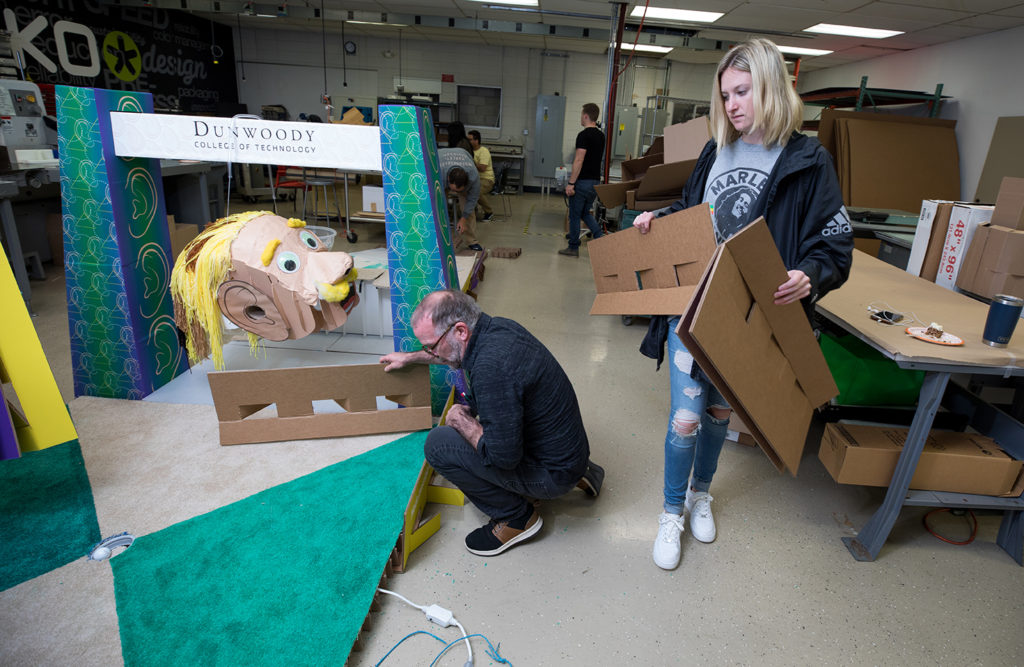 Pete Rivard, Assistant Professor, Graphic Design & Production, said the opportunity and invitation to participate in the event fit the overarching theme of corrugated display design in the Advanced Structural Design class.
Students were given guidelines for allowable floor space (6' x 16') and height (8' max) and a wide interpretation of the theme of "Interconnections."
"They had to brainstorm what they were going to do and how they were going to go about it," Rivard said.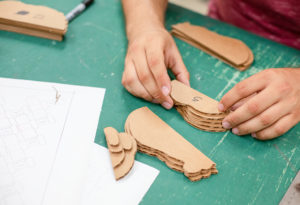 "Your first idea is not always your last one," said Elijah Kraling, Pre-Media Technologies student. From stacking corrugated material, bubble wrap, to fitting together slices of corrugated, the group settled on a design of a large three dimensional head that they nicknamed Calvin. "We went through so many variations on the design, especially with the head."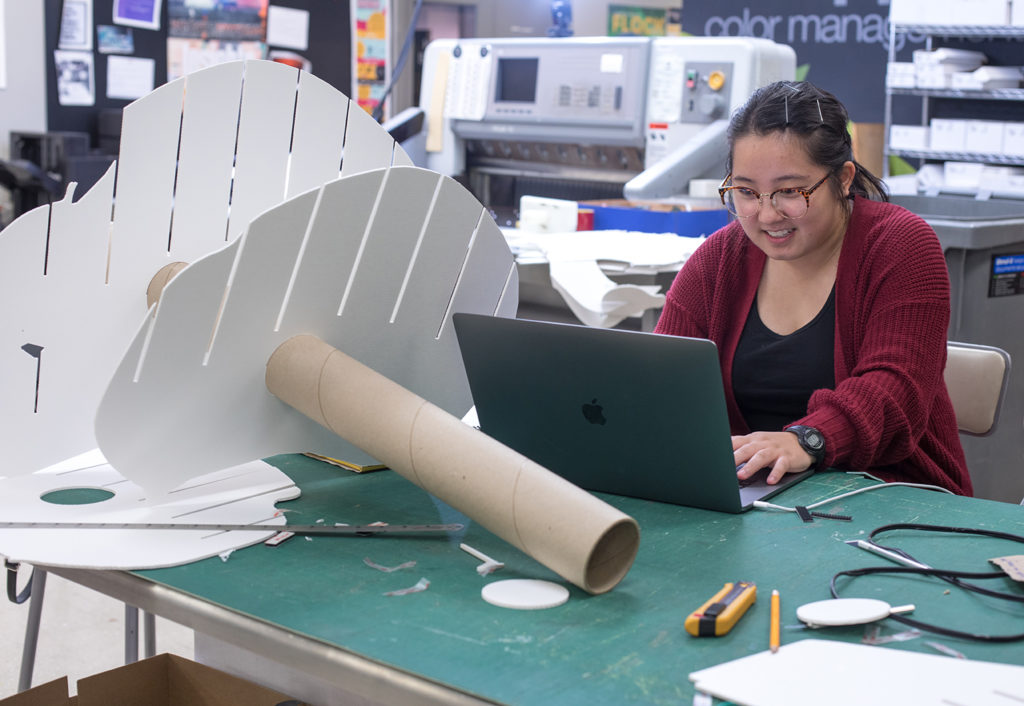 Student Demian Troy designed the platform that was used as the base for the mini golf hole.
"I used my packaging experience and knowledge of corrugated pallet design used in commercial packaging companies," Troy said.
A translucent piece of corrugated plastic sheet was placed on top of a base of heavy corrugated squares and tubes. Velcro was used to connect multiple squares. Members of the class tested the strength of it by jumping up and down on it to see if it could withstand the weight. They later learned it would handle more than 1500 pounds/sq. ft. by having it tested in the College's Metrology lab.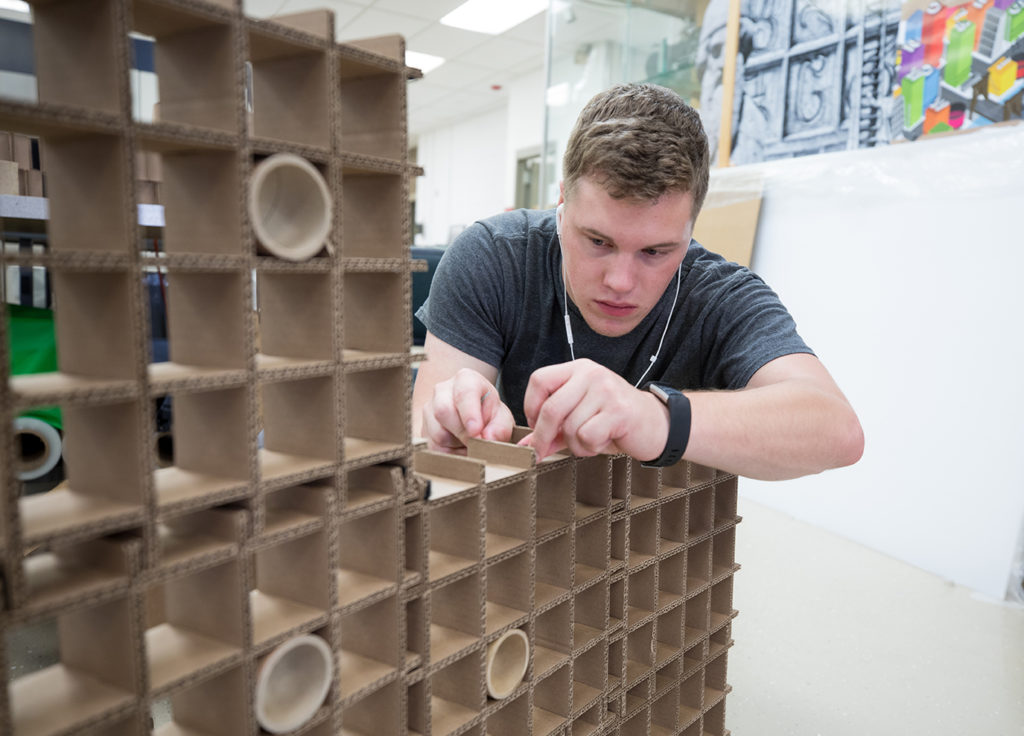 In one ear and out the other
The player would need to hit the ball up a ramp, into a bowl. Then it would travel through the ear, triggering sensor-activated pre-recorded sound effects, through the head and out to the other side to land in the hole. The action of dropping into the hole would trigger a strip of lights.
"The electrical part was most surprising," said Pre-Media Technologies student Maddie Zuzek. No one in their class had done electrical work before, but since cross-departmental work is common at Dunwoody, they went down the hallway seeking guidance. A faculty member in the Electrical program stepped up to show them a simple diagram on how to wire everything. "I never thought being a graphic designer that I would do electrical work, but it's been a lot of fun," Kraling said.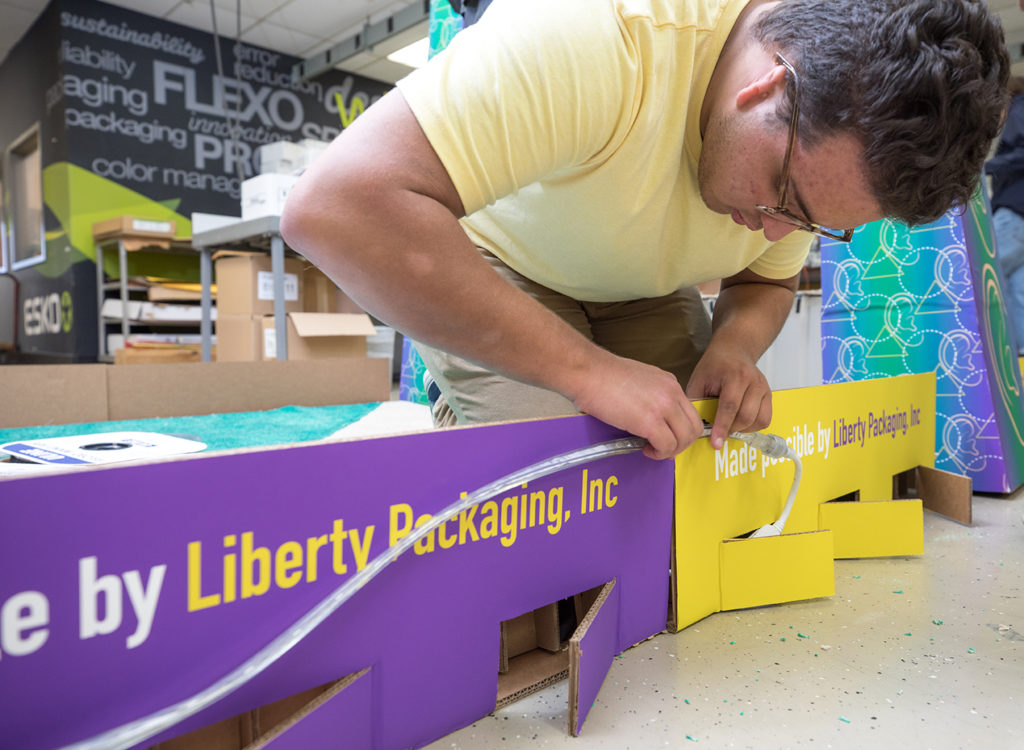 Rivard said he heard glowing remarks about the student's design while at Design Camp, including from Design Camp Moderator Brent Stickles and cofounder of YYES, a boutique design and communications firm with locations in Los Angeles and Minneapolis. "Dunwoody continues to elevate its profile in our design community, and through the AIGA. Your program is at the center of the conversation."