Final project allows students to build skills while creating solutions for real-life challenges
---
Sophomores in Dunwoody's Software Engineering program are getting an early look at what life will be like after graduation. The class is currently working on six business analysis projects with real-life clients.
The projects, which will also serve as their final, provides students an opportunity to map out processes and show how technology and software can improve business practices.
But if students were expecting to improve small, predictable business processes, that's not what they got. Instead, Software Engineering Assistant Professor John Columbus has ensured that these projects go beyond a stereotypical setting — and that some of the solutions could even be life-saving.
Students drive solutions for high-speed car chases  
"One of the projects students are working on involves identifying areas of software integration in high-speed police car chases," Columbus explained. "I want the students to focus on real-world problems, and right now, car chases are a significant issue for the police."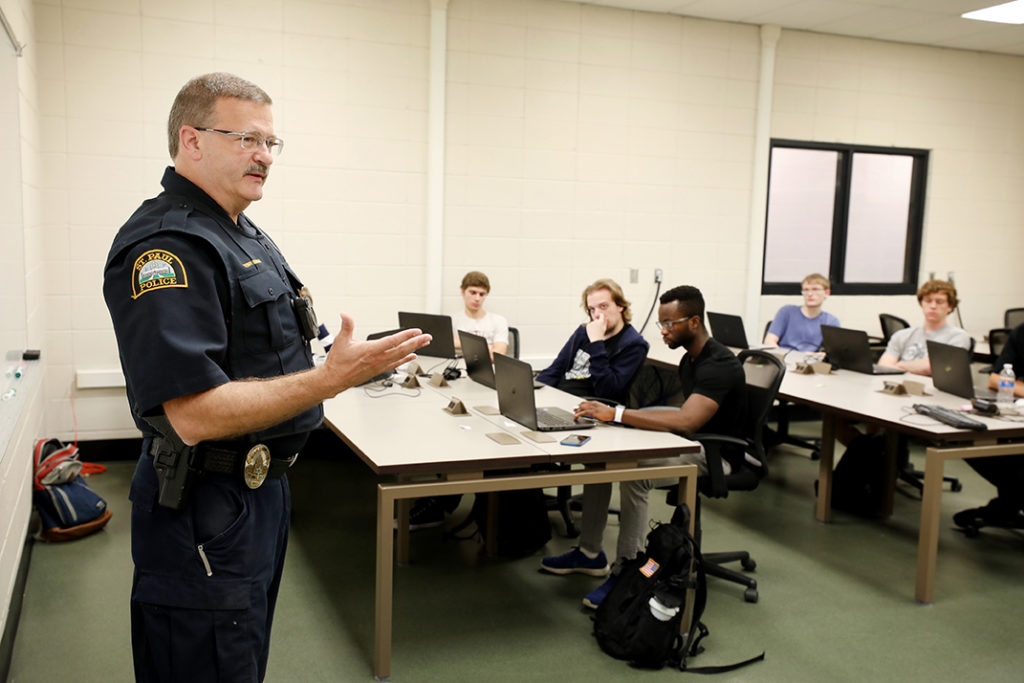 To better explain the current landscape of high-speed chases, Officer Terry Erdman from the St. Paul Police Department visited the class. During his presentation, Erdman outlined the different types of car chases, the challenges of those chases, and what types of technological advancements could be made for more effective chase outcomes.
"Students learned that there are really two types of chases," Columbus explained. "In a residential chase, suspects try to keep turning left and right to lose the police. Buildings obscure vision. Even helicopters can have issues following cars because of the trees. And during chases on highways and freeways, suspects use incredible speed to try to get away from the police."
Both situations are dangerous for those involved and those on the road.
"If we could use technology to track the car without the suspects realizing they are being tracked," Columbus said, "we believe the number of collisions could be reduced."
Creating the software solution is a welcomed challenge for Brendan Vandevoorde, who already has an interest in safety and security. Vandevoorde currently works security at Valley Fair and has since spoken to several Shakopee police officers about the project.
"I learned that as of now there is a strict no pursuit policy," he said. "So, we are now trying to come up with a way to implement a drone system for police departments. The idea is instead of having an officer pursue a chase on the road — which could cause risk to any other driver on the road — a drone would be used to follow the car from the sky."
Vandevoorde explained that the drone would have an autopilot system capable of targeting and following the suspect's car at all times. Law enforcement could then move on the suspect more discretely once they and the car are either off the road or in a more opportune location.
Real work, not homework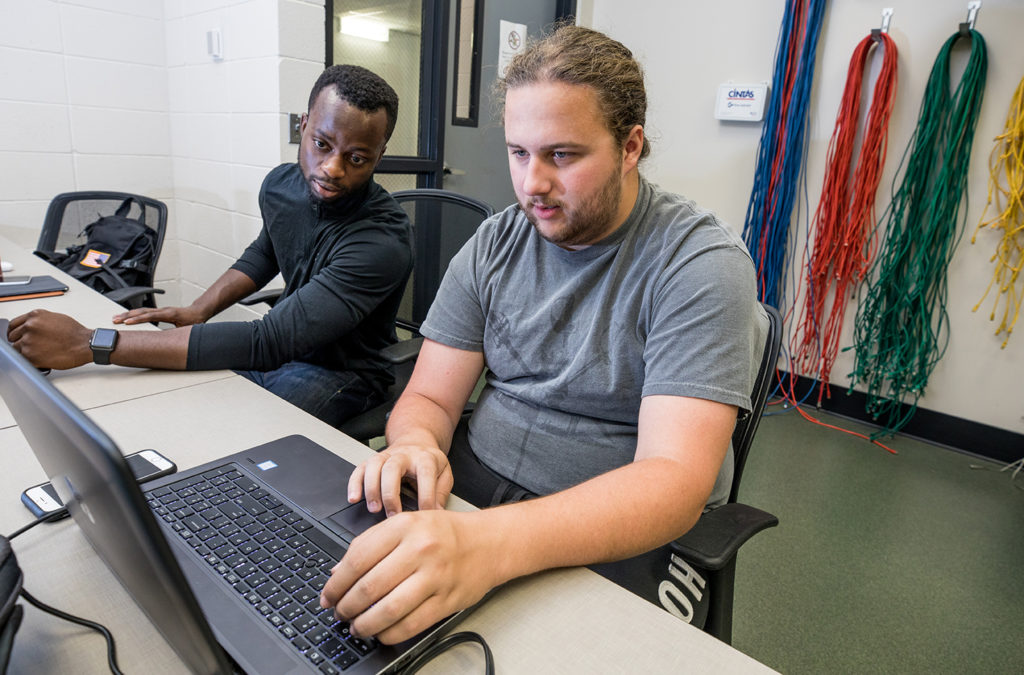 The project is a perfect example of how students can build skills — and confidence in themselves — while solving real-life problems.
"Dunwoody's teaching style is to have students do real, meaningful work," Columbus said. "And this project does just that. Students learn better from actually building something of value rather than completing made-up work. The skills they learn in this class can be used throughout their careers."
Vandevoorde agrees.
"It's a slow but very important and detailed process to go through to plan and create software," he said. "We are still only scratching the surface of the requirements on this project. But I know this will help me be prepared for an actual job in software engineering. It's a process that I will have to go through with any company that hires me."
The class will continue to work on these assignments throughout the semester.
Other group projects include outlining ways to enhance the College's student housing program and using a sensor to develop ways information can be captured and visually shared across Dunwoody departments.