Academic Excellence Award: Rachel McFarland-Sulser, Associate of Applied Science, Construction Project Management
For Rachel McFarland-Sulser, coming to Dunwoody has given her the opportunity to pursue a second career. And this time around she is following her passion — and some advice from her brother.
"Many years ago, I earned a bachelor's degree in Graphic Design from the University of Minnesota," she said. "I was good at design — and there's actually quite a bit of crossover between graphic design and construction — but my real passion has always been making functional things with my own two hands, especially things that last for a long time."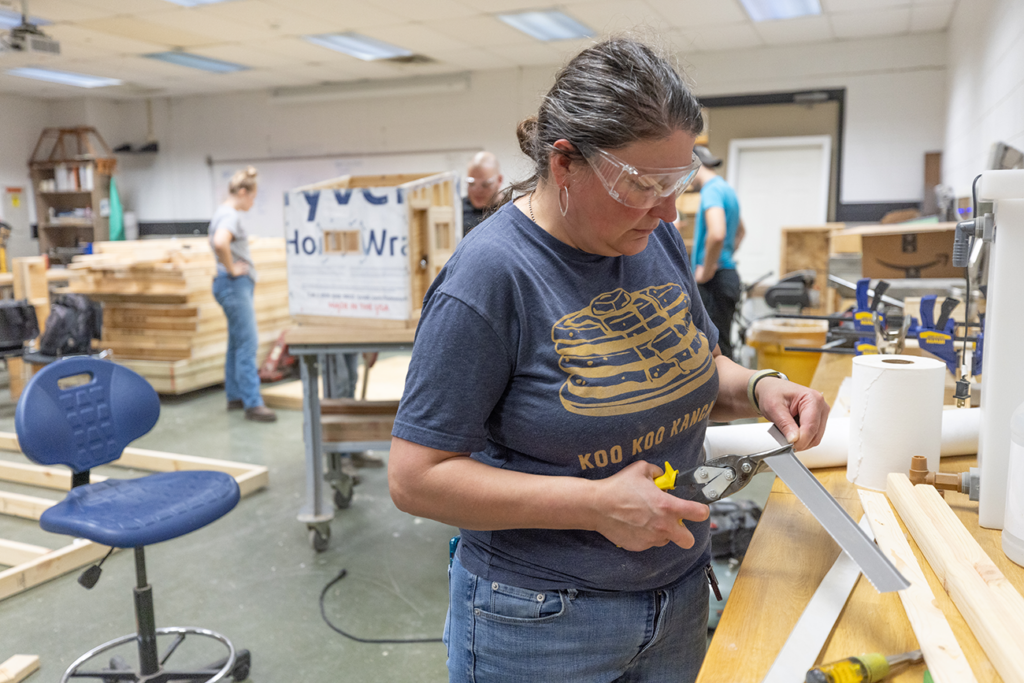 That interest, combined with numerous conversations with her brother Josh, a long-time plumber and current Minneapolis plumbing inspector, gave her the push she needed to investigate a career in the skilled trades.
"My brother Josh has repeatedly encouraged me to get into the trades over the years," McFarland-Sulser said. She finally took that advice and decided to attend a Dunwoody Open House where she discovered the Construction Project Management degree program.
"The combination of technical at-the-desk work and being on site, getting my boots dirty, plus the opportunity to learn about so many different facets of construction, seemed like a good match for my personality and diverse interests. There's some of everything in Construction Management," she said.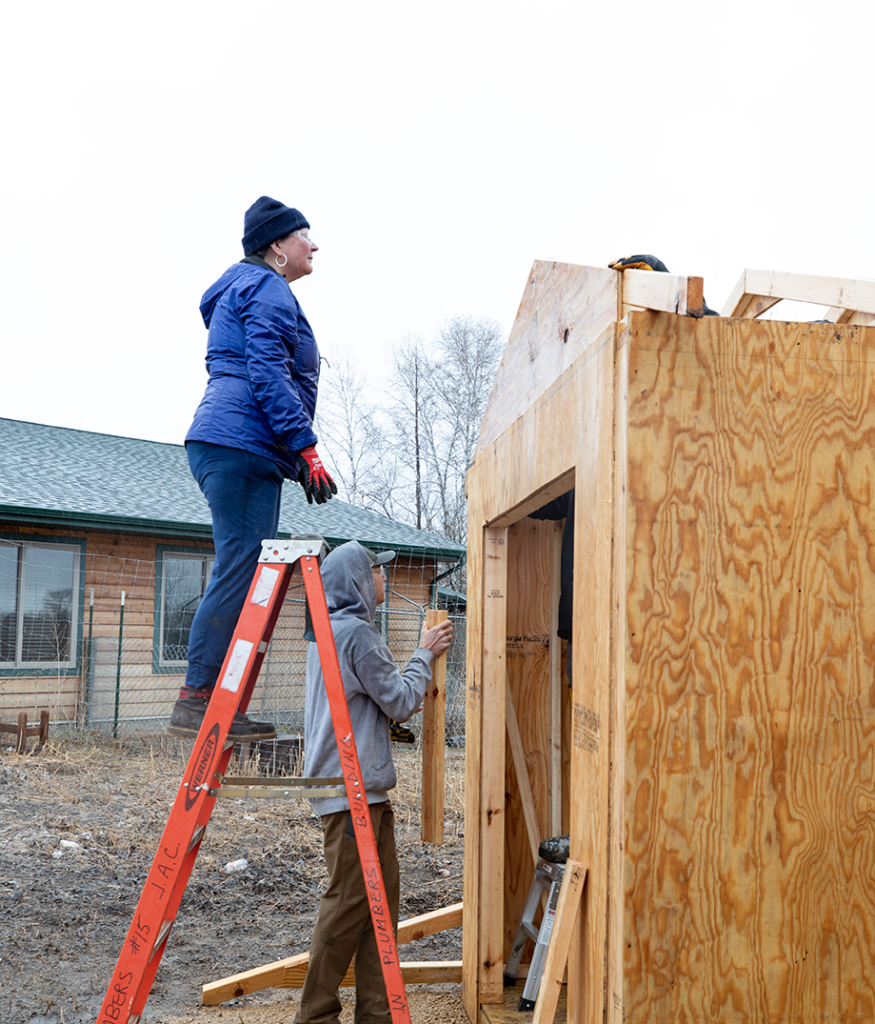 A 1993 graduate of Princeton High School in Minnesota, McFarland-Sulser appreciated that many of her classmates also came from diverse life and career backgrounds and weren't the "traditional" college students.
"For me, Dunwoody has been a place to get educated and ready myself for a career shift in a very supportive, challenging, interesting, open, and deeply practical environment," she said.
That supportive environment included instructors and professors who have real-world experience and lots of insights and industry connections.
"If you want to get your foot in the door in the construction industry, chances are good that while you're at Dunwoody, you'll have at least one instructor who is willing and able to connect you to reputable companies looking for fresh talent," McFarland-Sulser said.
For her, those connections translated into a six-month internship with Ryan companies, and a new job with PCL Construction, where she is set to start 10 days after graduating in May.
The hands-on project work has helped prepare her to take on the challenges that come with a career in construction. She was even able to gain real-world experience in the process.
During her Commercial Capstone Project with Instructor Nate Swanson, McFarland-Sulser was part of a team that worked on a request for proposal from a local general contractor. The team assembled a convincing, well-researched, and beautiful proposal for a project worth an estimated $62.5 million.
"The proposal required our team's 'company' to consider every detail of the project, from the Geotech reports to site logistics, project management processes, schedule, safety, trade partners, cash flow, and quality control," she explained. "At the end of the semester, we participated in a multi-school competition, presenting our work to a jury comprised of the general contractor's employees with experience and knowledge of the real-world project. I learned an incredible amount in this class and was able to combine many skills learned in previous classes. Also, we did really well at the competition!"
McFarland-Sulser said her brother Josh has been a great inspiration over her past two years at Dunwoody.
"My brother Josh reminds me that good tradespeople who take pride in their work make the world go 'round," she said.
McFarland-Sulser also knows that a career in the construction industry will give her options and the opportunity to grow and advance.
"Working in Construction Management sets you up for a lifetime of learning, and only people who can acknowledge that they don't know everything will be equipped to ask the questions and do the research required to succeed," she said. "Also, show up for every class."
All of her hard work did not go unnoticed by her faculty either. She was recently selected as one of the Academic Excellence Award recipients for the Construction Sciences & Building Technology department.
McFarland-Sulser said she's excited to share this accomplishment with her two children and her husband Mike.
"They've seen me working away, night after night, through topics that come naturally to me, as well as those that require me to REALLY apply myself," she said. "I'd like to model not just hard work for them, but also the grateful acceptance of well-earned recognition."
When she isn't studying, McFarland-Sulser enjoys spending time with her family and has an extensive list of hobbies, including cooking, carving, reading, music, traveling, camping, skiing, drawing, fishing — and even jumping into ice holes in the winter after a sauna.
Now with a degree and job in hand, McFarland-Sulser is looking forward to making an impact in the construction field. Not just by being a critical part of a team that constructs buildings and landmarks that will last generations, but also by encouraging more women to enter the skilled trades.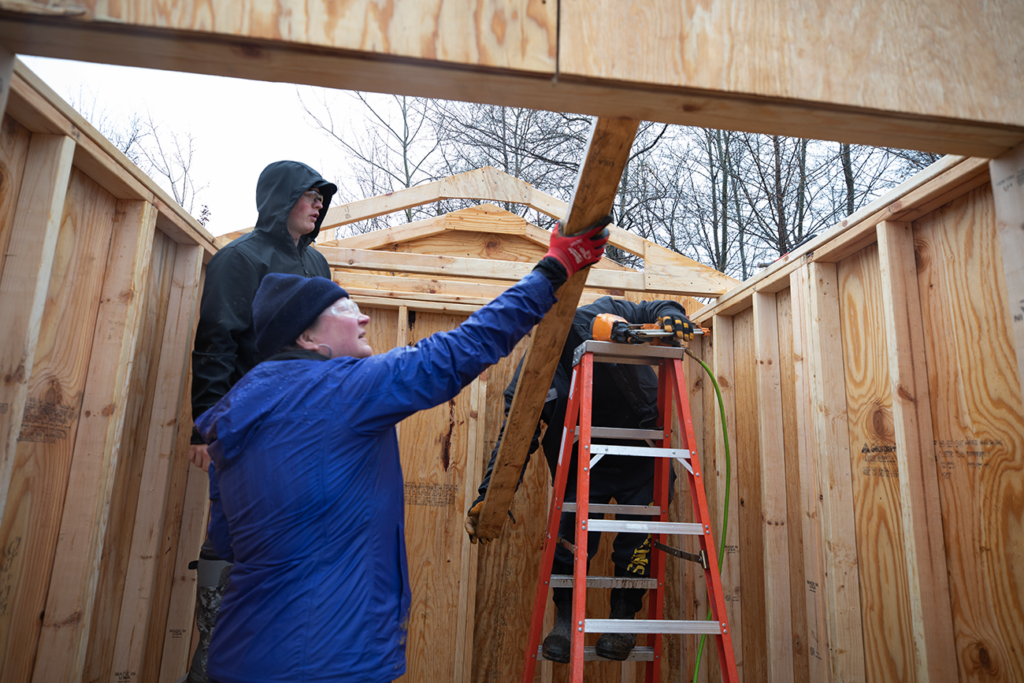 "These industries need our perspectives and our expertise," she said.
She also has some advice for other "non-traditional" students thinking about a career change – "Don't dilly-dally. Do it!"
"Sometimes the route to get to where you belong is long and winding. That's fine! You learn a lot along the way, and all those along-the-way experiences make you a more well-rounded person with more depth and perspective to offer when you finally do get to the place where you want to be."