Academic Excellence Award – John Cullinan, Associate of Applied Science in Machine Tool Technology
Details matter in the engineering and machining industry. Both fields require accuracy and precision and problem-solving skills.
John Cullinan bridges both worlds effortlessly with laser focus and a quiet determination.
These traits, along with an unparalleled desire to learn, earned him recognition by faculty.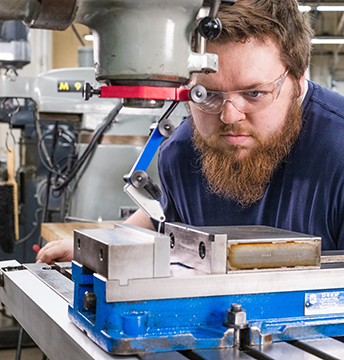 "John is always willing to help out and is thorough, down to the smallest detail in his attention to the quality of his work," said Alex Wong, Director of Engineering Design & Machining.
Cullinan was awarded the 2023 Dunwoody College Academic Excellence Award for Robotics & Manufacturing. Nominees are selected by faculty members and have an attendance rate of 90 percent or higher and have earned a minimum grade point average of 3.0.
Growing up in Cottage Grove, about 40 minutes east of Minneapolis, Cullinan liked working with his hands and was drawn to the Science, Technology, Engineering and Math (STEM) classes at Park High School.
As his high school graduation neared, his future as a Mechanical Engineer cemented. He started his studies at the University of St. Thomas in the fall of 2015 and graduated during the COVID pandemic in 2020, with a degree in Mechanical Engineering and Business Management.
He entered the field and did design work for a year then decided he wasn't satisfied. He wanted to stop handing over prints for someone else to fabricate.
"I wanted to be on the end where I can receive prints and then turn them into real actual parts that people can hold and are tangible," Cullinan said.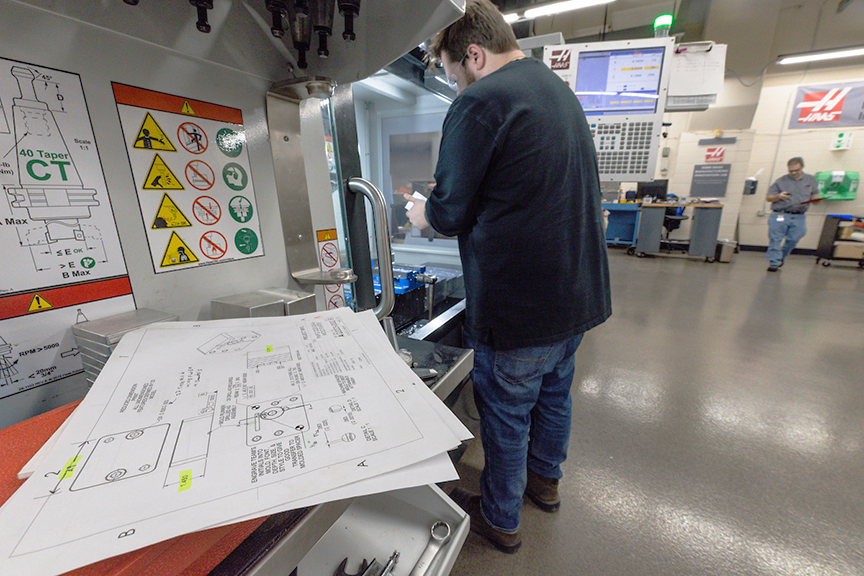 That desire led him to a Dunwoody Open House during the summer of 2021. After talking with faculty, he took a tour of the Machine Shop.
Inhaling the scent of metal and oil with each stride, Cullinan strolled through the shop floor, passing by rows of manual mills and lathes like those used by generations before him. He continued to the area that housed the modern, high-tech computer numerical control (CNC) milling machines skilled workers use in manufacturing centers today.
Dunwoody's reputation among Cullinan's former teachers and employers — all who had some contact with the College over the years — persuaded him to enroll in the two-year Machine Tool Technology program, starting in the fall of 2021.
During his first semester, he was hired as a student worker. It was a position that enabled him to spend hours in the machine shop, outside of class, where he helped faculty and other students with needed tasks. He gained even more knowledge of the machines he already loved working with.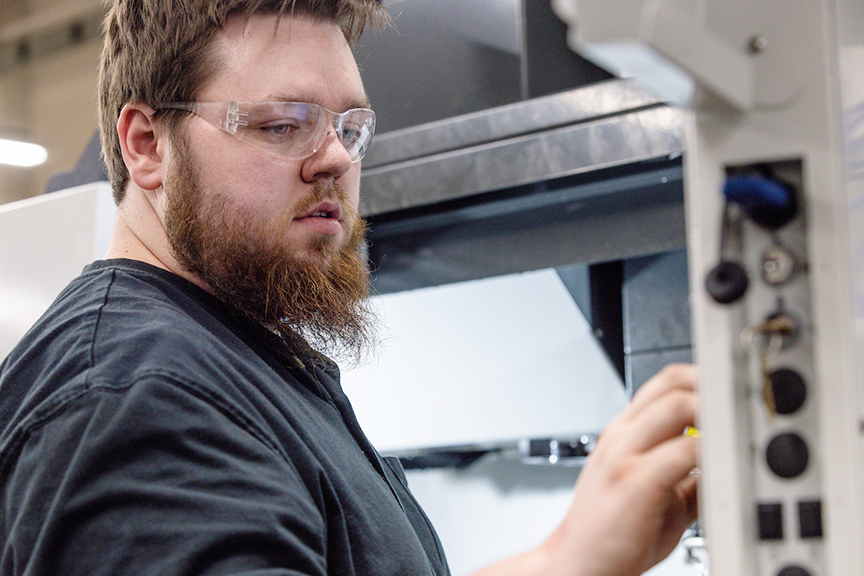 The department has a tradition of awarding a toolbox to a deserving student each year. Cullinan was chosen that first year and was instructed to pick one out from the tool crib.
One instantly stood out to him. It was well-patinaed and made from quarter-sawn oak the color of deep honey. It had been donated by the family of a1935 Machine Tool & Die graduate of the College. The toolbox was filled with old tools and was still marked with the raised letters of the late owner's name, created with a label maker years ago. To Cullinan, it was perfect.
He took it home and began the meticulous job of restoring it. He replaced the green felt that had worn away with more of the same, and ordered a replacement for the missing brass name plate from the company that originally manufactured it. He kept the original owner's name intact and added his own underneath.
The toolbox now occupies a corner of his workstation, where it stands out like a relic among the modern CNC Milling machines that surround it. Cullinan is proud of the work he put into it and looks forward to it carrying him through his career.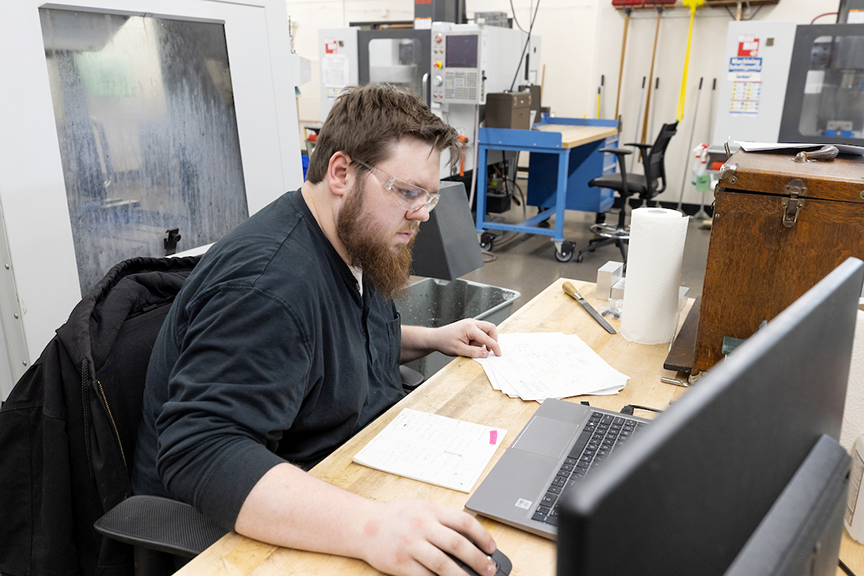 Pride twinkled in Cullinan's eyes as he described the process of making a hammer using the manual side of the shop during his first year of the program.
"We machined the handle, hollowed it out, made the inserts that are removeable, and polished it up," Cullinan said. "It's like a piece you would sit on top of your fireplace — it's so nice!"
That excitement continued into his second year, where he was a member of the first Dunwoody team to compete in Project MFG in years. The contest is designed to test students' critical thinking skills, their ability to work as a team and to manage resources while creating a product that requires integrated manufacturing. It was an opportunity that challenged him — some of the requirements were still weeks away from being taught in class. But as was standard for him, he asked questions and found ways to solve the problem at hand. He credits his Dunwoody education for excelling in all aspects of manufacturing: traditional, CNC, and the software side using programs like SOLIDWORKS, 3D modeling, and Mastercam.
Each Academic Excellence recipient is awarded a medal bearing the likeness of William and Kate Dunwoody, the College's founders to wear over their graduation robes at Commencement. They are made in-house on the CNC milling machine. Cullinan made each one, including his own.
He said receiving the award is a symbol of his years of study and the ability to apply the skills learned in the work he does now.
"Being a machinist means I bring forth a special skill to shape material into something that has real value to people," Cullinan said.
In March of this year, he traded in his hours as a student worker for a part-time position in the Rapid Prototyping/Research Lab at Northrop Grumman in Plymouth. He will transition to full-time when he graduates in May.
ABOUT DUNWOODY COLLEGE OF TECHNOLOGY
Founded in 1914, Dunwoody College of Technology is the only private, not-for-profit technical college in the Upper Midwest. Having provided hands-on, applied technical education to more than 250,000 individuals, Dunwoody is the college for experimenters and makers, a place where the curious and the confident learn by doing. Located in Minneapolis, Dunwoody offers a unique campus experience in dedicated labs, studios, and shops that treats students like future professionals from day one. With certificates, associate, and bachelor's degrees in more than 46 majors – including engineering, robotics, design and other STEM-related fields – Dunwoody challenges students to come determined and graduate destined. More information on Dunwoody can be found at www.dunwoody.edu or by following Dunwoody on Facebook, Instagram, Twitter and TikTok.