Each year, Dunwoody College of Technology honors students who have demonstrated leadership in and out of the classroom.
The College presented its 2022 Diversity and Inclusion Award along with the Community Service Award at the Annual Awards Dinner in April. In addition, the Alumni Association Board presented the 2022 Student Leadership Award.
Dunwoody Diversity & Inclusion Award
First year Interior Design student Destiny Perl Haag-Rampersad was selected as this year's recipient of the Diversity & Inclusion Award.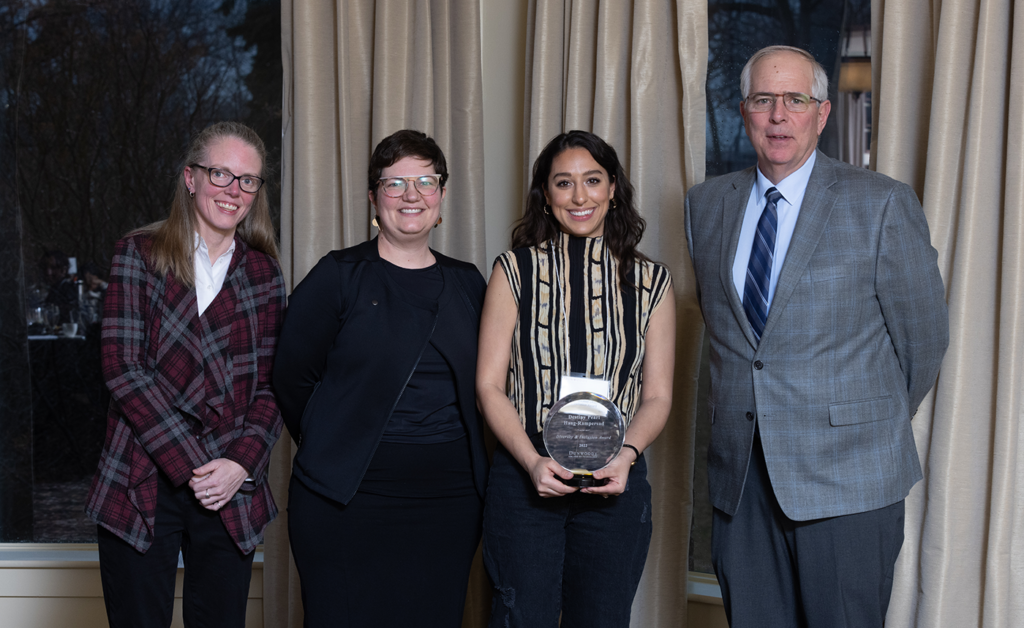 This award is presented to the student who has shown exemplary promotion of multicultural and diversity initiatives through their work at Dunwoody College of Technology and in the greater community. This award is based upon the student's accomplishments and efforts over the course of their time at Dunwoody. Nominees' work should reflect a commitment to diversity, as well as demonstrate evidence of positive impact on the College community.
Korrin Howard, Academic Director presented Haag-Rampersad with the award during the ceremony, and talked about the initiative she took to start a club around inclusion at the College.
"I was very impressed with her insights and how she advocated for herself," Howard said.
Dunwoody Community Service Award
Second year Software Engineering student Bethany Hampton was presented with the Community Service Award for her work with Kate's Club, the Society of Women Engineers, and her willingness to support other women students at Dunwoody.
This award is presented to the student who has made the greatest contribution of voluntary service to the Dunwoody community and the community at large. This award is based upon the student's record of service during their time at Dunwoody. Nominees must demonstrate a commitment to service as evidenced by documented activities that benefit the greater good.
"Bethany is always willing to step up when needed," said Maggie Whitman, Program Director for Women in Technical Careers. "Just today she helped me by joining a student panel for the Women in Technical Careers Scholarship. Bethany is passionate about what she does and she is incredibly hard working."
Student Leadership Award
Engineering Drafting & Design 2022 graduate Bridgette Dalldorf was selected by the Alumni Association Board for its Student Leadership Award.
The award recognizes students who exemplify leadership, scholastic excellence, community service, and school spirit. Students my be recommended by a faculty member and have a minimum GPA of 3.0.
A graduate of the Math and Science Academy, Dalldorf was a member of her school's FIRST Robotics team, and, in fact, learned about Dunwoody at a FIRST Robotics tournament. After graduating high school, she began mentoring her school's team. At Dunwoody, she was part of the college's winning Autonomous Snow Plow Team. Dalldorf is currently interning as a designer in Boston Scientific's model shop and hopes to build a career in prosthetic and medical design.