2021 SkillsUSA Minnesota State Championships held April 12-25
Three Dunwoody students took home medals at the 2021 State Leadership and Skills Conference, an annual event organized by SkillsUSA Minnesota.
Stella Robinson, Electrical Construction & Maintenance, earned a Gold Medal in Extemporaneous Speaking. William Stone, Electrical Construction & Maintenance, received a Gold Medal in Related Technical Math. And Alex Rojas, Electrical Construction & Maintenance, walked away with two Bronze Medals, one in Electrical Construction Wiring and another in Related Technical Math.
The annual conference showcase included 394 career and technical education students and was held April 12-25 in multiple cities and schools from across the State.
Students competed in 48 different trade, technical, and leadership events. Due to continuing health and safety concerns prompted by the ongoing pandemic, most events were held in either remote, hybrid or a submission-style capacity with only a select few taking place fully in-person with limited numbers of participants.
A fun competition
For Robinson, Stone, and Rojas, this was their first time competing at SkillsUSA.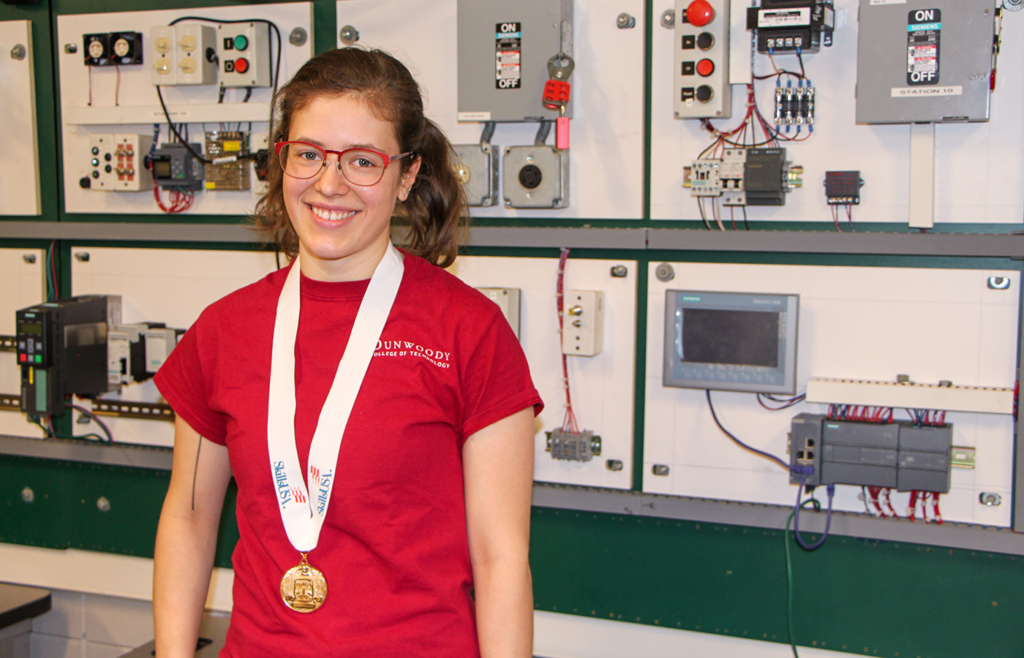 "I liked that it felt like more of a real-life application," Robinson said about the competition.
Rojas added that he also enjoyed the time they spent preparing for the events, and Stone said it was fun getting to know people from other schools.
Both Robinson and Rojas are graduating this May. Robinson said she has accepted a position with Laketown Electric and Rojas has applied for Unions 292 and 110.
During the state SkillsUSA competition, the CTE students worked against the clock and each other, proving their expertise in occupations such as collision repair, heating and cooling, electrical, computer-aided drafting, welding, and computer programming. All contests are developed, facilitate and judged by SkillsUSA with the help of industry, trade associations and labor organizations, testing competencies set by industry.
In addition, leadership contestants demonstrated their skills, which included extemporaneous speaking and community service.
Headed to Nationals
Top student winners received gold, silver and bronze medallions. Many also received prizes such as tools of their trade and scholarships to further their careers and education. The annual championships event is for middle school, high school and college-level students who are members of SkillsUSA.
State first-place (gold medal) winners are eligible to compete at the national SkillsUSA Championships, which will be held virtually in June.