Dunwoody has a long history of shaping the built landscape of Minneapolis. That tradition continues today as a new public artwork project for the Minneapolis Public Service Building is unveiled.
Molly Reichert, Associate Professor of Architecture in the School of Design, and her partners at Futures North, a public art collaborative, were chosen to create three of the 17 new public artworks for the downtown building located at 505 Fourth Ave. S. near City Hall in Minneapolis.
She said she felt honored and privileged to be chosen to work on the three artworks.
"We started this project in 2018 when anti-immigrant sentiment in the United States was especially high," Reichert said. "We wanted to respond in a way that elevates and celebrates the rich history of immigrants' journeys to and through Minnesota."
Lines of Flight, Avian and its companion pieces Lines of Flight, Human and Lines of Acknowledgement are bird-safe glass installations that explore and tell the story of bird and human migration. They can be read either as a bold super-graphic on the 10th floor façade ­– when viewed from the street – or as an intricate lacy pattern along the second-floor skyway connecting the Hennepin County Government Center.
"Exploring the aesthetics of data, we use parametric modeling software and various data-sets to create what we call 'data spatializations'," Reichert said.
Avian shows shapes of Loons in flight and celebrates the migration of the Minnesota State Bird. Overlapping dashes create optical effects that blurs figure and ground.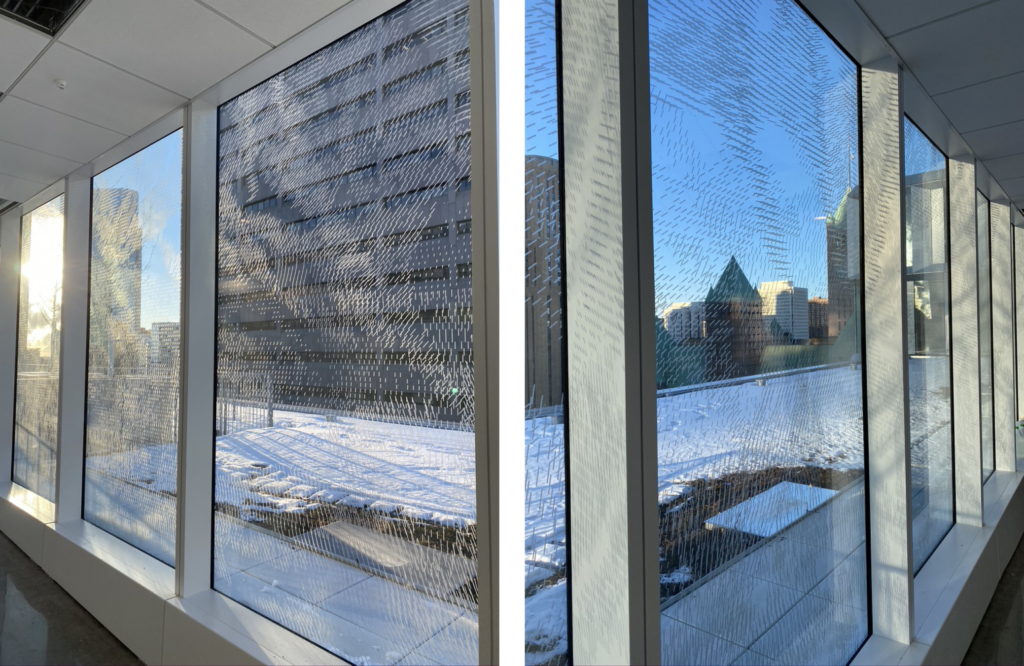 Human draws inspiration from United States Census data to visualize human migration to Minnesota. Each woven loop corresponds to a different population of Minnesota and serves as a kind of timeline, mapping their migration to the state. The variable dash pattern of each loop intensifies in density and line weight to indicate moments of greater migration.
Acknowledgement expands on the idea of human diversity in Minnesota. Blue and white dashed lines illustrate the region's Indigenous place names, while the magenta lines encode the names of countries from which people migrated.
"We hope that the piece signals to workers, visitors and passers-by of the Public Service Building that the City of Minneapolis celebrates immigrants, immigration, and the various paths and perspectives of our diverse community," Reichert said. "Our intention is for anyone who engages with this art takes away a sense of the great value of immigrants throughout Minnesota history­­ and a feeling of warm welcome for those yet to come."
Dunwoody faculty are industry experts who translate their professional experience into teaching tools for their students.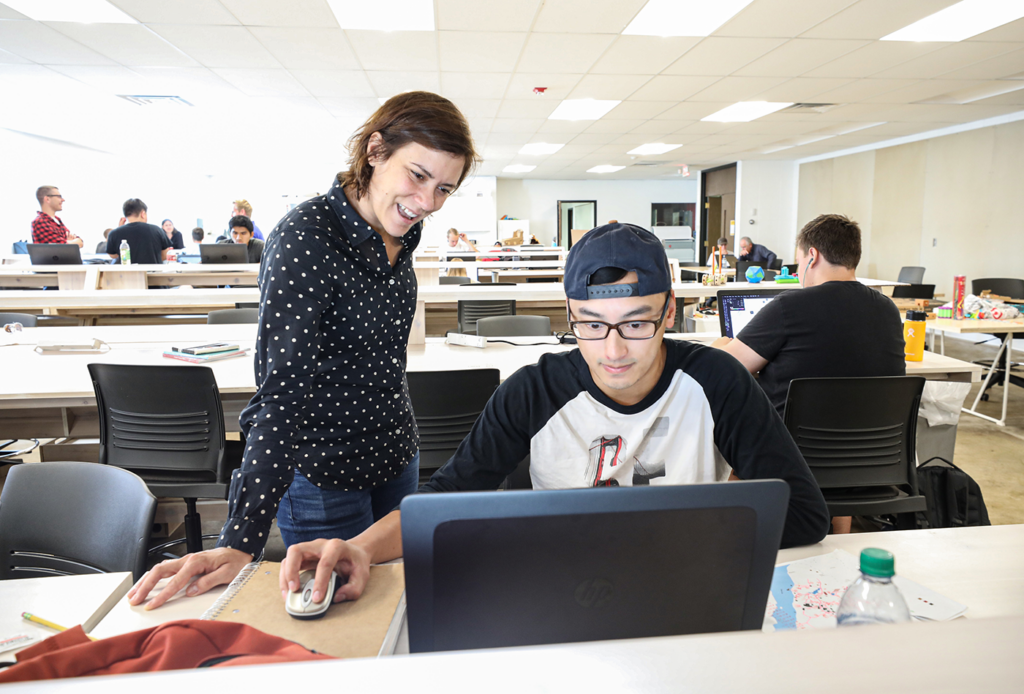 "In the architecture department, we're always aiming to connect our students and our coursework outwards. Most of the projects we tackle are connected to a real client, idea, or mission," Reichert said. "We're also interested in research-based, data-informed work. Lines of Flight, Human; Lines of Flight, Avian, and Lines of Acknowledgement are very real manifestations of all of these aims."