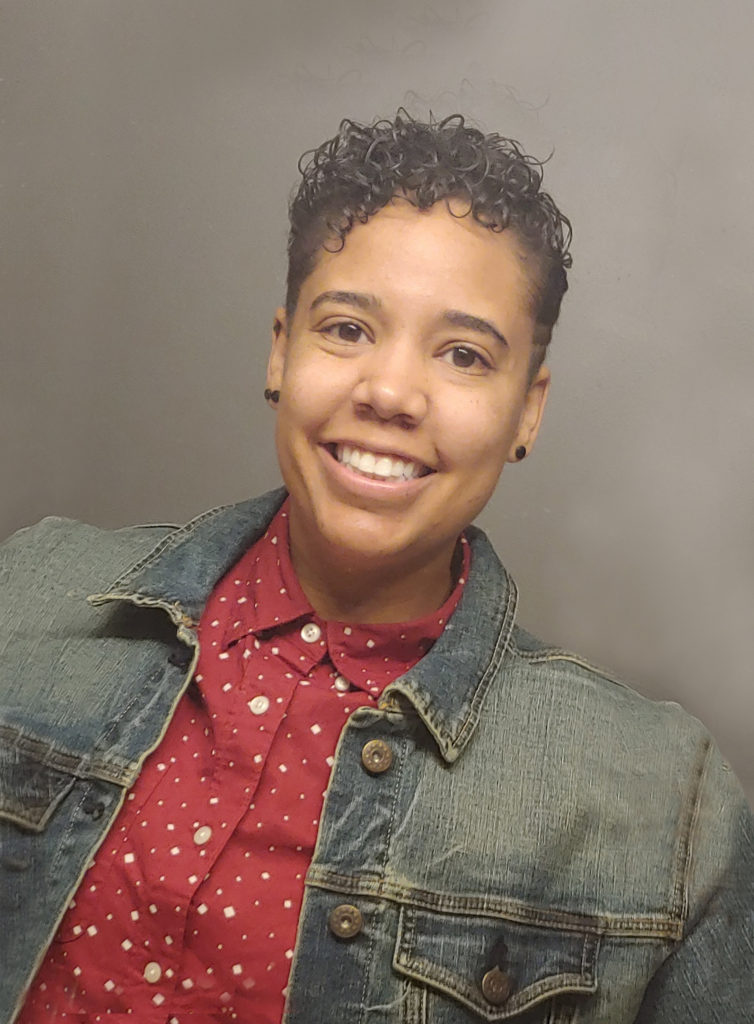 Jazmine "Jaz" Darden graduated from Dunwoody in 2017 with a degree in Engineering Drafting & Design and from Augsburg College in 2013 with a Bachelor's in both Mathematics and Physics. Since then, she has been an Adjunct Instructor in Dunwoody's Design for Manufacturing: 3D Printing program. She enjoys inspiring youth and works with several schools, programs, and museums teaching design and 3D Printing. An entrepreneur, Jaz has started several businesses, including; I AM Ear Hero; the Jaz Music Box 3D Printed Bluetooth Speaker Project; and Rent-A-Tent. She was recently selected to join the Dunwoody Alumni Association Board. In her free time, Jaz enjoys taking on adventurous activities including mountain biking, indoor bouldering, kayaking, skiing, roller skating, camping, and hiking.
1. What did you want to be when you were small?
When I was young, I wanted to design and build roller coasters. My family and I would frequent different amusement parks, and I remember being amazed by how they work. When I was in high school physics, we worked on the equations of motion by looking at roller coasters which inspired me to go to college for physics. I remember being blown away by the rides at Universal Studios-California, and I still hope to one day fulfill that childhood dream!
2. If you could learn one (more) skill, what would it be and why?
I enjoy exploring outdoors and would love to learn how to scuba dive. I want to get my certification and explore the underwater world!
3. What is the best gift you have been given?
My younger brother, Dantae, was born on my 5th birthday. The joke is that he says, "I am the best birthday present you have ever been given". I respond by saying, "It was the only gift I couldn't return". Not so secretly, I do enjoy sharing our birthdays every year!
4. If you could own any car, what would it be?
I have always wanted a Cadillac Escalade. When I was in high school and college, I had quite a few toy Escalades displayed in my room. I even had the kids electric Ride On Escalade in my online cart several times but never actually purchased it.
5. Aside from necessities, what is one thing could you not go a day without?
I could not go a day without socializing! I am extremely extroverted and love being around people. Even if I am not able to be around others, I will at least be communicating with someone in some way.
6. What's your favorite family tradition?
When I was younger from elementary school through high school, my family would build a haunted house maze in our garage. We would have cars parked up and down the street and a line of people down the driveway waiting to get in. We no longer make the haunted house in our garage, but I do still love going to haunted houses!
7. In what ways are you different from as your childhood self?
I used to be extremely shy! I would kick, scream, and cry every day when my mom would drop me off at school. It wasn't until college when I started coming out of my shell.
8. What's the best concert you've ever been to?
I had the opportunity to see Prince in concert both at Xcel Energy Center and at Paisley Park. I was asked to dance on stage with him but I was too shy to get up there. That is definitely an opportunity I wish I could have back but I am so grateful that I had the chance to see him perform.
9. If you are outside, what are you most likely doing?
I would be doing something adventurous. I enjoy mountain biking, kayaking, hiking, playing basketball, skiing etc.
10. What's the weirdest thing you've ever eaten?
Just a few weeks ago I went to Dining in the Dark where you eat a full 3-course meal while blindfolded. The food wasn't necessarily weird but it was quite an experience eating foods with a fork, knife, and spoon while blindfolded and not knowing what it is.