Sumeya Mohamed
Bachelor of Science in
Interior Design
Sumeya Mohamed has never let challenges get in the way of achieving her goals. And she learned from an early age to turn obstacles into opportunities.
Born in Minneapolis, Mohamed is a first-generation American. Her parents immigrated to the United States from Somalia before she and her sister were born. After her parents divorced, she watched her mom struggle to provide for them.
"My parents divorced growing up and my mom struggles a lot," she said. But one thing was clear, education was a top priority in her home and Mohamed always knew she was expected to earn a college degree.
"My mom made that very clear, that the one way to move up in this world is to go to school," Mohamed said. "Education is very important to her. She knew she wanted that for her kids and she regrets that she didn't have that opportunity. I want to eventually support her with the education I have."
Mohamed's sister is currently pursuing her Associate's degree, and Mohamed will be the first in her family to get a Bachelor's degree. But not being able to discuss college with her mom since she doesn't have that experience and isn't able to relate can be a challenge.
"People get help from parents at home and I don't get that," she said.
Focused on her future
She began planning for her future when she first started attending Southwest High School in Minneapolis.
"I knew I wanted a career in Interior Design," she said. "I think I have design in my blood. My dad is a tailor of handbags. He is really good at sewing. From him, I learned how things come together. Art is cool and nice, but I really enjoy the technical part of Interior Design. I truly love building codes. It's challenging."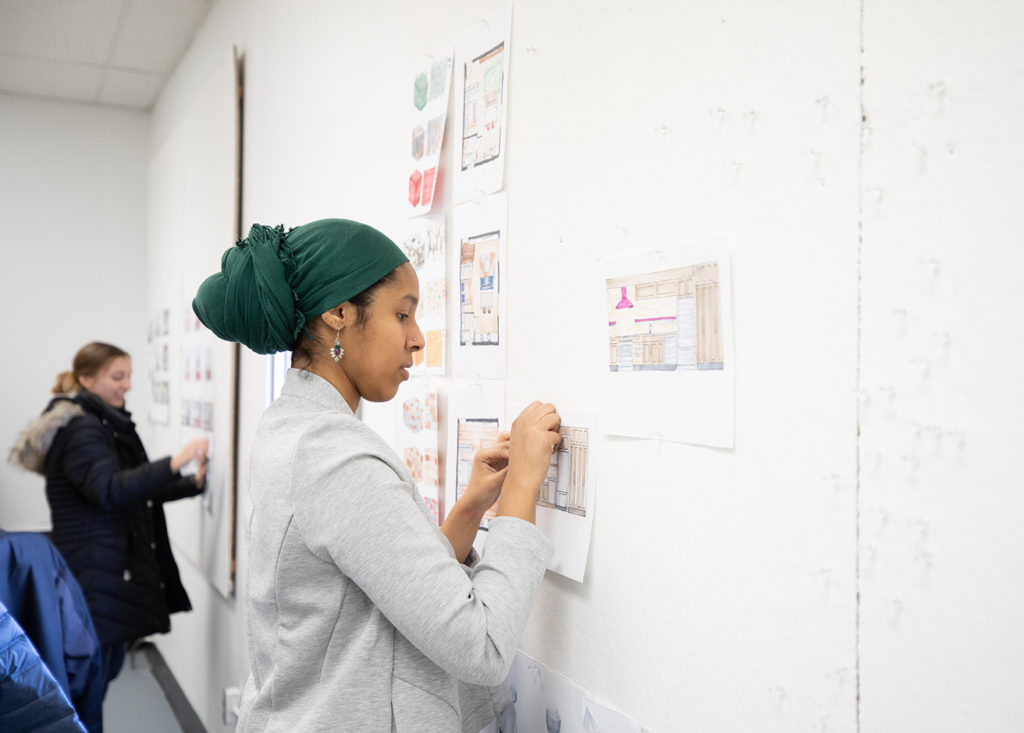 It was with that career goal in mind that she started exploring her options. Mohamed knew the University of Minnesota was out because she wanted a hands-on experience, and then when she learned that Dunwoody was the only other option in Minnesota with Council for Interior Design Accreditation (CIDA), the decision was made.
Besides touring the campus and meeting with an admissions counselor, Mohamed had visited Dunwoody with Project Success, a program through Minneapolis Pubic Schools that motivates and inspires young people to dream about the future while giving them the tools they need to achieve their goals.
Finding her place
"I love the hands-on stuff here," she said. "That's one of the reasons I chose Dunwoody."
Mohamed also likes the one-on-one interactions with the faculty.
"I'm really excited to be a part of a small community, and I feel like I am recognized," she said.
As a person of color and a Muslim woman, that level of support has been important.
"We all have such different outlooks and to have those different experiences collide in class can be challenging," Mohamed said. "As a Muslim woman, you're expected to do things like work in healthcare. It's really hard to prove that you can do something else.
"At Dunwoody, I've been able to find my voice."
Developing her interest
For Mohamed, her point of view and life experience has also given her a keen interest in the commercial side of Interior Design, especially healthcare and multi-residential. And she has taken on leadership roles within her class.
During her Freshman year, Mohamed was selected to be her Studio Rep, and also chose to get involved with other Interior Design activities on campus.
"Having that one-on-one connection with my teachers has been important," she said. "They believe I am capable of it."
Stepping out of her comfort zone has also made Mohamed a better designer as. The group projects have been beneficial because she likes hearing different opinions and seeing how they can push each other.
"I want to work on bigger projects," she said. "l like sharing the load, that's why I like group projects."
This semester she has been working on a design for the Domestic Abuse Project, and focuses on creating a space for people who have been through abuse. That blend of healthcare and commercial is something Mohamed really enjoys and plans to pursue after graduation.
"I like getting up in the morning knowing I'm working toward something," Mohamed said. "I love just being here and fulfilling a goal that will make me happy. I like working toward an accomplishment — and it's fun."