One of Dunwoody's first Industrial Engineering Technology alums, spent a career working on the rails
Terri Oestmann has always been a bit of a pioneer. And it's that pioneering spirit that led her to Dunwoody and the railroads. Now, through a legacy gift, others will get that same opportunity.
Back in the 1980s, Oestmann was working a series of dead end jobs after high school and knew she wanted more from her life.
"I attended a secretarial program just to get myself out from behind a broom, and in the process I fell in love with computers and technology," Oestmann said. "I was not meant to be a secretary, but I had a great time working with all of the new technologies."
A change of careers
Oestmann enrolled at NEI, which later merged with Dunwoody College, for electronics with an emphasis in computers. Through the program she received her FCC license, which allowed her to go into telecommunications after graduating in 1996.
When the BNSF Railway opened up a telecommunications division, Oestmann jumped at the opportunity.
The division was cut in 2005, so Oestmann transferred into the diesel shop as a diesel locomotive electrician.
"It was a much more industrial job," Oestmann said. "But it was still just basically following the bouncing electrons down the wire."
She was one of the few women who worked in the shop, and that could be challenging at times. Like the time the new innovative testing device she invented (which had been recognized with an award) was discovered crushed inside a vise. And it also meant she wasn't given some of the better projects to work on.
"I wanted to get out of the shop and do more creative work," Oestmann said.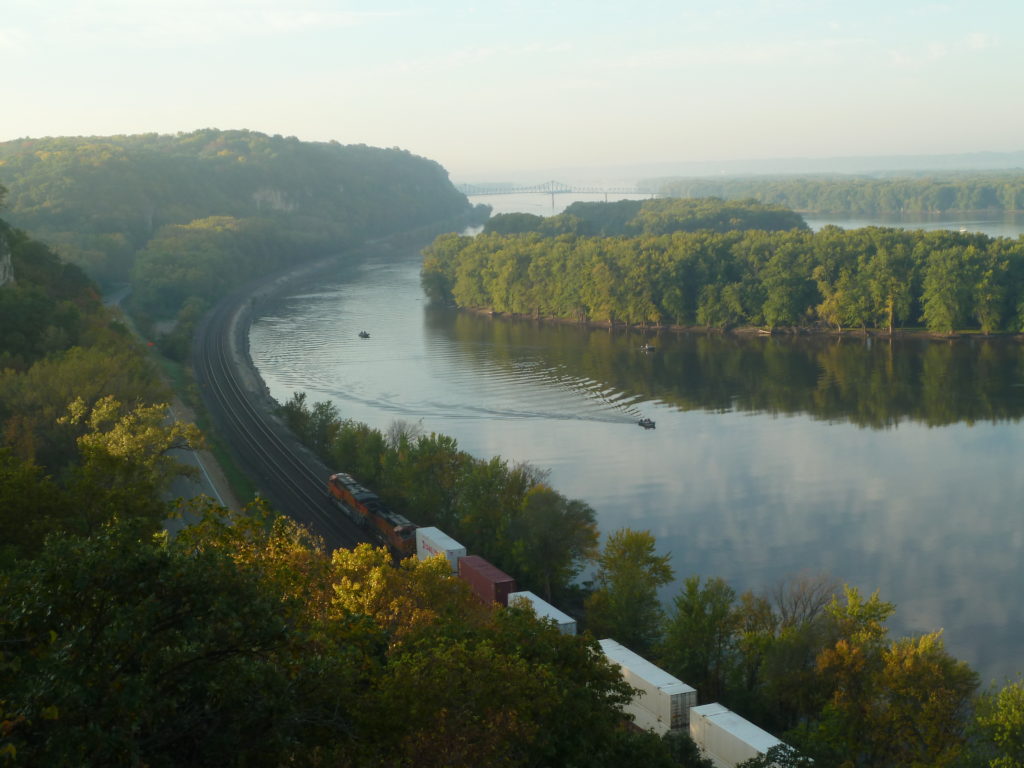 Back to school
It was this desire to do more with her career that led Oestmann back to Dunwoody. This time, for Industrial Engineering Technology. The College had just added the program and Oestmann would be part of the very first graduating class.
She graduated from the program in 2013 and soon after started a new position with the Railway — Rapid Responder.
The position came with a big salary increase and a chance to move to Illinois.
In her new role, Oestmann was part of a team that chases down broken trains and did what they could to fix them out in the field. It was a physically-demanding job that required a lot of ingenuity and creativity.
"We did a lot of bale wire and bubble gum fixes,"
she said.
Leaving a legacy
Oestmann stayed in her position as a Rapid Responder until she retired when she was in her 50s.
After retiring, she and her husband bought a hobby farm out in the middle of the Ozarks, in a small defunct township — population five. There Oestmann grows vegetables and helps out her neighbors when things break down and need fixing. They are even building an addition on their home and doing much of the work themselves.
Oestmann has always believed in living frugally and that lifestyle has allowed her to save enough to leave her own legacy behind. One that will benefit future Dunwoody students.
"I wanted to provide opportunities for others to have a way up in life," she said. She encourages others to explore a technical degree.
Oestmann is one of the College's legacy donors, meaning she has included Dunwoody in her will.
"Dunwoody was a wonderful environment and a wonderful experience for me," she said. "I want other people to have the chance to use their talents in the best way possible. We all do better, when we all do better."