While in high school Andrew Hohn had not intended to attend a technical college. In fact, it wasn't until Buhler Inc. visited his Osseo Senior High School class to present information on a new apprenticeship program in partnership with Dunwoody that Hohn became aware of the College.
After looking further into his options after graduating, Hohn saw the apprenticeship program as an opportunity to set him in the direction he ultimately wanted to go and began the program in 2013.
"Ultimately, I want to be an excellent engineer, and I determined that the best path was to start in the trades." Hohn said. "The Buhler Apprenticeship Program was based on Dunwoody's Automated Systems & Robotics program, which I preferred because I recognized the opportunities that it would offer in my future."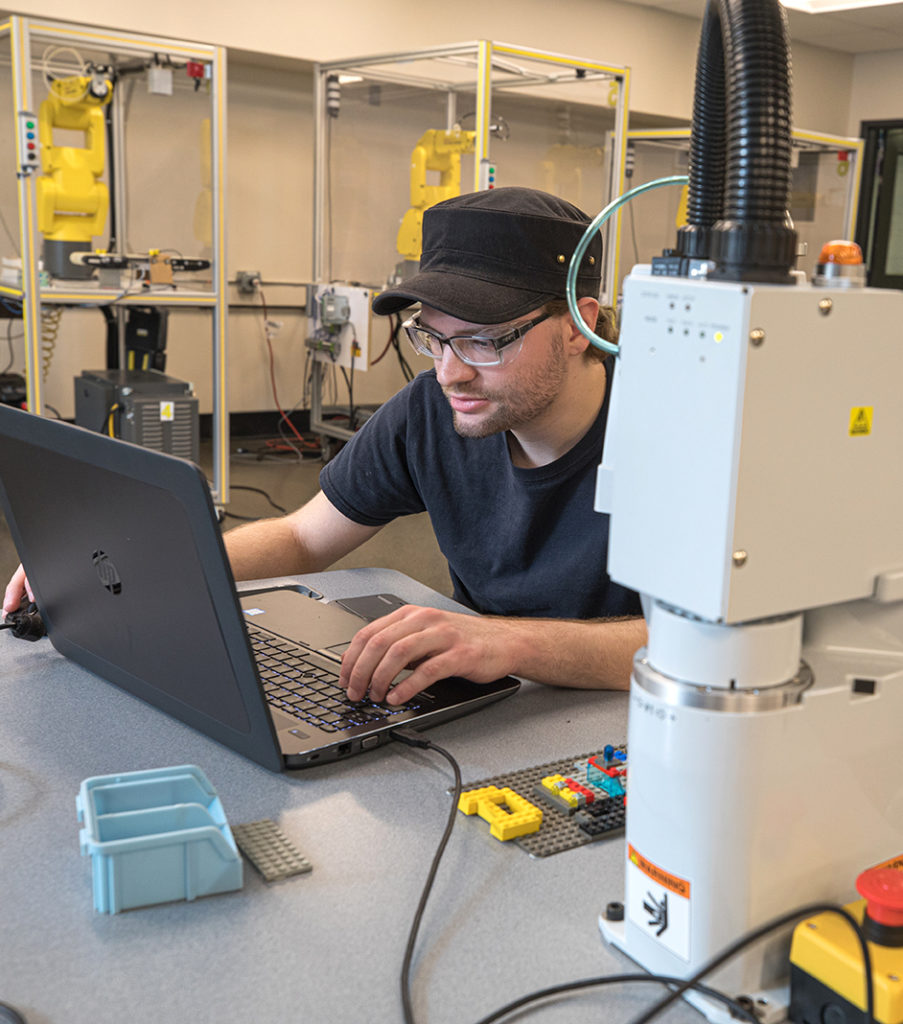 He recognizes the value of hands-on experience more than ever after completing the apprenticeship program and working in the industry, then moving on to pursue his first degree in Automated Systems & Robotics at Dunwoody.
"Many engineers struggle with a lack of hands-on experience, and the most successful ones were technicians and tradespeople before they were engineers," he said. But Hohn has always loved making things. "Invention is my greatest passion."
With countless opportunities to collaborate and create, Dunwoody became a place where Hohn felt like he belonged. "At Dunwoody, I don't feel limited — I feel liberated," he said.
Dean of Robotics & Manufacturing E.J. Daigle said that Hohn has been an outstanding student, always challenging his faculty to do more than just what was asked of him.
"During his final semester, Andrew took SCARA robot programming to the next level by programming the robot to use Legos to build a small car," Daigle said. "Although this sounds simple, he helped to develop new robot functions and 3D printed end-of-arm tooling that are now standard in the lab."
Daigle also said Hohn was a leader for the Autonomous Snowplow Team, conceiving and developing innovative solutions to persistent problems that helped his team, the Snow Devils, earn a third place finish overall.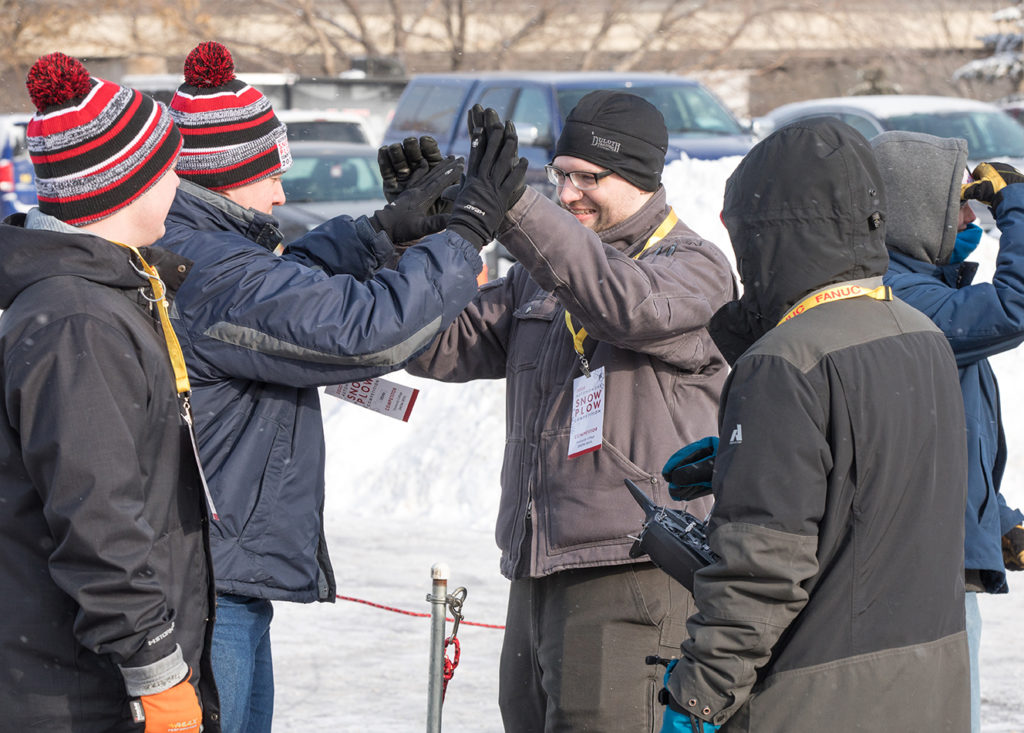 Hohn noted that his participation on the Autonomous Snowplow Team has been a true highlight. Being able to create, invent, and collaborate with others to solve a practical problem serves as the core of what he hopes to accomplish in his career.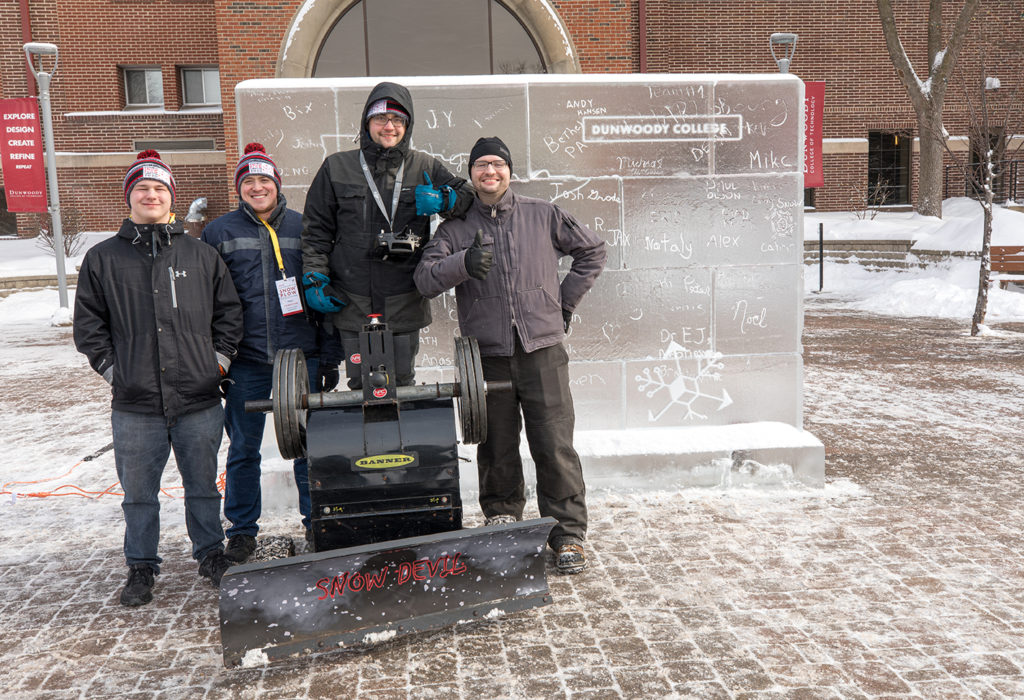 "I hope to become an excellent engineer, inventing automated processes to help solve the world's problems and make life better for people," he said.
If given the opportunity to teach others, he would be excited for that as well. In fact, working on the Peer Tutor Team for the College has been one of his favorite activities during his time here.
"Eeris Fritz has been a tremendous inspiration for me," Hohn said. "Her passion for education and learning encouraged me to join the team."
Hohn also expressed his appreciation for the Dunwoody community as a whole.
"Most of all I have enjoyed the people at Dunwoody," he said. "I feel in tune with the faculty, the staff, and the students. We're all like-minded individuals with the desire to learn and an appreciation for practical application, driven by our passion for making and doing things."
It is his appreciation and compassion for others and the pride he shows for his community that makes it unsurprising when he notes the most valuable lessons he has learned during his time at Dunwoody has to do with how he can positively impact others with his knowledge and experience.
"The most valuable lessons I have learned at Dunwoody are safety considerations and safe working practices," Hohn said. "Those lessons have kept me, and the people I work with, healthy."
After graduating with his associate's degree this Spring, Hohn plans to continue working for PaR Systems as an engineering technician, helping to build automated machines for the medical industry, and other clients, during this global COVID-19 pandemic. He will also join the inaugural cohort of the Automation & Controls Engineering Technology program this Fall in pursuit of a Bachelor of Science degree.