Bachelor of Architecture student designs James Bond inspired home
Who hasn't dreamed of the secret agent life filled with gadgets, a jet-setting lifestyle and an Aston Martin in the garage. Part of that fantasy could be realized thanks to the vision and design skills of Dunwoody Architecture student Austin Rastall and his instructor Kerrik Wessel.
Goldfinger, Goldeneye, The Man with the Golden Gun
Last spring, Wessel, an adjunct instructor in the Bachelor of Architecture program at Dunwoody was approached by Todd Shipman, a realtor with Lakes Sotheby's International Realty who owns undeveloped land in the South Tyrol Hills neighborhood of Golden Valley. Because it is a steeply graded lot, he needed architectural renderings to help potential buyers envision what the parcel could look like.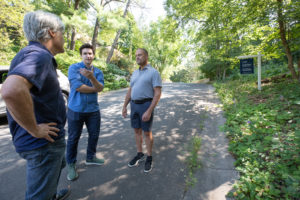 Wessel agreed to take on the project pro-bono after visiting the site with a couple of conditions. "I wanted it to be fun, and get my students involved," he said.
Rastall was a student in Wessel's class last year when the Bond house proposal first surfaced. Wessel knew their style meshed and asked for his help over the summer.
Wessel, who is also a big fan of James Bond, pitched the idea to use the opening credits of the 2006 film Casino Royale as inspiration for the concept.
Much to his surprise, Shipman agreed.
"Art and architecture are always inspired by something or someone," Shipman said.
Rastall jumped at the opportunity.
Growing up in the East metro, he often talked about building details with friends, and was curious how people interacted with those buildings and structures. At the time he was unaware that he was talking about architecture.
"When I was 5 years-old I told my sister that I was going to build her an apartment building," he said. "I told my parents that I was going to build them a house."
Now in his third year of the program, he knows that Architecture has always been his calling.
Mystery, Movement, Light, and Shadow
"At school we try to come up with a good story for all of our designs," Wessel said. "We develop it and come up with a reason for the house."
The Bond house began with four adjectives: mystery, movement, light, and shadow. Researching set designers intimate with James Bond movies provided direction.
From there, they landed on the Brutalistic movement of the 1970s, a cold architectural style that used concrete, steel and glass.
Wessel thought the style was fitting of Bond."I could see him being brutalistic and also really refined," he said. They wanted to replicate that in their design of the house.
The two met weekly over the summer sketching and brainstorming, dreaming of how they could infuse the James Bond essence into their design. Back and forth, they exchanged ideas — initially with Wessel in his old school way of building models giving way to Rastall's preference of architectural drafting with the computer software, Revitt.
Details include a hidden, moving concrete wall that pivots to conceal a movie theater room and the utility room. "No one will be able to tell that it is a moving wall because of where the joints are," Rastall said. "It looks like it was meant to be there naturally."
Building upon inspiration for James Bond, there are subtle nods to sevens throughout, from built-ins to the basic footprint of the home — two concrete masses that form a seven. There is also a steel staircase and a lot of glass throughout.
"I think it is fun for students to get involved with projects that are really interesting and that have legs like this," Wessel said. "It is also a good stepping-stone for your career if it comes to fruition."
The experience has been beneficial for Rastall. "I've figured out new ways to problem solve; to come up with new designs for structural areas when something wasn't working."
Project-based education is the norm for students at Dunwoody, and the excitement of working on such a project this early in his education is not something he takes lightly.
If someone purchases the land and wants to build Rastall's design, he will be able to be involved in the build process.
"It could mean a lot of things for me," he said. "It could mean a start to a successful career in Architecture, especially if it gets built."