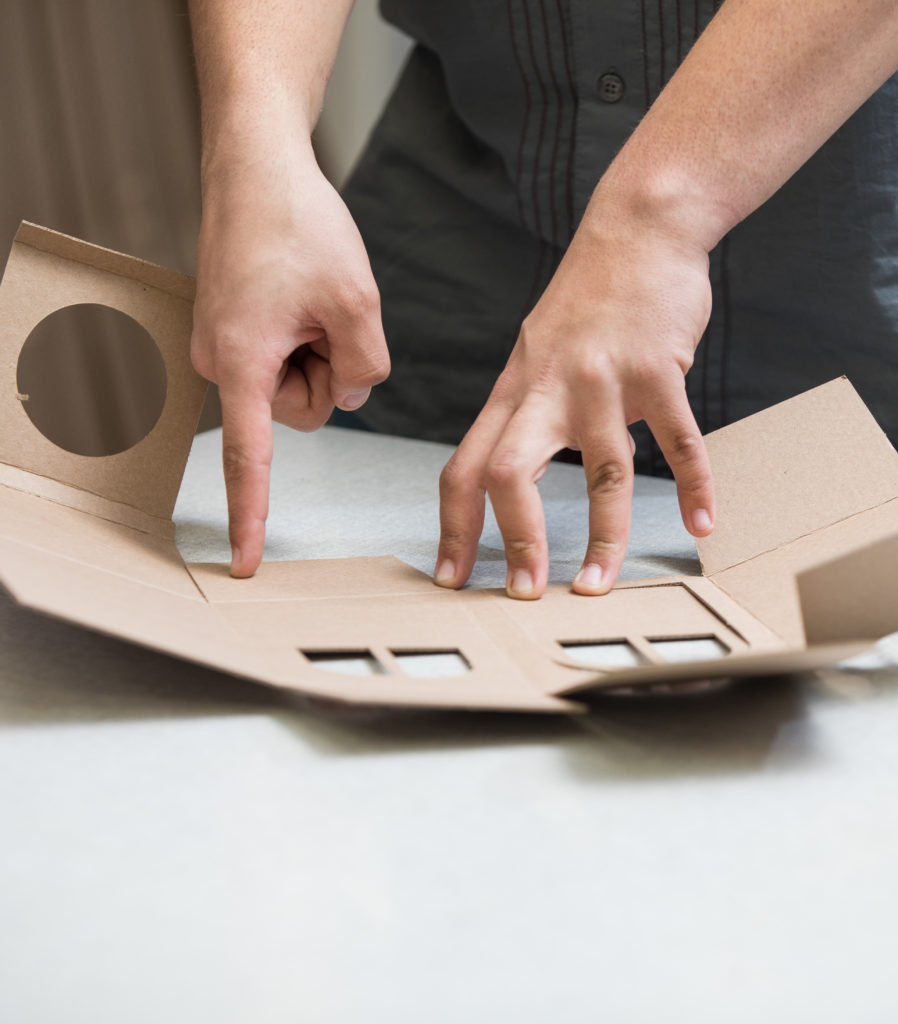 Dunwoody's Design & Graphics Technology department takes pride in graduating designers who have a holistic understanding of the design process — from working with and establishing rapport with clients through the final production.
A key way design students learn this process is through the second-semester Packaging Design course, which takes students through the entire process of conceptualizing and creating a package for a product. For clients, the course brings in Dunwoody faculty and staff who pitch the students on why they should choose their "product" to design a package for.
A Range of Design Challenges
This year, client products ranged from a classic Star Wars toy to fishing lures to a set of chicken teapots.
Student McKenna Chase had a particular interest in the chicken teapots which were a gift from Director of Admissions Kelly O'Brien to his mother, who collects chicken-themed objects.
"My stepmother also loves chickens so I felt that it would be a good fit," Chase said.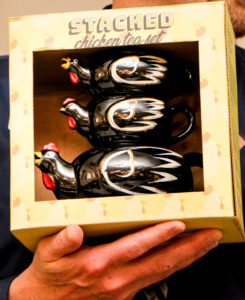 When O'Brien and Chase met to discuss the project, O'Brien expressed an interest in a Scandinavian theme for the packaging so Chase suggested a yellow and blue color scheme and came up with a concept she titled "The Cluck Hut."
While the client's needs came first, students were also instructed to come up with solutions that would work in a retail environment. Casey Johnson took on a particularly interesting challenge for his client Tom Finnegan, Program Manager of Math & Science at Dunwoody.
"[Finnegan] approached me with this set of bottles entitled 'Dr. Howl & Sons Beaker and Mug Set.' He collects a lot of interesting looking items and props like that," Johnson said. "They look like Halloween decorations and could be used to hold potions or snake oil. Stuff of that time period."
Johnson collaborated with Finnegan on building a narrative behind the product. They decided to pretend it was a real product rather than a set of props or decorations — a set of actual cure-alls that would be sold off to a credulous population with the salesman skipping town before his quackery is discovered.
"I was inspired by video games like Skyrim and Fable," Johnson said. "Working conceptually really helped bring my project to life. I learned that designing with a 3D space has just as many rules as a 2D one."
From Concept to Final Product
Part of the reason behind the packaging project was so that students gain experience designing for items that will be produced three dimensionally. Specifically, students learned to use Esko ArtiosCAD software, a computer-aided design program that's used in industry specifically for structural packaging.
For student George Borja, he was able to build on skills he already had in 3D modeling from working in his father's dental office where they use CAD to make crowns for teeth.
"The objective for all this was to have the product shelf ready," Borja said. "All cut lines, graphics, and everything had to be perfect."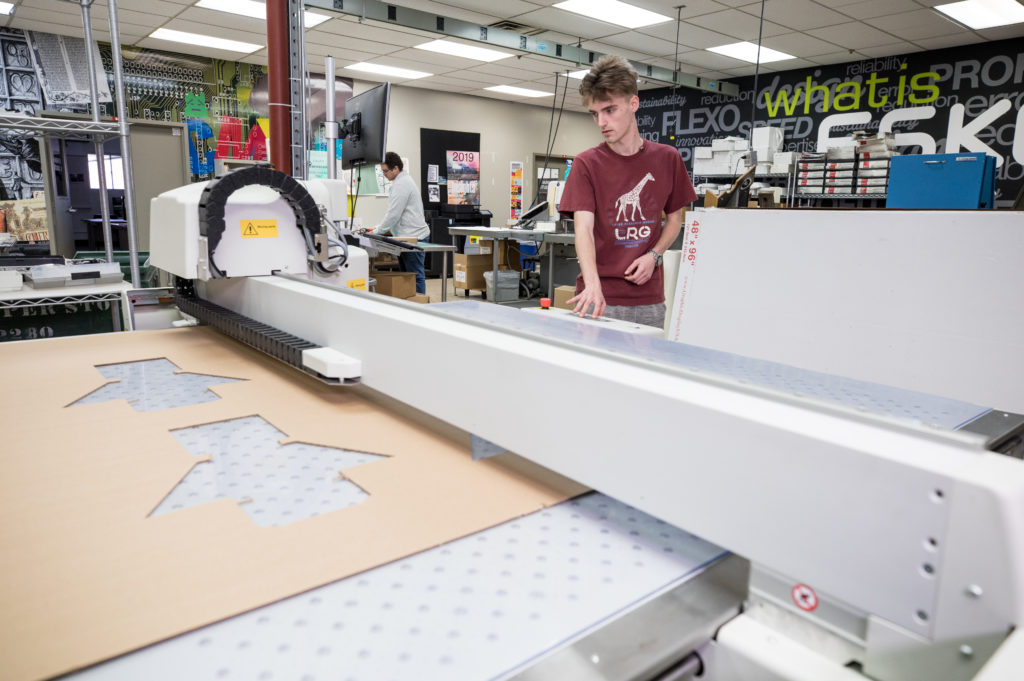 Once they had the digital model built, students used Dunwoody's in-house printing and finishing equipment to complete their packages.
Elijah Kraling worked with a client whose product was a toy model of a
Star Wars X-Wing fighter. He used the College's Esko Kongsberg CAD table to create Star Wars logos and iconography cut-outs in the packaging.
"I worked hard to make the package as realistic as possible," Kraling said. "From researching Disney and Star Wars brand standards to getting the setting of the X-Wing just right. I wanted this piece to fit in on store shelves."
The Bernard Group, a local visual merchandising company, helped again this year with any production work that couldn't be completed using Dunwoody-owned tools.
Developing Real World Skills
At the end of the semester, students presented completed projects to their clients and discussed the process they used. Members of the local design community and professionals from Target and 3M also attended.
Classmates, faculty, and clients were then given the opportunity to provide feedback.
"Having a shared vision of the project with my client made the process easier," Chase said. "It was a really collaborative process. I feel I came up with a design that meets my client's needs and the market's needs."
Dunwoody's Design & Graphics Technology department offers a two-year associate's degree in Graphic Design & Production that focuses on teaching students not only design theory, but also the professional and technical skills they need to succeed in a wide variety of careers in the design industry.