Service learning brings real-world experience to the classroom
---
Trays created at Dunwoody will be transforming the lives of blind bead artists in Sudan — the latest success in the College's effort to show how technology can improve lives in surprising ways.
Later this year, Arts & Sciences Associate Professor Reem El-Radi will deliver 40 thermoformed trays crafted by Engineering Drafting & Design students to these skilled Sudanese artists.
It is the second year Dunwoody students partnered with El-Radi, who discovered the jewelry artists while delivering backpacks to the Sudanese school for the blind.  Struck by their talent, but learning that they made no money from their creations, she decided to help. She began selling their beaded key chains to friends for $10 a piece.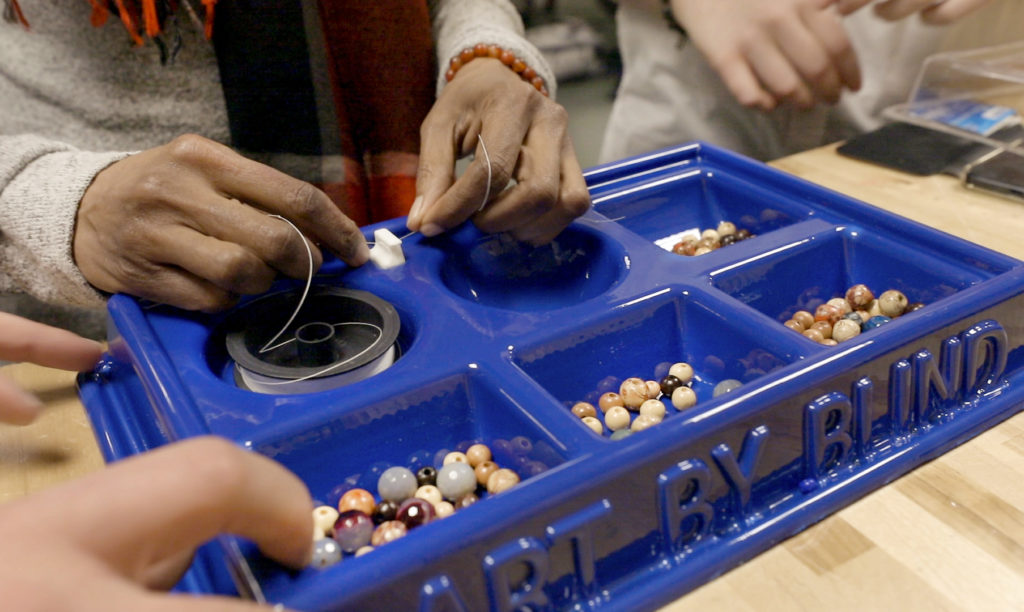 "Within three days I was able to sell out four times, and that is considered a good income for those students," she said. "That can help that student sustain and be independent for a few days or perhaps two weeks."
Returning stateside, she created a non-profit and saw the opportunity as a way to get Dunwoody students involved with international service learning. El Radi reached out to the Engineering Drafting & Design program with an idea for a tray to keep the beads organized.
Edo Krivdic, an instructor in the program, jumped at the idea to bring real-life experience to his students.
This project involves at least two different types of manufacturing processes. Students used SolidWorks for the design process, and then 3D print molds to be used to thermoform their trays, a process where a sheet of plastic is heated and formed to a shape.
"We want our students to experience what it takes to go from a product in your head to one actually in the market," Krivdic said.
The students were grouped into seven teams and instructed to approach the project like a company would a product design challenge.  The teams researched their client's needs and focused on designing and fabricating the best tray to meet those needs.
"We all made concepts for our first idea," A.J. Nelson said about his team's efforts. "Then we kind of took the best of each one and combined it into one."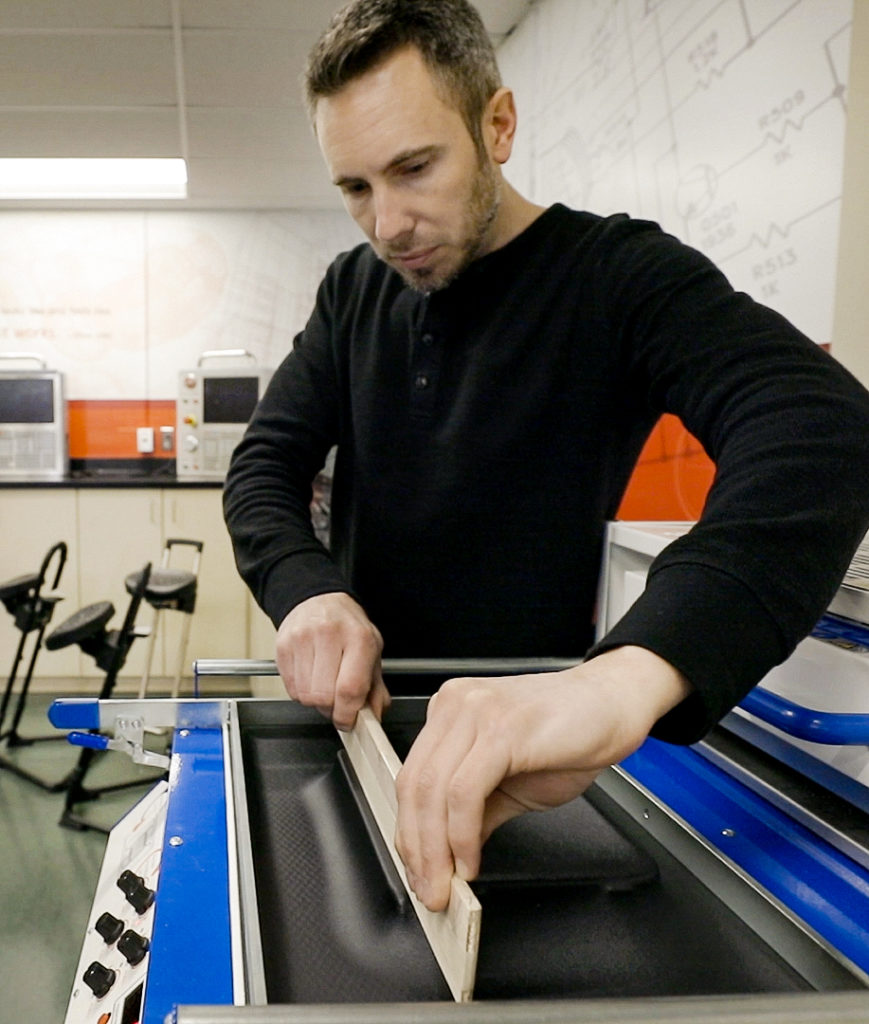 The design from Nelson and teammates Johanna Knaeble and Kelly Vang included a tray with artistic lettering and a built in safety-cutter, like you would find on a sewing machine, allowing the jewelry artist a way to easily cut the line as they string beads. They also created a lightweight stand from PVC piping and painted it black to help the jewelry stand out. It could be easily disassembled for transportation.
Jesse McConnell's group wanted to design an all-inclusive tray, stand, and cover. The cover would lift off the tray and fit into an indentation on the front of the tray with notches allowing jewelry to be displayed.
Once they 3D printed their mold, they needed to find the right weight of plastic to thermoform that would be rigid enough stand up to the weight of the jewelry-laden cover.
McConnell and his two teammates, Adam Plantenberg and Erich Beckmann, huddled around the plate of the thermoforming machine in the Metrology lab early into the four-week project, waiting for the plastic sheet to heat up
McConnell pushed open the lid, touching the plastic sheet slightly. Deciding it was now pliable enough, he reached for the lever located on the right of the machine, similar to one found on a slot machine. Plantenberg stood ready with a slender wooden plunger.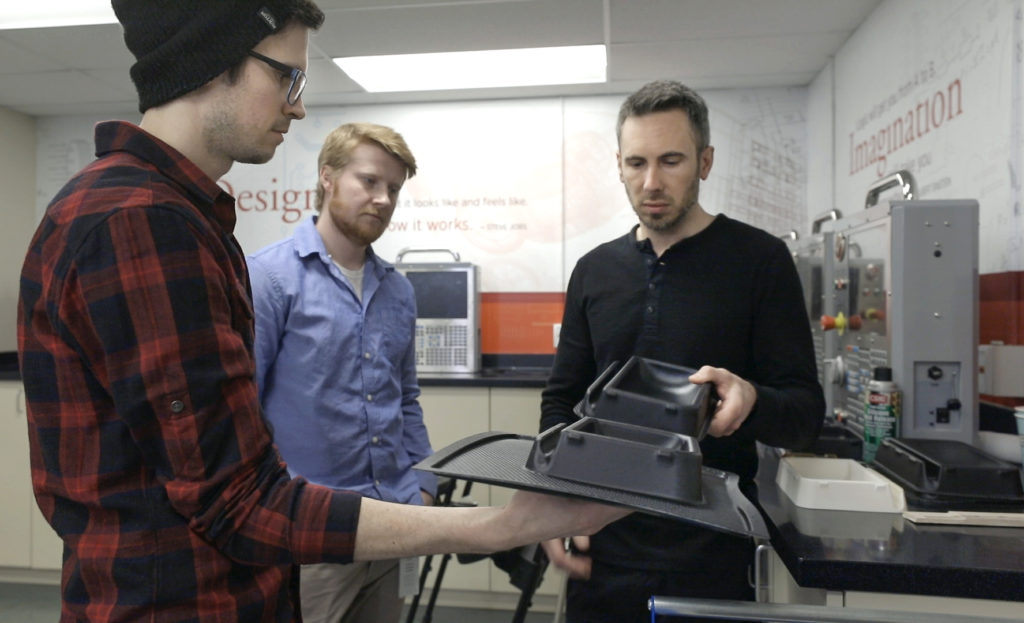 The lever caused a vacuum sound, suction-forming the pliable plastic to their 3D printed mold below.  Within seconds the plastic form began to take shape. Plantenberg pushed the plunger into one side of the plastic-formed mold, creating the indention where the cover will rest when used as a stand.
"It was a lot of testing to see what worked and what didn't work," McConnell said.
Once complete, all seven groups presented their research, processes, and final product to the rest of the class and to El-Radi, who spent several minutes talking to the teams and testing each tray.
In the end, two tray designs were chosen. The class will come together to make 20 each of the design from Team Knaeble, Vang, and Nelson and 20 of  the design from Team McConnell, Plantenberg, and Beckmann.
El-Radi will deliver them on her next trip back to Sudan.
"When you have a person with disabilities, and they're not able to find a job and be able to be independent, this sort of idea where they are given the chance to earn a living, it definitely makes them feel good about themselves," El-Radi said. "It gives them self-esteem, to be able to stand on their own and contribute."
"It made us work 10 times harder because someone is actually going to be using it," Nelson said.
Vang said the experience made her more motivated to become an engineer.
"It just seems a lot more meaningful to have projects that impact other people rather than just fulfill a project for a class," Knaeble said.