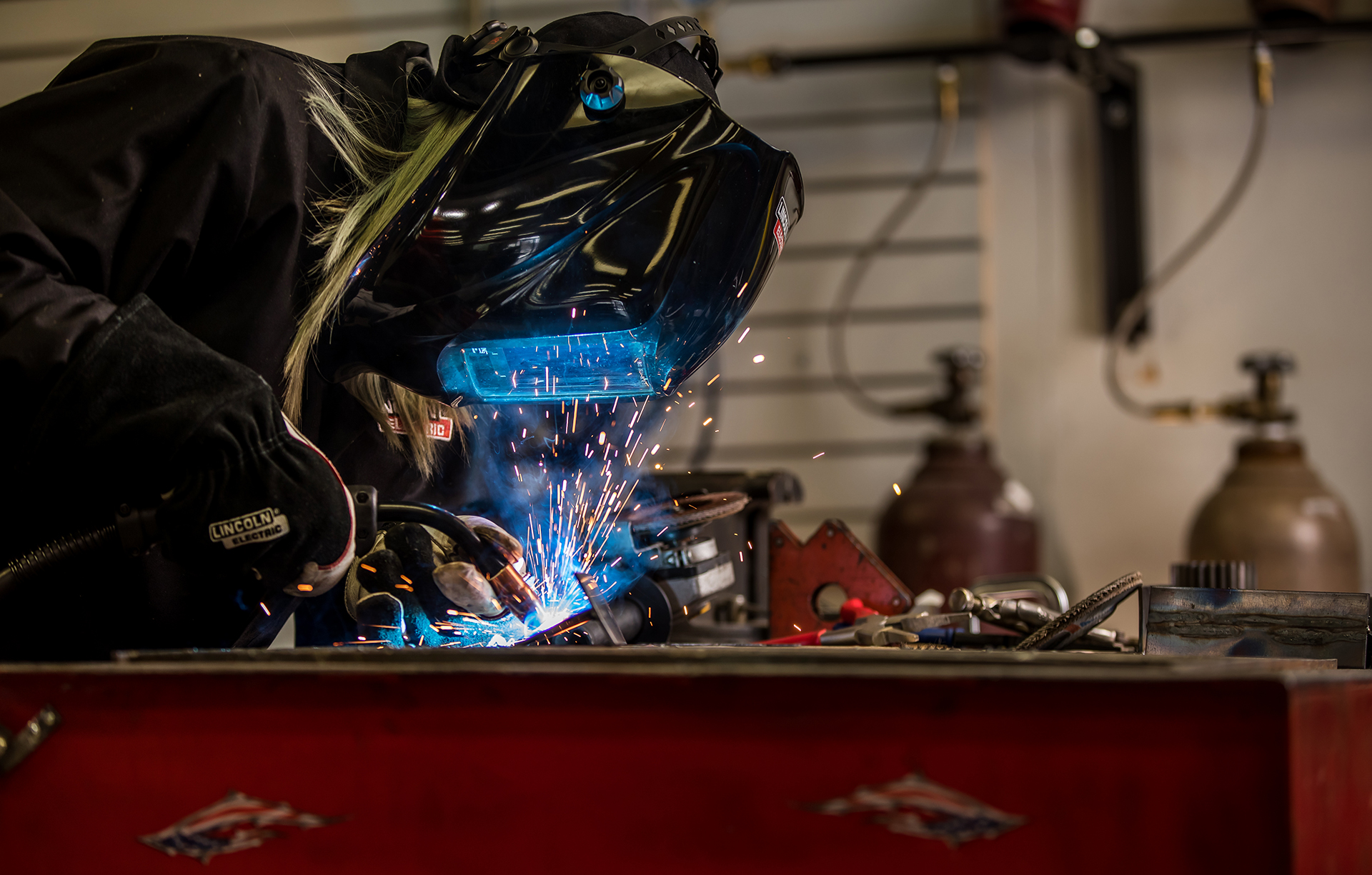 Welding alum is sharing her knowledge with others
For Alex Mars, graduating with a welding degree from Dunwoody opened up more opportunities than she ever imagined.
A 2015 graduate, Mars is currently the manager at Toll Gas & Welding Supply in Lakeville, an employee-owned welding supply company. And as the shop's only employee, her responsibilities vary depending on the day.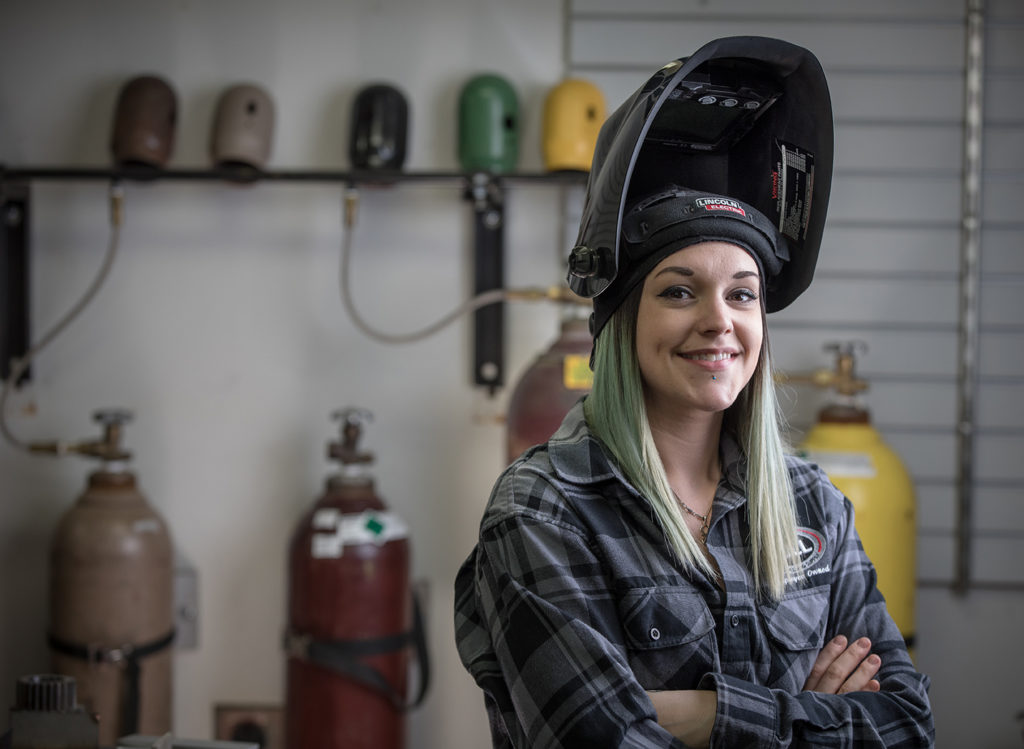 "My daily role is essentially tech support for welding applications," Mars said. "A lot of what I am doing is educating on welding processes and helping people select and obtain the tools and materials they need to weld."
And just like her daily routine, the company's client base is also wide-ranging – from home hobbyist to pipeliner to sculpture artist.
"I help them understand the equipment used to do the welding and demos are a typical part of that process," Mars said. "I also do one-on-one welding lessons as well as group classes of ten. The one-on-one lessons can go as in depth as desired. The group classes are typically 'Intro to TIG' or 'Intro to MIG,' and I co-teach with another instructor for large groups."
Sharing her welding knowledge with others and exposing new people to the craft is something Mars has come to love.
"Last year I planned and taught a Father's Day Workshop – one of my favorite experiences," she said.
Her position has also given her the opportunity to meet and network with other professionals. Through those connections, she has gotten to work on a variety of interesting welding projects as well use her skills to make artistic sculptures.
"Through this outlet, I have had the opportunity to become a part of an art organization in Minneapolis called The Southside Battletrain, a part of the Mayday Parade affiliation," Mars said. "With this group we build things I have never imagined possible."
Finding her path
Welding wasn't what Mars had imagined doing after graduating from high school in 2010. She held a number of positions including manager of a restaurant, Nurse's Aide and Trained Medication Aide – none of which were what she wanted to do for the rest of her life.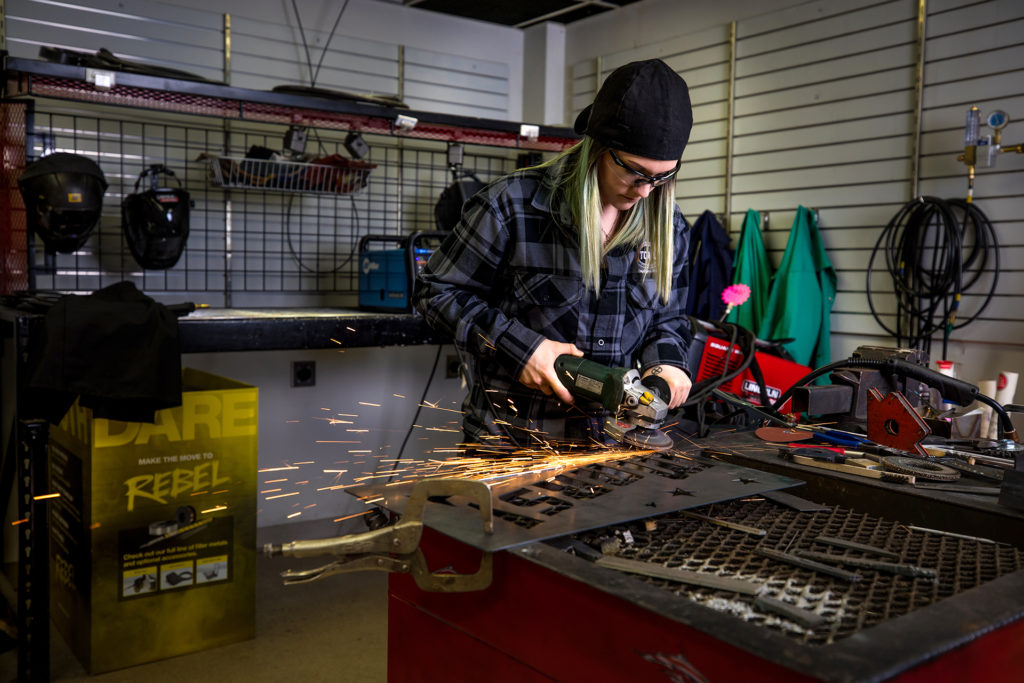 So when she had the opportunity to try her hand at welding, Mars discovered it was something she enjoyed. That interest in welding prompted Mars to sign up for the welding program at Chart Industries. The program not only provided the training, it also paid the students a salary. But shortly after starting the program, Mars found out that because she couldn't pass the program's physical strength test, she wouldn't be allowed to continue.
The next day, Mars walked into Dunwoody and enrolled in the welding program.
Looking forward
"Since graduating from Dunwoody, I have allowed my journey to take alternative curves that brought me to realize what I enjoy most in my career," Mars said. "If I had not allowed myself to venture, I wouldn't have reached the work that I feel passion for. Since leaving Dunwoody, I have gained confidence and learned my true value."
Mars is grateful for the education and guidance she received at Dunwoody, especially from her instructors Denise Bailey and Mark Schwendeman.
"I feel that having each of them at different times helped to equip me with a contrasting and complementary set of skills, I found balance in what each offered me," she said. "I am grateful for their mentorship."
It's a sentiment that others can now say about her.
"I love to advocate growth in any way and have found the structured teaching of welding to be greatly impactful – for myself and for those who I have shared knowledge with," Mars said. "I stay excited and interested in welding because I feel that I am endlessly getting to know the metal I am working with and its behavior with the way I know how to manipulate it in various ways. I have recently begun learning to forge and it is deepening my knowledge of the character of metal. These skills all compound and build on each other and each thing you build has the potential to be more complex, or at least your process more efficient."

Mars encourages others to explore a technical degree like she did. Learning an in-demand skill has helped her in more ways than one.
"Not to mention the way it feels to be highly skilled at something," she said. "To build things with your hands and to create something tangible, visual, physical – it has a profound feeling tied to it. To have a skill to endlessly refine and an element to tame and truly get to know. I have gained more confidence with myself through learning to weld than I ever imagined myself gaining. This confidence and power has carried over into every facet of my life."