Every month, the Dunwoody Construction Management Student Association (DCMSA) brings industry professionals on campus for their Lunch and Learn networking series. It is an opportunity for students to learn about the industry and gain networking skills.
Representation from a variety of companies attended this event including Lyman Lumber and David Weekly Homes. During the event, students enjoy lunch while learning about what is out there in the field.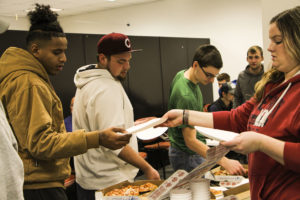 At this month's Lunch and Learn event, students heard from Tim Mayer of Minnesota based construction company Kraus-Anderson. Mayer discussed internship opportunities, background on the company, and answered questions about working in the field.
A noteworthy project Kraus-Anderson has completed recently has been the Vikings Training Center in Eagan.
The company proudly employees many Dunwoody alumni. "They have a great program that is very hands-on," Mayer said. "It is important for these students to get out in the field; to have more information on what roles companies offer and what will be a good fit for them."
"Real life examples are the most valuable resource we have as students," Joseph Kaeding, a Construction Management student, said. "Lunch and Learn expands my scope of the industry."
First-year student Paige Schultz, who helps the DCMSA with scheduling and organization, has benefited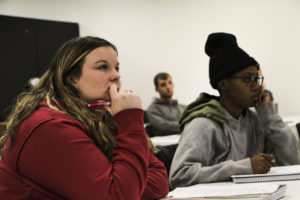 from attending these events.
"Lunch and Learn has given me a grasp on what is out there in commercial construction," Schultz said. I get a chance to talk to employers and make contacts face-to-face."
"A lot of adults don't know what to be when they grow up," Senior Instructor Matthew Durand said. "This series gives students a chance to be exposed to companies they may not have known about."
The lunchtime networking series also helps students find internship opportunities and builds networking skills for them to take into the field.
Lunch and Learn is open to all students. The next event is scheduled for January 14 from 11:00 a.m. to noon in Red 44. January's event will feature a speaker from AMEK Remodeling.