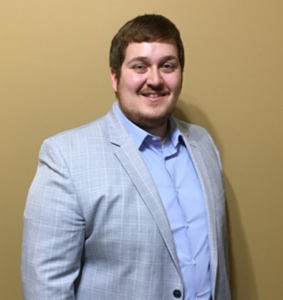 Two months before receiving his diploma in Industrial Engineering Technology from Dunwoody College, Tim Trembulak accepted his first position as a manufacturing engineer.
The May 2018 graduate is now working for Coloplast in Minneapolis, a medical device company based out of Denmark.
"Dunwoody prepared me for my current position by providing excellent instruction in several relevant areas," Trembulak said. "The various classes provided a solid foundation for my current position. I was able to contribute on the first day as a manufacturing engineer because of the practical, real-life learning at Dunwoody."
Work ready, day one
In his new position, Trembulak works on new equipment validations, process improvements, and process simulation.
"Each and every day there are new challenges and opportunities to make things more efficient," he said.  "While it is not my primary function to focus on continuous improvement, I am encouraged to think of improvements and ways improvements can be implemented which is something I really enjoy."
This is the second Dunwoody degree for Trembulak. Prior to earning his bachelor's completion degree in Industrial Engineering Technology, Trembulak graduated with an associate's degree in Electronics Engineering Technology in 2016.
"I found the hands on practical approach the most beneficial about my education at Dunwoody," he said. "I learned things that I could apply right away when I started my new position. Even before I finished the program at Dunwoody, I felt well prepared to start a role as a manufacturing engineer."
Continuing his education
Trembulak isn't finished with his education yet. He is already pursuing a master's degree in manufacturing engineering from the University of Wisconsin-Stout, which he hopes to complete in the spring of 2020.
"As I continue my career I would like to move into engineering management. I am also interested in teaching down the road so that I can take what I have learned in industry and share some of that knowledge and help prepare other engineers for the field."
Find out more
For more information about the bachelor's completion degree in Industrial Engineering Technology, visit:  dunwoody.edu/engineering/industrial-engineering-technology/