Since 2013, Dunwoody College's Diversity Council has presented a Student Global Citizen Award to a student or students whose accomplishments exemplify an enthusiastic awareness of issues related to working and living successfully in our diverse society. The 2018 award recipients are Alexis Koren and Viviane Vaaj.
---
Alexis Koren
Automated Systems & Robotics
Inver Grove Heights, MN
Alexis Koren didn't have the smoothest high school experience. Not only did she experience bullying, but she also broke her back in six places during her senior year. She was able to graduate six months early, but couldn't carry on with her education. About two years down the road to recovery, she was determined to put her shattered dreams back together and go to college. She wanted to prove wrong those who were skeptical that she would be able to do so. One of her biggest motivations for this was Hastings High School electronics and electricity instructor Dave Davenport. Because of his classes, Koren had come to love programming robots.
Koren had a desire to attend Dunwoody as her love for electronics and robots was growing. After touring the College, she knew that it was the right place for her.
While attending Dunwoody, Koren got involved in volunteer work — she joined the Leaders of Today and Tomorrow (LOTT), a program that seeks to help young women become leaders in their professions and communities. For her community engagement project with LOTT, she gathered menstrual products for the residents of Simpson Housing Services. Volunteering is an activity she has loved to do ever since she began helping out with her aunt in homes for the elderly at the age of 12.
Koren is excited to start her career. But she also hopes to continue to help others, especially by being an inspiration to them like Dave Davenport was for her.
"I want to be a mentor for other men and women," she said. "Just because there are so many people who feel like they're not good enough for the world. Everyone is worth it. It only takes one person to believe in you, for you to believe in yourself."
---
Viviane Vaaj
Electrical Construction Design & Management
Rosemount, MN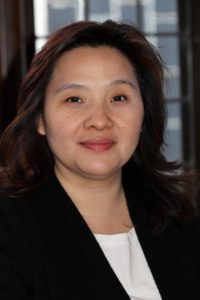 Prior to attending Dunwoody, Viviane Vaaj earned a nursing degree and then worked in real estate, which brought her into contact with a local general contractor firm. After learning more about the field from the general contractor, she developed an interest in electrical construction design. She decided to attend Dunwoody because of the small class sizes and the hands-on method of instruction.
It was not a career she had been aware of right out of high school.
"I have to say, as a woman and minority, I was not encouraged to attend technical schools like Dunwoody," she said. "We were always encouraged to attend the liberal arts schools."
While at Dunwoody, Vaaj, who is Hmong, helped others learn more about her background by participating at the College's yearly Festival of Cultures. She is also very active in her community.
"I didn't choose to advocate for diversity," she said. "It was part of who I am."
Vaaj hopes to help diversify the construction industry by encouraging more women and people of color to enter the field. She understands, though, that any change is going to take time and will require people working together to understand each other.
"What I've learned from diversity projects is that there are so many people who focus on the differences of other people that we sometimes forget our similarities," she said.