Donald Posterick
Electronics Engineering Technology
Grand Rapids, Minnesota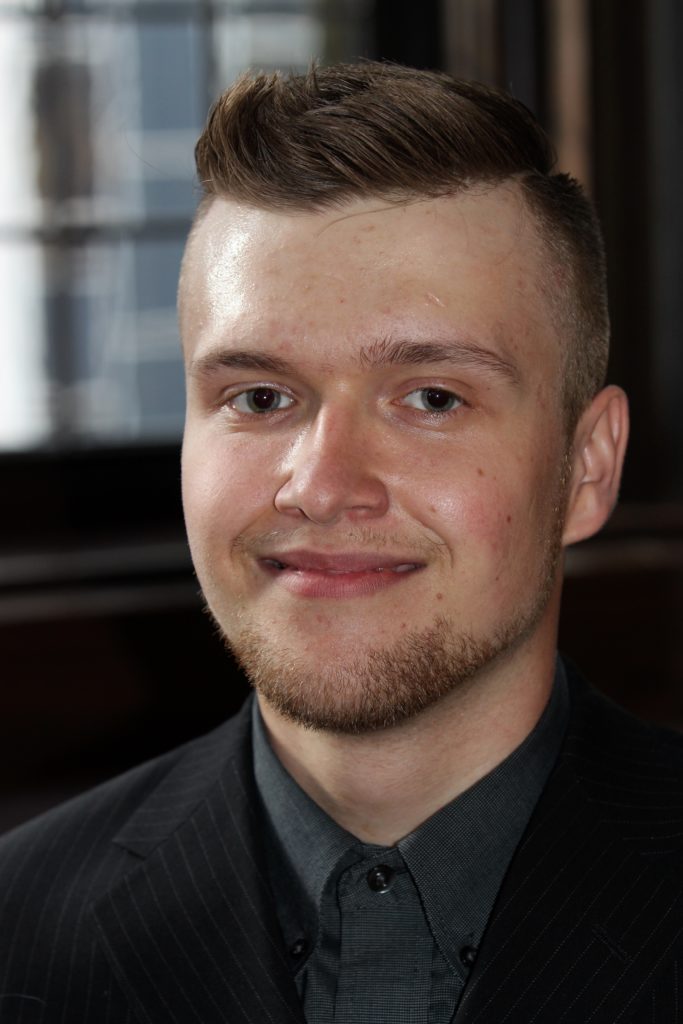 Described by faculty as a student who demonstrates "a focused determination to succeed and an outstanding desire to excel," Donald Posterick earned not only the Academic Excellence Award in Robotics & Manufacturing, but he also received this year's Student Leadership Award from the Dunwoody Alumni Association.
"Donald reminds me that the best Dunwoody students not only challenge themselves, but also challenge us as instructors to push harder and farther," Dean of Robotics & Manufacturing E.J. Daigle said.
Posterick's love for electronics and engineering started back in high school when his natural curiosity prompted him to join the Robotics Team and the Shell Eco Marathon Team.
When nobody on the Robotics Team voiced an interest in tackling the electronics and programming side, Posterick stepped up and took on the challenge. He then went on to develop a speed controller for the Shell Eco Marathon Team's prototype electronic vehicle.
"I began to learn how to program using online resources – and a lot of trial and error," Posterick said. "At first it was hard, but I was determined, and I didn't let anything slow me down."
That hard work and determination has also helped him succeed here at Dunwoody.
Originally from Grand Rapids, Minn., Posterick discovered Dunwoody College while out talking with companies about sponsoring the Robotics Team. The vice president of the local Chrysler dealership happened to be the former IT director at Dunwoody and encouraged Posterick to check it out and connected him with Daigle.
Posterick followed up on the advice and applied for the College's Youth Career Awareness Program.
"I was impressed by all that Dunwoody had to offer – from the fully equipped labs, experienced faculty, and interesting extra-curricular activities. I knew that this was the school for me," Posterick said. "I was luckily accepted into YCAP. The scholarship from YCAP made it possible for me to attend Dunwoody, and after spending the five weeks over the summer at Dunwoody, I wouldn't have wanted to go anywhere else."
During his time at Dunwoody, Posterick has enjoyed the project-based approach to education.
"Here at Dunwoody the material we cover in our theory classes we immediately apply in our labs to build and reinforce the skills that we will need in the future," Posterick said.
Posterick has excelled beyond the classroom as well. He served as the lead programmer for Dunwoody's autonomous snow plow teams, resulting in third and second place finishes during the past two years, among 12 of the top engineering universities in the Upper Midwest.
In addition, Posterick and his teammates went above and beyond assisting other colleges and university teams with repairs to their own snowplows, ensuring they could compete – and earning the Professor Nattu Sportsmanship Award.
Posterick is graduating from the Electronics Engineering Technology program and is planning to return this fall as a student in the Software Engineering program.
"After two years and hundreds of hours of software design for the autonomous snowplows I have realized that my true passion is not just electronics, but bringing together electronics and software," Posterick said. "My plan is pursue a bachelor's degree in Software Engineering from Dunwoody over the next four years and continue studying and developing autonomous navigation software to be used by our snowplows, but also to create a versatile system capable of autonomous flight control and obstacle avoidance in multirotor platforms."