Construction Project Management student finds dream college, career
---
The right major, a personal recommendation, and an excellent reputation.
Those were just some of the reasons Mballe Esong decided to take a look at Dunwoody College.
"I knew I wanted to pursue a degree in Construction Project Management," Esong explained. "And during my college search, a close family friend who graduated from Dunwoody recommended the College to me. He spoke very well about this school."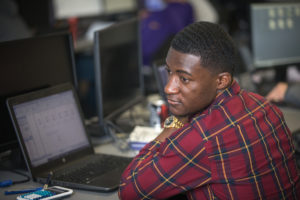 So last October, Esong hopped on a plane and made the more than 1,100-mile trek from his home in Largo, Maryland, to tour the campus. And while the visit certainly piqued his interest, it was Dunwoody's rich history that made the sell.
"I decided to attend Dunwoody because of its — and its programs — reputation," he said, adding that he was also impressed by how long the College has been in existence.
Childhood memories inspire career choices
Born and raised in Cameroon, West Africa, Esong is no stranger to traveling to new places for new and better opportunities. In fact, it was what originally brought him and his family to Maryland.
But it was his adolescent years in Africa that Esong credits to truly shaping who he is today.
"I grew up in a place where you saw construction in its raw form, and I always admired the beauty it brought to the environment," he recalled. "I wanted to be a part of that and to be involved in a project from start to finish."
Esong also shared that as a kid, he had dreams of giving his mother her dream house and using construction to better the development of society.
"My decision to pursue my major in construction goes way back," he said.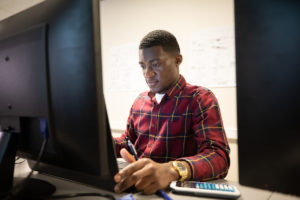 Now nearing the end of his first semester, Esong is happy to finally be working towards the dream he has had since he was a kid.
"I love my major," he said. "My program teaches me everything I need to know about construction and the various sectors and doesn't just focus on teaching me to be a good project manager."
He has also found Dunwoody's small class sizes, one-on-one time with instructors, and free tutoring programs beneficial. The College's new student housing program has also made Esong's move to Minneapolis much more manageable.
"Dunwoody has a team of instructors and counselors who are determined to make you succeed," he said. "I know my major will give me many, many opportunities."
Upon graduation, Esong hopes to work for a construction company here in Minneapolis to gain more professional experience. He is also interested in possibly starting his own company someday.