Mechanical Engineering students create aluminum wrenches
---
With the precision of a surgeon, Angela Freeland lifts a 3D printed wrench from a wooden box, packed tightly with a mixture of damp sand and clay.  She cracks a wide smile before leaning in to watch her classmate, Daniel Hurd, tap lightly on the white plastic to loosen it – ever-so slightly – so he can remove his mold.
"Boom," Freeland says. "I'll take it," Hurd said.
The two Dunwoody Mechanical Engineering students are spending the afternoon with their instructor and classmates in the Foundry, learning how to sandcast and make their own aluminum wrenches.
It is a pain-staking process.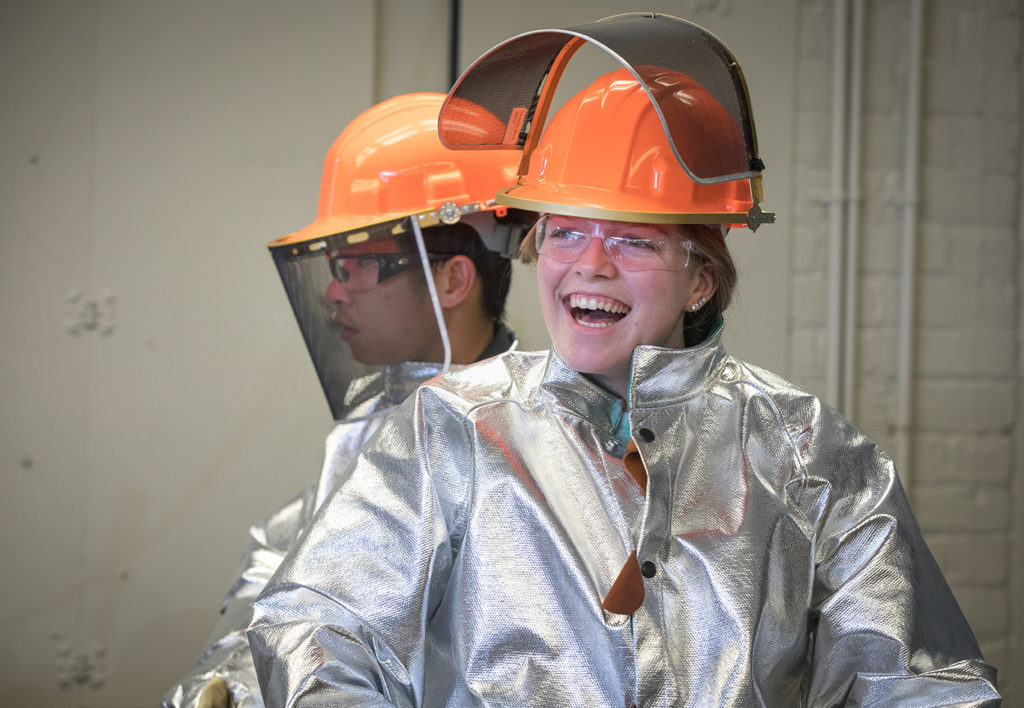 The sand and clay mixture has to have the right amount of moisture, the plastic pattern cannot have any rough or sharp edges, and the sand must be packed tight around the pattern.  The temperature of the molten aluminum must be precise and poured quickly into the molds. If anything is slightly off, the wrench might not turn out, sending students back to square one.
3D Printing brings changes to the 21st century foundry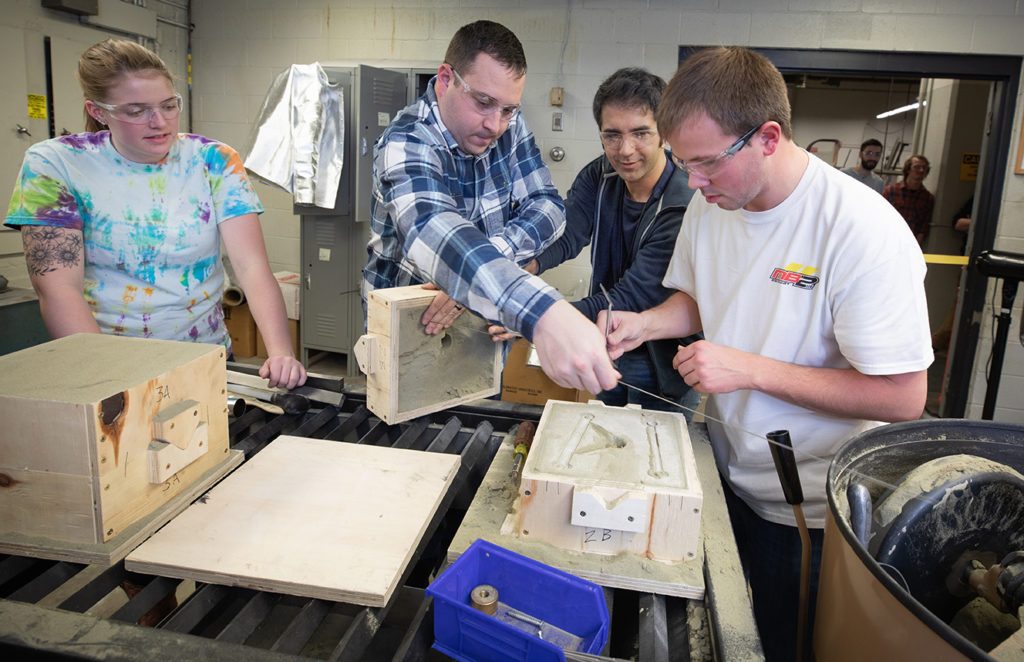 Dunwoody has not had a working foundry in decades.  Historically, the foundry was used in limited capacity to cast dead blow hammers and other tools used in the machine shop. With the support from the American Foundry Society and Engineering Drafting & Design Assistant Professor Alex Wong, this technology is returning to Dunwoody.
"The ability to 3D print patterns has completely changed the industry. A pattern that took days or weeks to build in the past can now be printed in a few hours and prepped for casting the same day," said E.J. Daigle, Dean of Robotics & Manufacturing.
The United States ranks third in global casting production, trailing behind China and India. Foundries are struggling to find the next generation of workers.
Dunwoody is racing to help fill that need.
Students studying Engineering Drafting & Design, Mechanical Engineering, Machine Tool Technology, Welding & Metal Fabrication, and Design for Manufacturing: 3D Printing, will all use the foundry as part of their course work.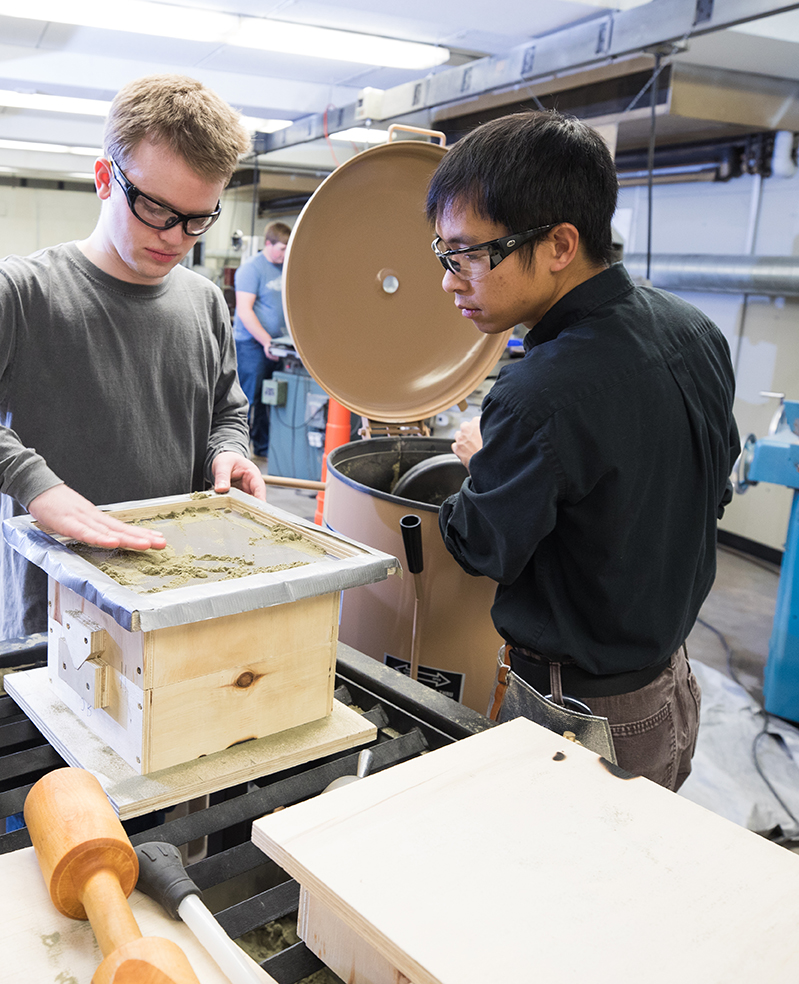 Each year Wong has his students design a golf putter for casting as a class assignment. They use Computer-Aided Design (CAD) software to design their putters.
Before this year the castings were sent to area foundries. Today, students send their designs to one of the 3D printers in the Metrology lab. Hours later, they have a pattern ready to use in the foundry.
"I like the hands-on process a little bit better because the students see what is involved with making their molds," Wong said.
They learn even more when something doesn't work.
"When you have to sit down and scratch your head a little bit from those tough lessons, it's frustrating, but the lessons stick a little better," Wong said.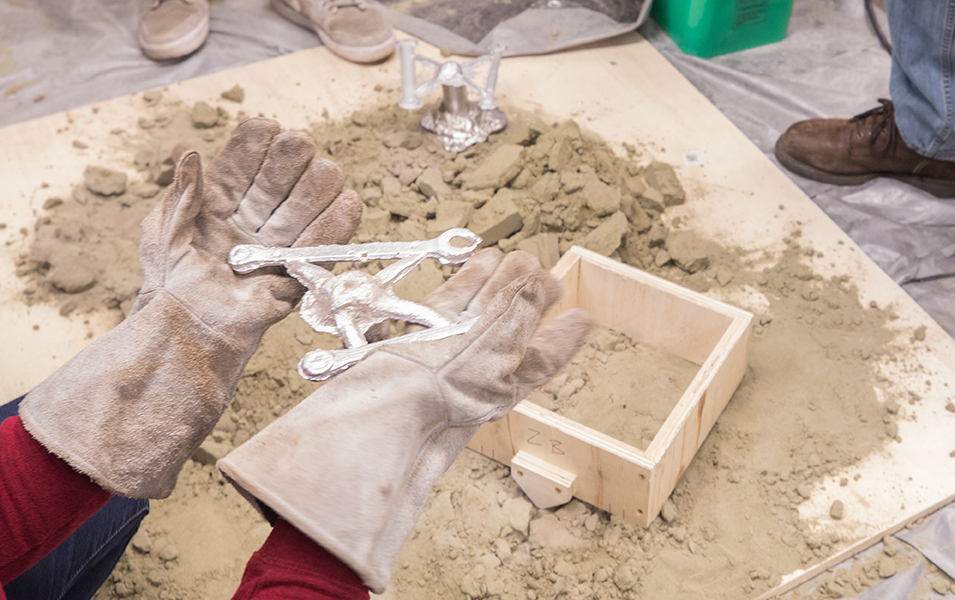 Alireza Razavi, Mechanical Engineering Instructor at Dunwoody, says that it is important for a mechanical engineer, who may be involved in manufacturing, to experience casting and be able to observe hardships or defects in the manufacturing processes.
"The most important objectives of doing a casting is to see its difficulties and approaches on how to make a better pattern and mold for a better casting," he said.
Hands on approach solidifies training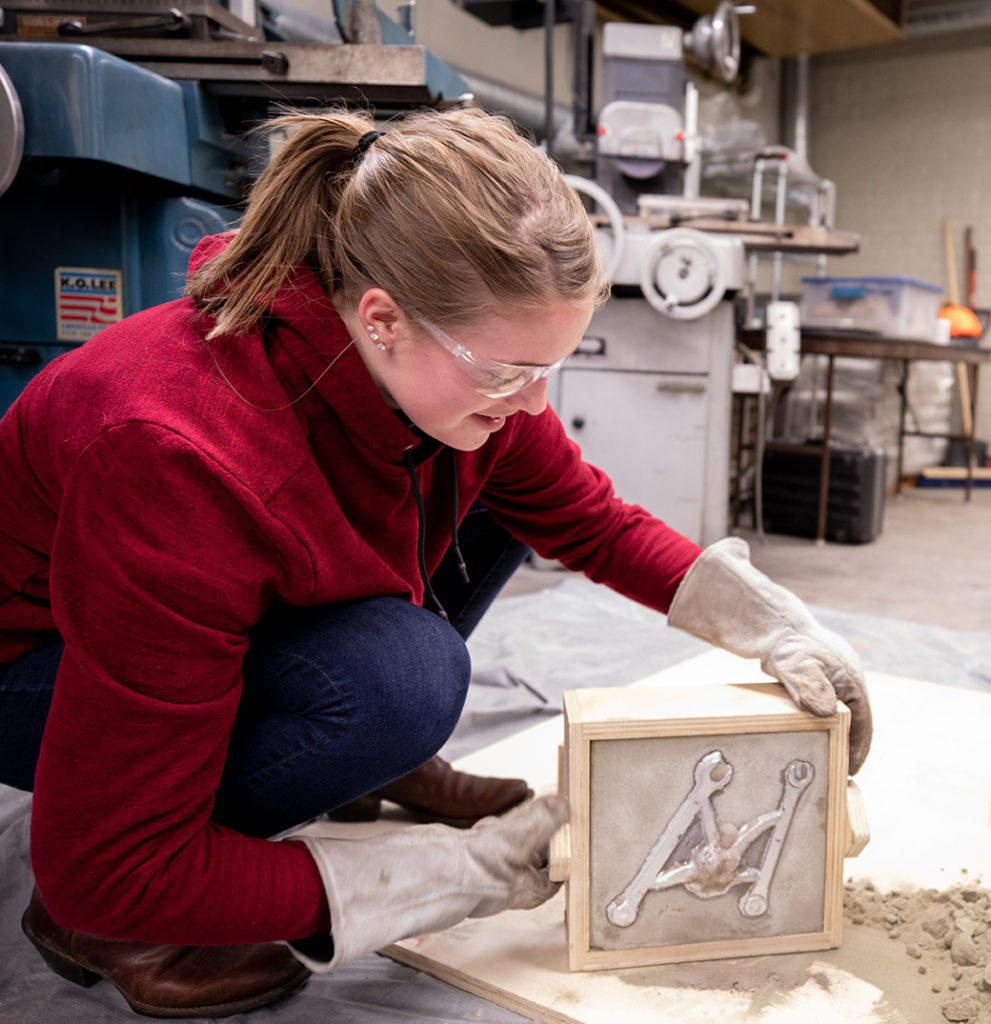 Freeland's brother and father are both graduates of Dunwoody programs and encouraged her to attend.  Initially a Graphic Design major, she switched to Mechanical Engineering, a decision that allows her to better utilize her math skills.
In the Foundry she is eager to put on the protective suit and get close to the crucible for a front row seat. The thick reflective jacket, chaps, gloves, and helmet will protect her from any molten aluminum that might splatter as it is poured.
She said it is one thing to have her instructors talk about something during a lecture. "But actually getting out there and doing the hands-on work and viewing this technology is a real eye-opener," Freeland said.
"Being able to put the suit on, look in there, and have [my instructors] explain it, helps solidify everything I've learned over the past few years," she said.