"All of the technology involved with self-driving vehicles – we are teaching that now." –Stephan Reinarts, Dean of Automotive

---
From self-driving vehicles to alternative fuels, the automotive field has experienced a flood of technological advancements during the past few years. And those very advancements are being integrated in the Dunwoody classroom at the same time they are debuting on the showroom floor.
Automotive: not the "dirty" job it used to be
Anyone who has gotten behind the wheel of a new vehicle can attest to the impressive array of high-tech features and new technologies. For many of us, driving our cars is more like operating a computer – only in reality it's more like operating 40 computers all at once.
Stephan Reinarts, Dean of Automotive Programs at Dunwoody College of Technology, leads the team of instructors in charge of ensuring that today's automotive students have the skills and knowledge needed to be successful in today's high-tech automotive world.
"The most important tool our students use each day, isn't a wrench – it's a computer," Reinarts said, stressing that today's automotive service field is not the "dirty" job it used to be.
Today's students aren't just changing oil and replacing timing belts. They are dealing with lane departure sensors, obstacle detection devices, and infotainment and navigation systems. They are preparing for autonomous vehicles and working with alternative fuels, such as compressed natural gas. And all of this technology needs to work together in a complex, integrated network housed in each individual automobile.
"All of the technology involved with self-driving vehicles – we are teaching that now," Reinarts said. "And that new technology is subject to failure. So today's technicians need to navigate complex software and technologies to diagnose, repair and maintain those systems."
Manufacturer relationships play vital role at Dunwoody
Keeping pace with all of these new advancements wouldn't be possible without the strong manufacturer relationships Dunwoody has built and maintained for more than a century. In fact, in addition to Dunwoody Automotive's flagship program, Automotive Service Technology, Dunwoody offers automotive service training for five different manufacturers: Audi, Honda/Acura, Mopar (Alfa Romeo, Chrysler, Dodge, FIAT, Jeep, Ram), Subaru and Toyota/Lexus.
These relationships mean that Dunwoody students receive training on — and have access to — new features and vehicles as soon as they become available on the market.
It also means that Dunwoody's curriculum is being continuously updated to keep pace with industry change.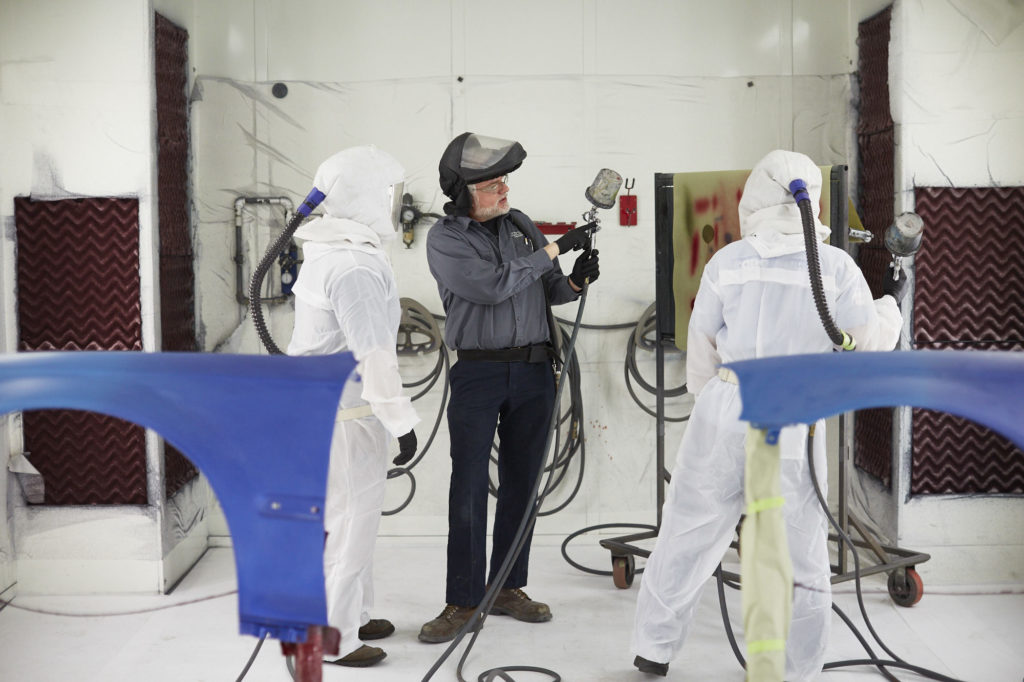 In addition to the automotive service technology side, Dunwoody's collision program is another area of rapid change and new developments. In fact, Dunwoody's waterborne paint booth – which is more cost-effective and environmentally friendly – is a new feature in its state-of-the-industry shop.
Technology advancements show no sign of slowing down
Reinarts said that one of the biggest advancements affecting the automotive service field right now is the increasing ability technicians have to "communicate" with vehicles. Technicians now have the ability to communicate remotely with vehicles using wireless technologies.
"Our students can now receive information and analyze vehicles via their phones and tablets," he said.
This will enable tomorrow's technicians to diagnose – and in some cases perform repairs to a vehicle – without the customer being inconvenienced by bringing their vehicle into a repair facility.
But even though the technology might change, the students best suited to a career in automotive service are still persistent, curious, creative problem-solvers. They are the students who not only need to discover why something isn't working – they want to make it work better than it ever did before.